Cryptocurrency trading with eToro: why you should try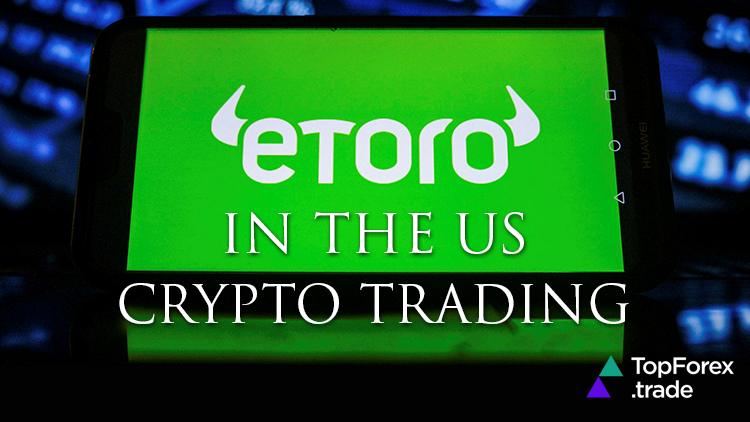 Cryptocurrencies and Bitcoin, in particular, have proven to be popular trading vehicles. Many countries are confidently popularizing Crypto trading and most Forex brokers offer a variety of instruments including digital assets available for trading. And though these Crypto coins can be used to purchase everyday products in some places, they are more typically exchanged as digital assets for trading and investment purposes.
In trading Cryptocurrencies, you're playing on whether the value of your chosen digital assets will rise or fall, without actually owning it. This may be accomplished through the use of derivative instruments such as CFDs.
eToro Cryptocurrency trading advantages:
As the currency of the future, Cryptocurrencies and supporters are rushing to purchase them now, presumably before it becomes more valuable (and costly to acquire as well).
Volatility: Crypto-assets like Bitcoin, Ethereum, and XRP are significantly more volatile than traditional assets like stocks, bonds, and real estate.
Consider the case of Bitcoin. Its price typically fluctuates by 5% in a single day. Because of the high level of volatility, traders will always have lots of possibilities. Trading with eToro, you do it in both directions, meaning you can earn from both upward and downward market swings.
eToro minimum deposit: With eToro, you can start trading in the US with as little as a few dollars because you can get a fraction of a coin or choose a less expensive piece among the more unusual varieties.
Market open 24/7: Unlike traditional exchanges, operating on a set schedule, Crypto trading allows you to execute deals with eToro whenever you want, on your own timetable.
Trading Crypto with leverage: When you trade Crypto using CFDs with eToro, you can utilize leverage to trade with a bigger amount of money than you invested. If you are still staying wise about potential risks, this can work in your favor because your gains will be amplified.
What moves Crypto prices?
The Cryptocurrency market, like other financial markets, wildly swings up and down, but differs from the stock market in terms of volatility, moving very swiftly.
These shifts may be alarming, but they are also essential for understanding how to profit from Crypto trading. As a result, it's vital to comprehend what causes price fluctuations.
Here are some of the primary Crypto price change catalysts:
Integration:

Cryptocurrencies are becoming increasingly popular as a means of payment for goods. When more retailers accept them, and they're linked to more banking and payment systems, prices tend to rise.

Market news:

Crypto traders spend a lot of time reading the latest updates about their coins. Buying or selling coins can be triggered by either good or bad news, and this can lead the market to move very quickly.

Global events:

Broader events, like political developments and government measures regarding Cryptocurrencies, have an impact on the market. For example, Bitcoin's value plunged after China tightened its controls on digital mining.
Trading Crypto with eToro in the US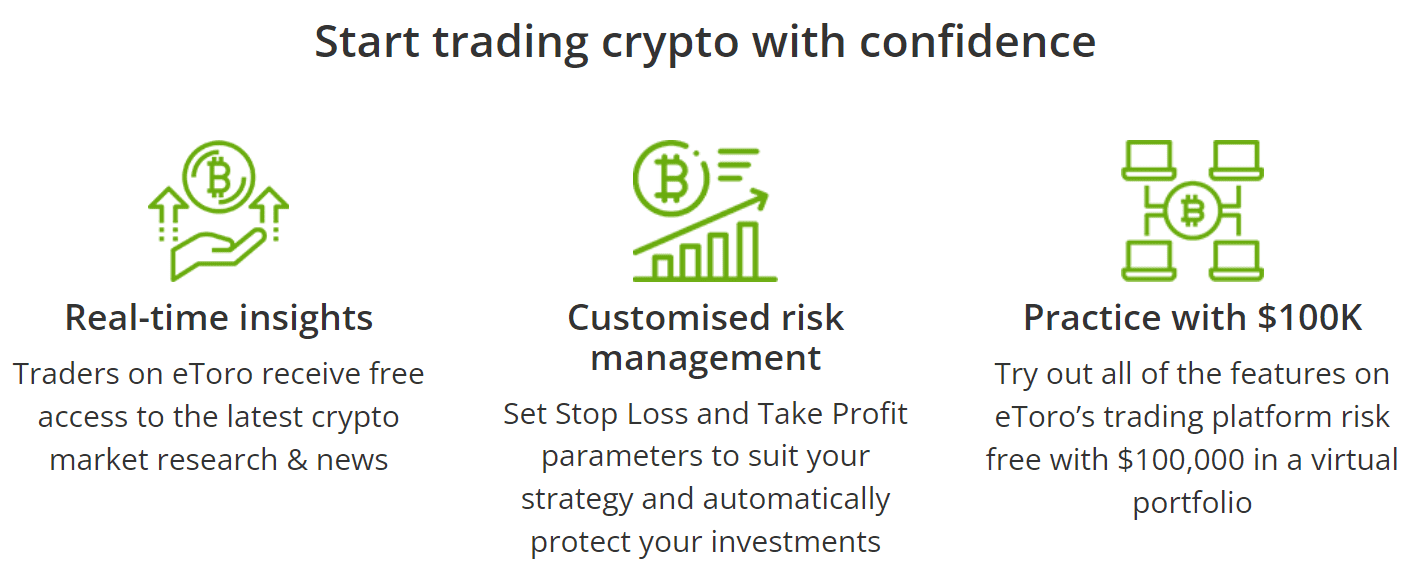 To get yourself a complete Crypto trading solution, rely on eToro's experience as a global fintech leader since the early days of Blockchain. Accessing a world of Crypto services has never been easier, whether you're a Crypto newbie or a seasoned coiner.
In 2018, eToro – a pioneer in Social and Copy Trading – debuted in the United States. Since its establishment in 2007, international traders have used eToro to trade global currencies (also known as Forex trading), commodities such as Gold and Silver, and equities. However, in the United States, eToro is open as a Cryptocurrency exchange and offers the ability to copy the deals of Forex market experts, trading more than 20  Cryptocurrencies, including: 
Bitcoin (BTC)

Ethereum (ETH)

Litecoin (LTC)

Bitcoin Cash (BCH)

Uniswap (UNI)

Stellar Lumen (XLM)

Chainlink (LINK)

Cardano (ADA)
eToro also offers Crypto trading pairs (if you wanted to exchange Bitcoin for Ethereum, for example) for international users. If you're in the U.S., you can move your coins onto the eToro Wallet and make Crypto-to-Crypto conversions.
The eToro exchange also offers the option to buy Bitcoin with a debit card or bank account, securely store Crypto assets with the eToro Money Wallet, or use its CopyTrader system to pull from the expertise of other advanced Crypto traders.
If you're new to Crypto trading, you'll also have access to a variety of educational materials, including articles like "How to Buy Bitcoin for the First Time." eToro Trading Academy also provides video courses on Crypto trading and market updates to its clients.
Any money in your eToro account in the United States that hasn't been traded for Cryptocurrencies is maintained in FDIC-insured custodial accounts, which are guaranteed up to $250,000.
To safeguard the Crypto assets of its clients, eToro uses a combination of hot and cold (online and offline) storage. If traders leave their holdings on an eToro account, they are "mainly in cold storage," according to the trading platform. For liquidity, several exchanges leave at least a fraction of their total Crypto out of cold storage since these coins aid trade activity.

Deposit methods
Trustly, iDEAL, Rapid, PayPal, Klarna, Credit/Debit Cards, Neteller, Wire, Skrill
Deposit methods
Trustly, iDEAL, Rapid, PayPal, Klarna, Credit/Debit Cards, Neteller, Wire, Skrill
Advantages of Trading Crypto with eToro in the US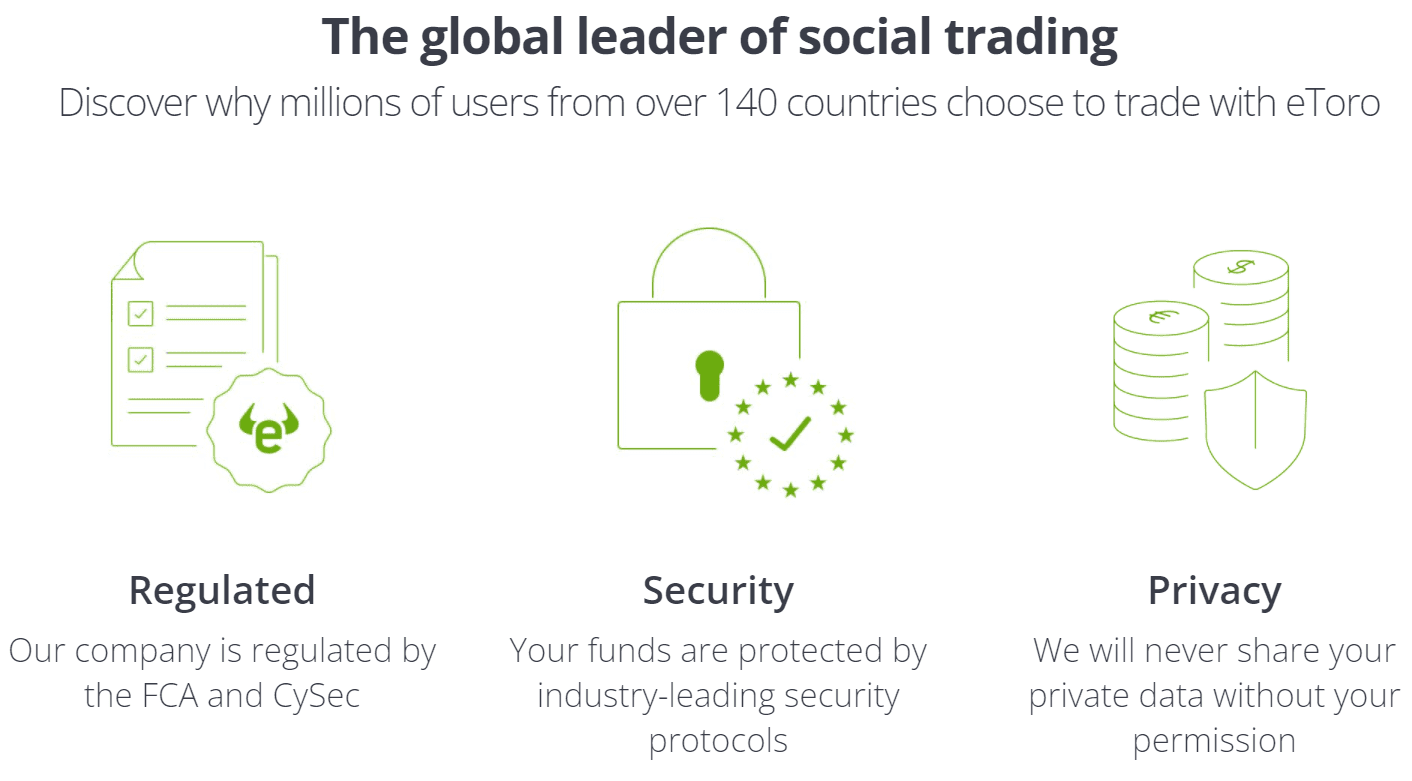 With eToro, you can trade a large range of popular Cryptocurrencies and Crypto crosses with cutting-edge tools that aren't available anywhere else. eToro Crypto is the ultimate Crypto trading solution, combining a trading platform, wallet, and exchange into one neat package, all with the security of a licensed fintech giant you can trust.
eToro USA Securities, Inc. is regulated by the Securities and Exchange Commission (SEC), a member of the Financial Industry Regulatory Authority (FINRA) and Securities Investor Protection Corporation (SIPC).

Offers access to more than 20 Cryptocurrencies, available in the US; 

Popular coins that aren't on other major exchanges;

Present in more than 44 American states for Stocks and Crypto trading;

Low minimum to fund an account and begin trading;

Social trading: Ability to replicate moves of professional traders;

Intuitive, easy-to-use platform; 
Every new eToro account is credited with $100,000 in a virtual portfolio, allowing clients to practice trading all the financial instruments available on the broker's platform in real-time. You can switch between the demo and real trading mode at any time.
eToro Club members receive additional perks, including discounted fees and a dedicated Account Manager.
The power of Social investing with eToro in the US

Join over 25M people on the world's largest social investing platform with an eToro CopyTrader feature: 
You pick a top-performing trader whose portfolio you want to emulate, establish a budget for copying the trader's portfolio, then click "copy." This, according to eToro, allows you to duplicate the trader's actions in proportion to the money you've set aside. 
By joining eToro social-investment platform, you can copy deals of up to 100 professional traders from the US with a maximum amount of up to $500,000. Also, you can have access to the following four Copy Portfolios (these are portfolio management accounts eToro handles for you): CryptoEqual, CryptoPortfolio, Crypto-currency, and TheTIE-LongOnly CopyPortfolio.
Start Copy Trading Crypto with eToro in the United States: 

72% of retail CFD accounts lose money
Crypto staking with eToro

eToro users can benefit simply by owning Crypto coins. Traders may experience simple, secure, and fuss-free growth of their digital assets with eToro's exclusive staking service.
How do you benefit from staking with eToro in the US? 
Staking with eToro is easy, safe, and convenient. Traders receive Staking rewards every month in the supported Cryptocurrencies (their list is subject to frequent change), with no action required on their side. The staked Crypto remain the property of eToro users, who trusted eToro to securely and properly carry out the full staking operation on their behalf.
eToro takes great care to safeguard users' Crypto assets from any additional hazards, saving them the time and effort of staking on their own. As a result, eToro keeps a tiny portion of the profit as a fee, as well as to cover the different operational, technological, and legal expenses.
To begin staking, a trader needs to purchase and hold on the platform one or more of the supported Cryptocurrencies. He/she is eligible for a staking reward if he/she has held an open position of the staked Crypto asset for a certain period of time (the time period for when a user becomes eligible differs per coin);
The distribution of rewards is fully automated. An email will be sent with all the details, including a table stating the amount for which the reward is computed, the monthly yield aggregated, and the total reward is given. The email will also include a link to a special Staking web page that will explain the eligibility calculation formula, interest rates, and other relevant details.
How to trade Crypto with eToro in the US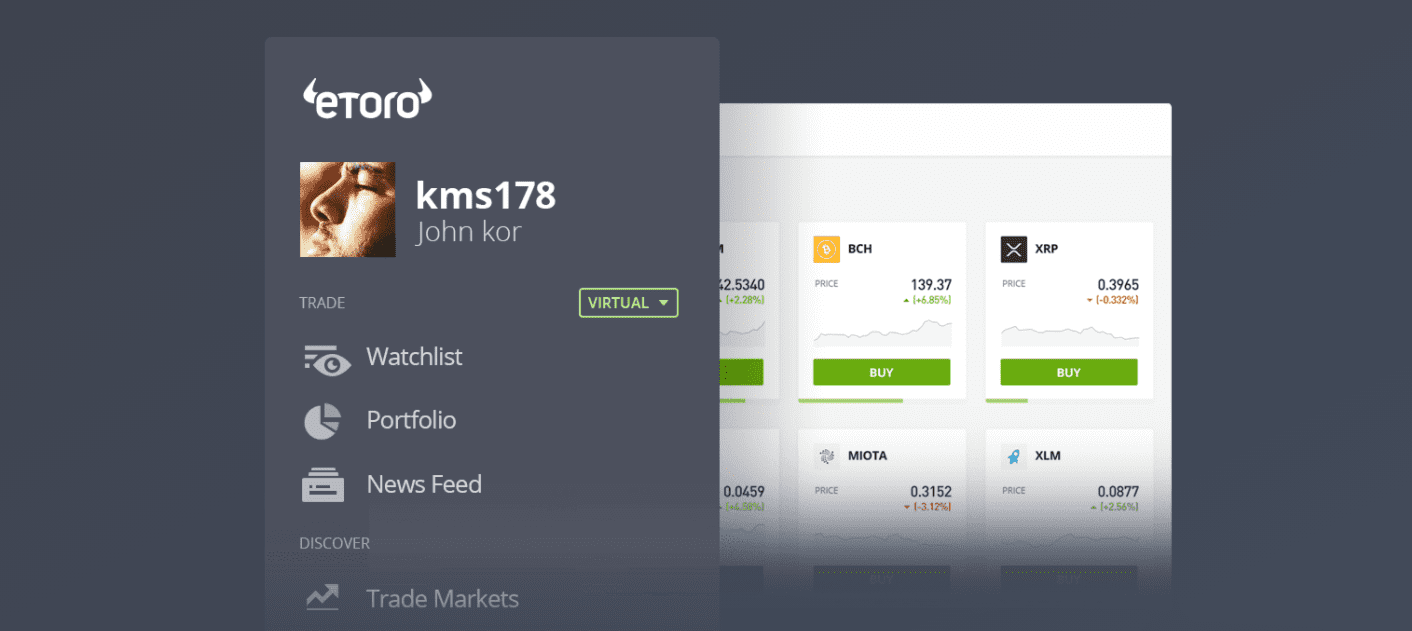 eToro provides traders, from beginners to experts, with a comprehensive Crypto trading experience, on a powerful yet user-friendly platform. 
Build your ultimate crypto portfolio:
Trade a wide variety of leading cryptocurrencies and crypto crosses

Follow each coin's trends with advanced charts and analysis tools

Create a custom Watch list and stay informed with real-time updates

Staking service – grow your Crypto while you hold
However, eToro is much more than just a place to trade. You can use social trading features to connect with over 20 million users worldwide and find top-performing Crypto traders to copy with CopyTrader.
Also, Cryptocurrency that you invest in on the eToro trading platform can easily be transferred to the eToro wallet at any time, for seamless usability of your digital assets.

Cryptocurrency trading with eToro in the US - FAQ
Currently, for the US residents, eToro offers access to many of the world's most popular Cryptocurrencies and provides Stocks and ETFs trading to selected users in beta testing. Their number is constantly growing, so it's going to be a fully-accessible market any time soon. By trading with the broker you can gain multiple advantages we describe in the article, including the possibility to earn extra income with Copy Trading or Crypto staking.
eToro was launched in the US in 2018 as a Crypto Exchange, providing its services in more than 44 country states. Now there are more than 20 coins available for trading, and users can start trading Cryptocurrency for as little as $10 on innovative trading platforms and copy moves of selected traders with successful track records.
eToro currently offers around 20 cryptocurrencies and Bitcoin, Ethereum, Ethereum Classic, Dash, Litecoin, Bitcoin Cash, Stellar Lumens, NEO, EOS, Cardano, Lota, Tron, Zcash, Tezos, Chainlink, Uniswap, and Dogecoin and among them. In our article, we describe all the ways you can benefit from them, including the use of CopyTrader and Crypto staking where you get rewards just for holding an asset.
eToro allows users who own and hold supported Crypto assets to earn rewards of more of these Cryptos just for holding them, meaning that users grow their holding in much the same way as they would earn interest on money. Also, in our article we mention ways to make your trading even more successful using CryptoTrader feature, following deals of market experts.
Staking with eToro is simple, secure, and hassle-free. The staked Cryptocurrencies remain the property of the eToro users. In turn, eToro users entrust the broker to execute the entire staking procedure for them, securely and effectively. eToro takes great care to protect our users' Crypto assets against exposure to any additional risks, sparing them the hassle and complication of staking on their own.