eToro in Brazil: dynamic FX trading with a trusted broker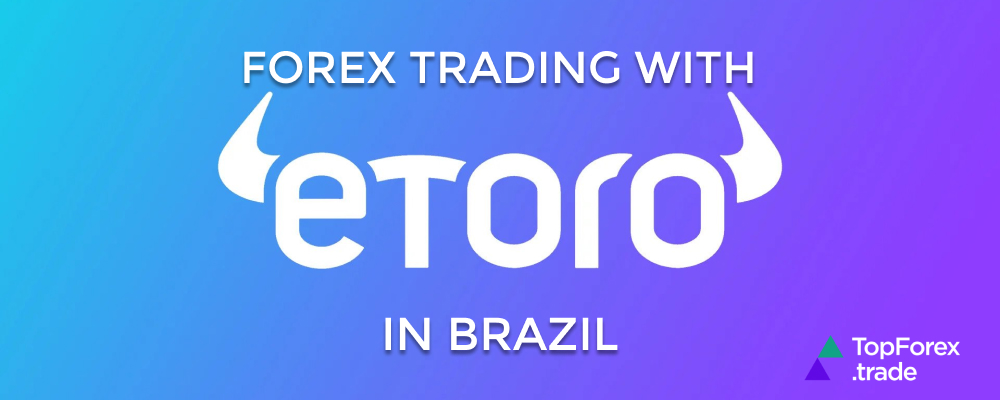 eToro is an online FX broker providing online trading and investment services in the financial markets. It was founded in 2007 and is widely known for its Social trading platform, which allows users to copy the operations of other market participants and invest in various assets like stocks, Cryptocurrencies, commodities, and other financial instruments.
eToro provides a simple and intuitive interface that makes it easy for new and experienced traders to manage their investments. The broker also offers many tools and features including charting, analytics, a news calendar, and social features that allow traders to exchange opinions, follow the activity of other traders, and share their experiences.
eToro operates as a global brokerage platform being licensed by reputable regulatory bodies such as FCA (UK), ASIC (Australia), and CySEC (Cyprus/Europe) and is available in many countries around the world, including Brazil. 
In this article, we will examine the functioning of the Forex market in Brazil and explore potential favorable trading opportunities for Brazilian traders through the reputable broker eToro.

Deposit methods
Trustly, iDEAL, Rapid, PayPal, Klarna, Credit/Debit Cards, Neteller, Wire, Skrill
Deposit methods
Trustly, iDEAL, Rapid, PayPal, Klarna, Credit/Debit Cards, Neteller, Wire, Skrill
Forex market in Brazil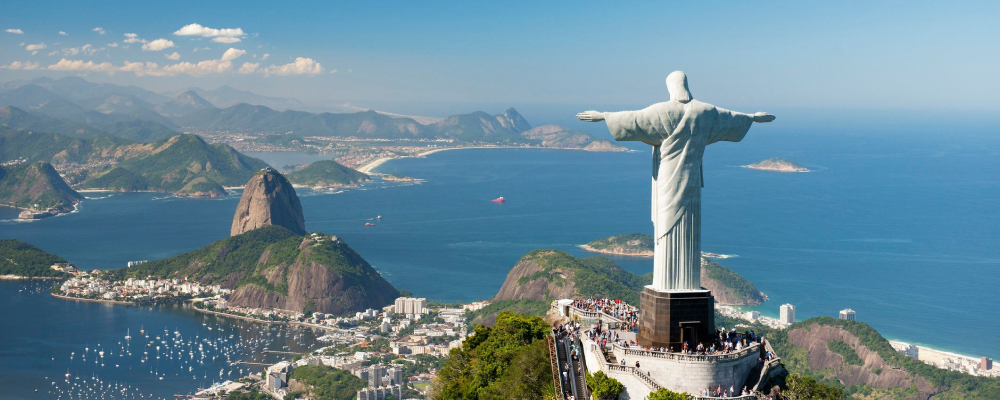 The Brazilian economy is one of the largest and most vibrant economies in Latin America. It is known for its diverse economic sectors, including agriculture, manufacturing, and services. The local Forex market, which includes securities and commodities in addition to currency trading, plays a critical role in facilitating international trade and investment in Brazil.
The Brazilian Forex market is regulated by the Central Bank of Brazil (Banco Central do Brasil) and the Comissão de Valores Mobiliários (CVM), which is the country's securities and exchange commission. The CVM is responsible for overseeing and regulating various financial activities, including Forex trading, to ensure market integrity and protect investors.
Brazilian traders looking to participate in Forex trading can choose from a range of brokers, both local and international. It's essential to choose a reputable and regulated broker to ensure the safety of funds and compliance with local regulations.
One popular broker that has gained trust and popularity among traders globally is eToro. eToro is a renowned trading and investment platform that offers a user-friendly interface, and a wide range of financial instruments like stocks, Cryptocurrencies, commodities, and more, providing Brazilian traders with diversified trading opportunities to suit their investment goals and risk tolerance.
Overall, the Brazilian Forex market presents various opportunities for traders, and eToro is a trusted broker that can provide a reliable and user-friendly platform for Brazilian clients to participate in the global Forex market. 
eToro trading instruments in Brazil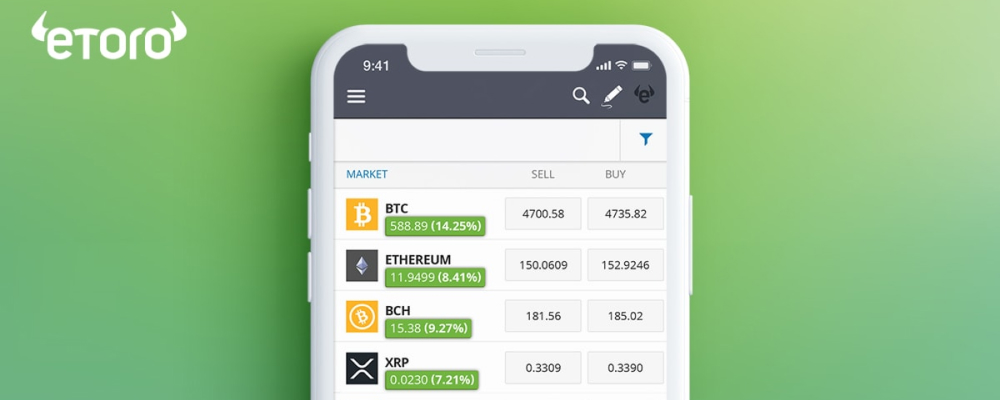 eToro offers a variety of trading instruments in Brazil. These instruments include stocks, Crypto, commodities, and indices. Let's examine the trading conditions for popular instruments offered by eToro in the country.
eToro commodity trading in Brazil
Commodity trading involves buying and selling raw materials or primary goods, such as precious metals, energy resources, agricultural products, and more. eToro is a global online trading platform that allows clients from Brazil to trade various financial instruments, including commodities, through Contracts for Difference (CFDs). CFDs are derivative products that allow traders to speculate on the price movements of underlying assets without actually owning the physical asset.
When trading commodities with eToro, you can take advantage of competitive commodity spreads that begin at just 2 pips. Additionally, eToro offers leverage options of up to x10 on most commodities and up to x20 on gold, allowing you to potentially amplify your trading positions.
Besides, when trading commodities and other instruments eToro provides risk management tools, such as stop-loss orders and take-profit orders, which allow traders to set predefined levels at which their positions will be automatically closed to limit potential losses or secure profits.
Trading stocks, indices, and ETFs with eToro in Brazil
eToro offers a wide range of stocks from various global exchanges, including major stock markets in the US, Europe, Asia, and other regions. Traders in Brazil are able to buy and sell shares of individual stocks through CFDs or purchase some of them on the exchange in the name of the client.
When trading stocks directly with eToro, clients may enjoy a 0% commission, and the minimum investment amount could be as low as 10 US dollars.
eToro also offers to trade on Exchange-Traded Funds (ETFs), which are investment funds that hold a diversified portfolio of assets, such as stocks, bonds, or commodities. Traders in Brazil can buy and sell shares of ETFs through CFDs, allowing them to gain exposure to a diversified basket of assets in a single trade.
When trading CFDs on stocks and ETFs with eToro, clients may have the option to use leverage up to x5. However, it's important to note that this leverage does not automatically increase the position size by x5. Instead, it means that clients can enter a position size up to 5 times the margin balance, which is the deposit amount multiplied by the leverage factor. For example, with a 100 USD deposit and 5x leverage, clients would have $500 to work within their position.
Besides, traders using eToro have the opportunity to invest in the overall movement of the stock market through index CFDs, which provide flexibility in managing risk according to their own preferences. The eToro platform offers 20 index CFDs, including popular indices such as the Dow Jones Industrial Average, S&P 500, FTSE 100, DAX 30, and Nikkei 225, among others.
When it comes to leveraging, eToro currently offers up to x20 leverage on selected stock indices.
eToro Cryptocurrency trading in Brazil
eToro being a popular global Social trading platform allows users to trade various Cryptocurrencies, such as Bitcoin, Ethereum, and others, along with other assets like stocks, indices, and commodities. Clients can buy, sell, and trade Cryptocurrencies on eToro, as well as utilize features like leverage, Copy trading, and other trading tools.
Traders have the choice to either buy Crypto assets directly or trade price changes in Crypto assets using CFDs. When trading CFDs on crypto assets, leverage of up to x2 is available.
If you prefer to trade Cryptocurrencies directly, you will need to purchase the underlying assets. This involves exchanging traditional currency, such as US dollars, for Crypto asset tokens like Bitcoin, Litecoin, or XRP. eToro facilitates this process by purchasing the tokens on your behalf and registering them in a separate account under your name. 
eToro accounts and platforms in Brazil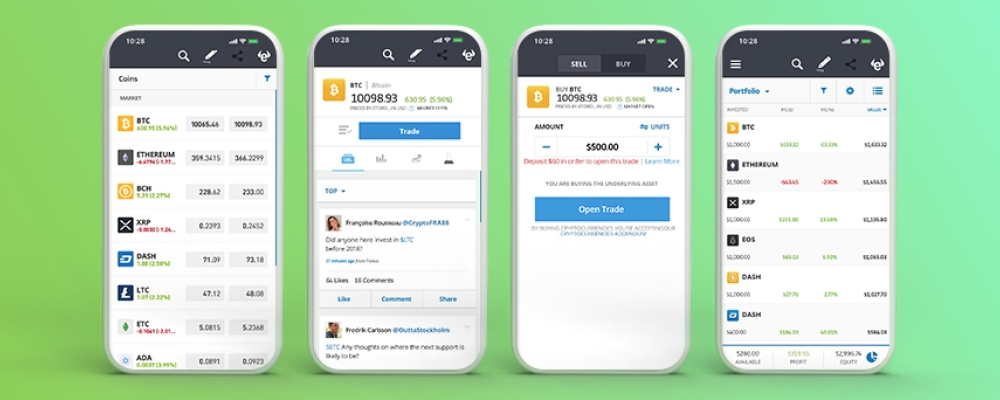 eToro is a global trading platform that offers various features for traders, including in Brazil. Users in Brazil can open an eToro account and access the eToro platform to trade a wide range of financial instruments.
eToro offers different types of accounts, such as standard, professional, demo, and Islamic. Users can choose the account type that best suits their needs and trading preferences. 
The standard trading account is available in most countries, has no hidden fees, and allows trading of a wide range of financial instruments with a low deposit. 
The professional account offers higher leverage levels and advanced trading features for experienced traders who meet eligibility criteria. 
The Islamic account is swap-free, complying with Sharia law, and charges a fixed administration fee.
eToro also provides a demo account with virtual funds for risk-free practice, offering the same features as the real trading account, including access to a wide range of financial instruments and Social trading features. The demo account has a virtual balance of $100000 for traders to hone their skills and test strategies.
eToro's trading platform is equipped with a variety of features to assist traders in effectively managing their investments. Real-time charts with technical indicators and drawing tools provide market trend analysis for informed trading decisions. The CopyTrader feature allows the automatic replication of deals from successful traders, giving clients the opportunity to benefit from the expertise of experienced market participants.
eToro deposits and withdrawals in Brazil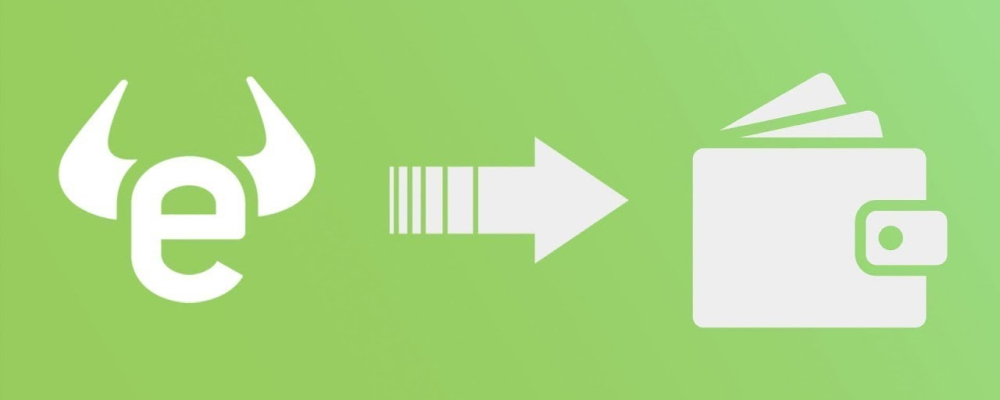 Deposits and withdrawals with eToro in Brazil are simple and convenient. Users can deposit funds into their eToro account through various payment methods, including bank transfer, credit/debit cards, PayPal, Neteller, Skrill, and more. The minimum deposit amount may vary depending on the payment method chosen.
For withdrawals, users can request to withdraw funds from their eToro account to their preferred payment method. Withdrawals are generally processed within one business day, although the timeframe may vary depending on the payment method and eToro's internal processing procedures. It's important to note that users may need to complete the necessary verification process, including submitting identification documents, before making withdrawals.
eToro languages and customer support in Brazil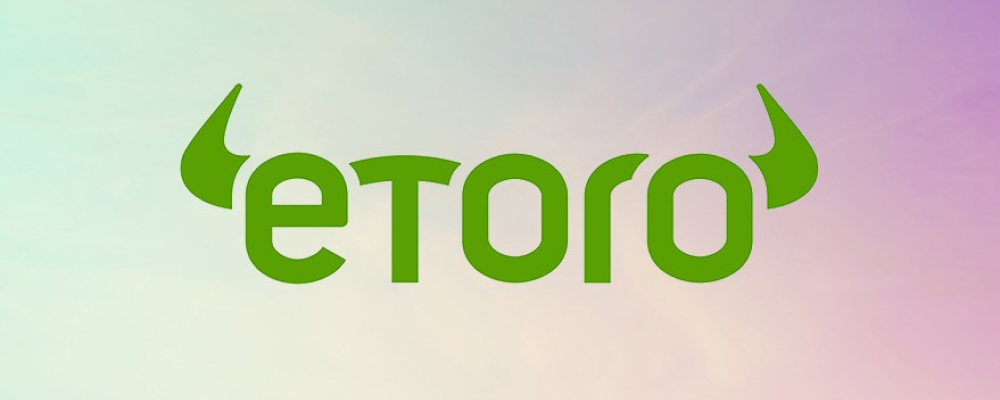 eToro provides support in multiple languages, including Portuguese, which is the official language of Brazil. This means that Brazilian users can access eToro's platform and customer support services in their native language.
Besides, eToro offers a comprehensive support system, including a dedicated help center with a wide range of articles and frequently asked questions (FAQs) that cover various topics related to trading, account management, and platform features. Users can also contact eToro's customer support team through live chat, email, or phone for assistance with any inquiries or issues they may have.
In addition to the support options, eToro also has an active community of traders on its Social trading platform, where users can interact with fellow traders, share ideas, and learn from each other's experiences.
eToro Social trading in Brazil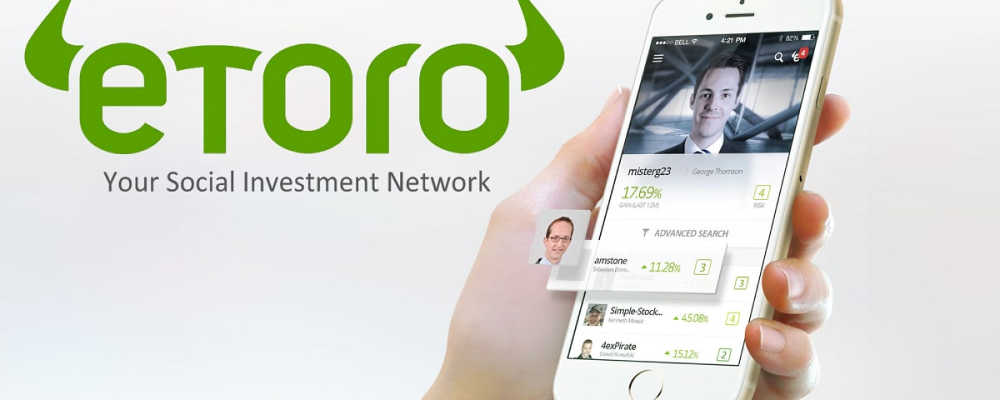 eToro's Social trading features are available for users in Brazil, allowing them to participate in the trading community and benefit from the collective wisdom of other users. Social trading on eToro allows market participants to connect, follow, and automatically copy the deals of successful traders, known as Popular Investors.
Brazilian users can access the eToro Social trading platform, which includes features such as the News Feed, where they can stay updated on market news and analysis, as well as engage in discussions with other traders. They can also explore and follow the profiles of Popular Investors, view their trading performance, and choose to automatically copy their trades with a few clicks.
Besides, eToro introduced Smart Portfolios for Brazilian traders, with the exception of copying currency positions. This comes after the successful launch of eToro's AI-powered Smart Trading Portfolio for its US users. The InvestorAI-US portfolio provides private traders with exposure to 12 high-growth US stocks. The Smart Portfolios feature on eToro allows Brazilian traders to invest in diversified portfolios managed by eToro's proprietary algorithm, which automatically rebalances the portfolio based on market conditions and investment goals. 
Summing up: Forex trading with eToro in Brazil
eToro provides a range of trading opportunities for Brazilian users, including stocks, Cryptocurrencies, commodities, and indices. The platform offers different account types such as standard, professional, demo, and Islamic accounts, with various features and benefits. 
eToro's platform is user-friendly, with real-time charts, technical indicators, drawing tools, and Social trading options like copying individual transactions or investing in Smart Portfolios. 
Deposits and withdrawals can be made using different payment methods, and the platform is available in multiple languages with customer support options for Brazilian users. 
All in all, eToro is a reputable and widely used online trading platform that provides a variety of advantages for traders in Brazil who are interested in different financial instruments. Click on our special button to begin your Forex trading in Brazil with eToro.

74% of retail CFD accounts lose money
---
Related articles:
A detailed overview of eToro trading markets: direct investing in stocks, ETFs and Crypto assets, CFDs on currency pairs, indices, and commodities. Trading with leverage, minimal commissions, low spreads, and a wide range of instruments and risk management tools.
A comprehensive analysis of Forex trading with eToro in Romania: favored market instruments such as forex pairs, securities, Crypto, and CFDs, an intuitive Forex platform, multilingual tech support, Social trading capabilities, and a complimentary demo account.
Discover the Top Forex brokers worldwide based on reviews from real traders. These retail trading service providers offer user-friendly platforms and a wide range of market instruments, including currency pairs, stocks, CFDs, commodities, and ETFs. Take advantage of their social trading options, demo accounts, mobile trading apps, and advanced tools to enhance your trading experience.
---
Disclaimer:
eToro is a multi-asset platform that offers both investing in stocks and Crypto assets, as well as trading CFDs;
Please note that CFDs are complex instruments and come with a high risk of losing money rapidly due to leverage. 81% of retail investor accounts lose money when trading CFDs with this provider. You should consider whether you understand how CFDs work and whether you can afford to take the high risk of losing your money.
Past performance is not an indication of future results. The trading history presented is less than 5 complete years and may not suffice as a basis for an investment decision.
Cryptoasset investing is highly volatile and unregulated in some EU countries. No consumer protection. Tax on profits may apply.
eToro USA LLC does not offer CFDs and makes no representation and assumes no liability as to the accuracy or completeness of the content of this publication, which has been prepared by our partner utilizing publicly available non-entity-specific information about eToro.
Forex trading with eToro in Brazil - FAQ
Forex trading is legal in Brazil. Brazilian residents are allowed to trade different financial instruments on international online platforms, including eToro, which is a reputable and regulated online trading platform. Read the article and find more information about trading opportunities with eToro in Brazil.
To start Forex trading with eToro in Brazil, you need to create an account on the eToro platform, complete the verification process, and deposit funds into your trading account. Once your account is funded, you can access the Forex markets and start trading popular instruments. Click on our dedicated buttons to sign up with eToro.
eToro offers a demo account that allows you to practice Forex trading with virtual funds. The demo account simulates real trading conditions and allows you to familiarize yourself with the eToro platform and Forex markets without risking your own money. Check out the article and learn more about trading in Brazil with eToro.
eToro offers customer support through various channels, including email, live chat, and a Help Center with frequently asked questions (FAQs). You can contact eToro's customer support through their website or the eToro mobile app. Read the article and find more information about trading opportunities with eToro in Brazil.
eToro offers competitive trading conditions for Forex trading, including low spreads and no hidden fees or commissions. The platform also provides leverage options for traders, allowing you to trade with a higher position size than your initial investment. Check the article and get more information about eToro trading conditions.