eToro – market-leading social trading network in the US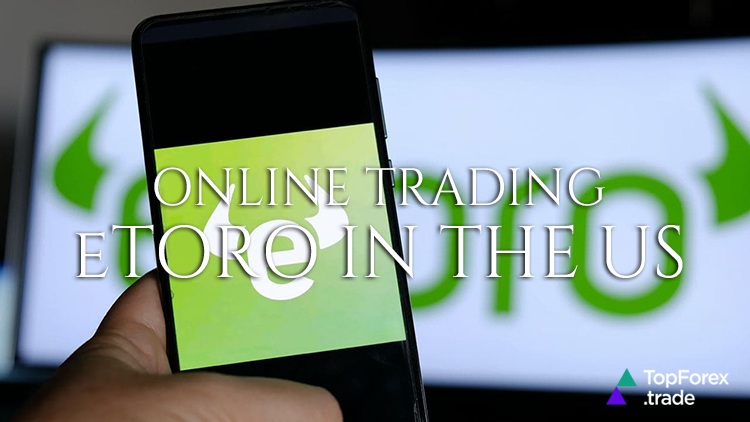 Since eToro's inception in 2007, international traders have used the broker to deal global currencies (known as Forex trading), commodities such as gold, and equities. However, in 2018 eToro was launched in the United States as a Cryptocurrency exchange with plans to expand its platform offerings to include stocks and exchange-traded funds (ETFs).
For beginners, eToro includes a simple interface and tools, as well as more complicated capabilities for experienced traders. But it's the supplementary features that really set it apart from other platforms. To get started, beginners can utilize eToro's virtual portfolio to trade up to $100,000 in virtual funds before investing any real money.
Traders can also make their deals more successful with Social Trading by following and incorporating the trading tactics of the platform's top users (non-experts who meet criteria based on how long they've traded on the platform, how much they've profited from their deals, and their risk profile).
Advantages of using eToro as your US broker:
Straightforward spread-based fees (varies depending on instruments);
Trading platforms with desktop and mobile versions;
"Virtual Portfolio" and a library of educative materials for new traders;
Traders' community network;
Over 20 different Cryptocurrencies to choose from;
Crypto Staking solution – grow your Crypto while you hold;
Deposit methods
Trustly, iDEAL, Rapid, PayPal, Klarna, Credit/Debit Cards, Neteller, Wire, Skrill
Deposit methods
Trustly, iDEAL, Rapid, PayPal, Klarna, Credit/Debit Cards, Neteller, Wire, Skrill
Crypto trading with eToro in the US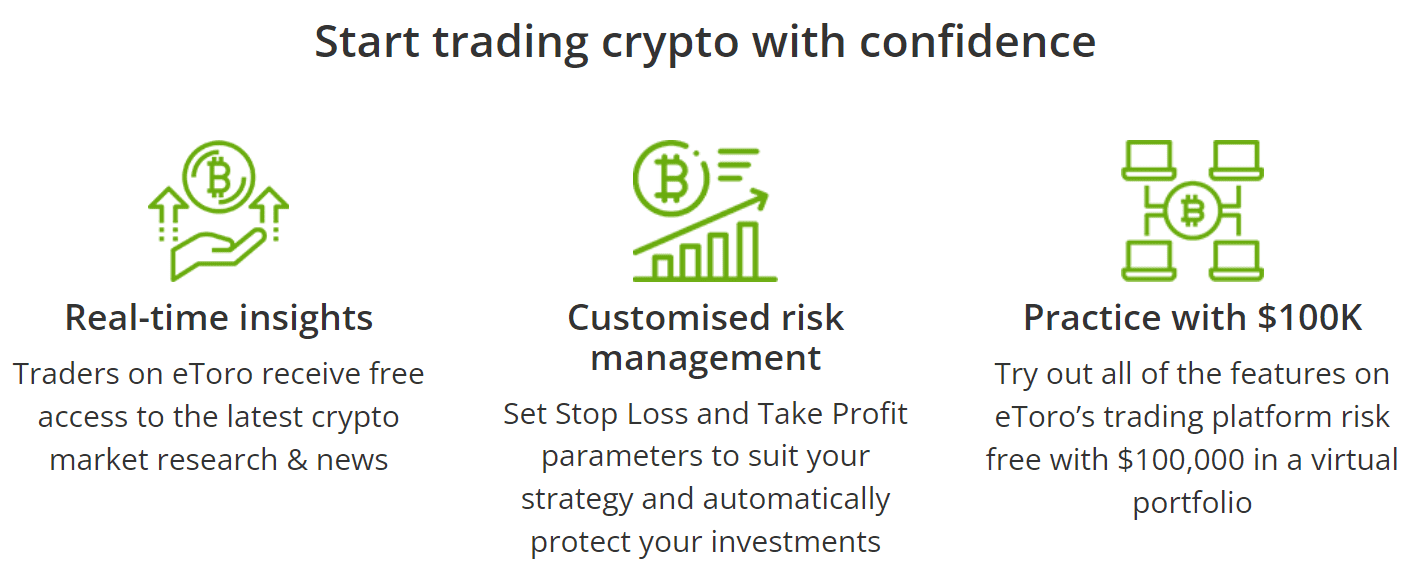 Rely on eToro's experience as a global fintech leader since the early days of Blockchain to acquire a complete Crypto trading solution. Whether you're a Crypto rookie or a seasoned coiner, getting access to a world of Crypto services has never been easier.
In the US eToro offers more than 20 Cryptocurrencies for trading, and among them are:
Bitcoin (BTC)

Ethereum (ETH)

Litecoin (LTC)

Bitcoin Cash (BCH)

Uniswap (UNI)

Stellar Lumen (XLM)

Chainlink (LINK)

Cardano (ADA)
For international users, eToro also supports trading of Crypto pairs (if you want to exchange Bitcoin for Ethereum, for example). If you are in the United States, you can move your coins onto the eToro Wallet and execute Crypto-to-Crypto conversions.
The eToro exchange also lets you buy Crypto coins using a debit card or a bank account, keep your digital assets safely in the eToro Money Wallet, or utilize its CopyTrader solution to tap into the knowledge of other experienced Crypto traders.
As a trader from the US, you'll also gain access to a range of educational materials, including articles like "How to Buy Bitcoin for the First Time," if you're new to Crypto trading. Clients can also get video tutorials on Crypto trading and market updates from eToro Trading Academy.
Trading of ETFs and stocks with eToro in the US
In January 2022, eToro revealed that, in addition to Crypto assets, it would expand its US offering to include stocks and exchange traded funds (ETFs).
The launch of this expanded offerings for US consumers comes at a time when Cryptocurrency is quickly becoming the asset of choice for many first-time traders and investors in the United States. According to recent figures from an eToro poll of its American clients, rookie traders who begin with Cryptocurrency are more inclined to diversify their portfolios over time.
35% of the 2,000 local Crypto traders polled have been dealing with the instrument for less than a year, 50% for one to three years, and 56% said that trading Crypto coins has made them more likely to explore trading of equities in the future.
With the introduction of stock trading in the United States, eToro's millions of American users will be able to manage a diverse portfolio of traditional and digital assets side by side in a single, easy-to-use mobile app or desktop interface.
Clients can now combine their Crypto and stock investments in a single portfolio, purchase fractional stocks for as little as $10 with no commission, view detailed price charts and analyses, and engage with experienced Popular Investors on trading strategies and market moves, thanks to the expanded offering for US users.
Use of eToro Copy Trading in the US

With an eToro CopyTrader feature, you may join over 25 million users on the world's largest social investment platform.
You choose a top-performing trader whose strategy you'd want to mirror, set a budget for replicating the trader's deals, and then click "copy." According to eToro, this allows you to copy the experts' activities in accordance to the amount of money you've set aside.
You can copy trades of up to 100 market professionals from the United States by joining the eToro social-investment platform, with a maximum value of up to $500,000. You can also use the following four Copy Portfolios: CryptoEqual, CryptoPortfolio, Crypto-currency, and TheTIE-LongOnly CopyPortfolio (these are portfolio management accounts that eToro manages for you).
Start Copy Trading Crypto in the United States with eToro now

eToro regulations and security in the US
Any money on your eToro account that haven't been traded are maintained in FDIC-insured custodial accounts, which are guaranteed up to $250,000. To preserve your Crypto assets, the broker uses a combination of hot and cold (online and offline) storage.
If you leave your holdings on your eToro account, they are "mainly in cold storage," according to the trading platform. For liquidity, several exchanges leave at least a fraction of their total Crypto out of cold storage; these coins aid trade activity.
The eToro Wallet, on the other hand, is a hot wallet that entrusts its security to eToro. Wallets are "managed according to security best practices" and include "high-level security features and standardized procedures," according to the platform. It also has a "unlosable private key service," which allows you to regain access if necessary.
In the US, eToro is registered with the Financial Crimes Enforcement Network (FinCEN) and state-level regulators. It makes no mention of Crypto assets being covered in the event of a hack, either through a third-party policy or eToro's own funds.
Summary: Who is eToro best for?
eToro is one of the best choices for all traders, from beginners to experts, with a comprehensive trading experience, on a powerful yet user-friendly platform.
For new traders who'd like to engage with and learn from more experienced colleagues, eToro has some unique advantages. You can interact with other users, read their comments, discuss investment ideas and trading strategies, as well as automatically copy (or simply follow along with) their portfolios through Copy Trading.
The virtual portfolio feature makes eToro a suitable choice for newbies who aren't ready to deposit their real money but want to get a feel for the financial market. Although $100,000 is likely far more than you'll want to deposit for trading personally, having a significant amount of fictitious funds to play with on your virtual portfolio might be a useful way to picture the Crypto and Stocks markets' frequent unpredictable swings.
With eToro, you can build your ultimate trading portfolio:
Trade a wide variety of leading Cryptocurrencies and Crypto crosses;
Follow each coin's trends with advanced charts and analysis tools;
Create a custom Watchlist and stay informed with real-time updates;
Crypto Staking feature;
Compared to other exchanges and brokers, eToro charges competitive fees and provides some of the best conditions for trading. Globally, it is a primary player in the world of online trading, offering multiple tools and perks to make your trade as comfortable as potentially efficient, no matter if you are newbie or seasoned trader. 

Trading with eToro in the US - FAQ
eToro is a primary player in the world of online trading available for the US clients. In our article we talk about multiple perks and tools offered by eToro including CopyTrader that allows to automatically follow deals of more experienced users or Virtual Portfolio with fictitious balance of $100,000 to practice trading strategies and to make their platform experience as comfortable as potentially efficient for both newbies and seasonal traders.
As a true market-leading social trading network eToro prioritizes clients' safety and needs above anything else. Globally, the broker is regulated by multiple credible authorities including FCA, CySEC and ASIC. In the US, eToro holds registration of with the FinCEN and other state-level regulators. In our article we describe the multi-level security system the broker established to ensure safety of the funds held on the platform and Crypto assets owned by eToro clients.
Currently, for the US residents eToro offers access to many of the world's most popular Cryptocurrencies and provides Stocks and ETFs trading to selected users in beta testing. Their number is constantly growing, so it's going to be a fully-accessible market any time soon. By trading with the broker you can gain multiple advantages we describe in the article, including the possibility to earn extra income with Copy Trading or Crypto staking.
eToro was launched in the US in 2018 as a Crypto Exchange, providing its services in more than 44 country states. Now there are more than 20 coins available for trading, and users can start trading Cryptocurrency for as little as $10 on innovative trading platforms and copy moves of selected traders with successful track records.
eToro currently offers around 20 cryptocurrencies and Bitcoin, Ethereum, Ethereum classic, Dash, Litecoin, Bitcoin cash, Stellar lumens, NEO, EOS, Cardano, Iota, tron, Zcash, Tezos, Chainlink, Uniswap, and Dogecoin and among them. In our article we describe all the ways you can benefit from them, including use of CopyTrader and Crypto staking where you get rewards just for holding an asset.