Exness advanced trading tools: trading signals, market news, economic calendar and calculator, and more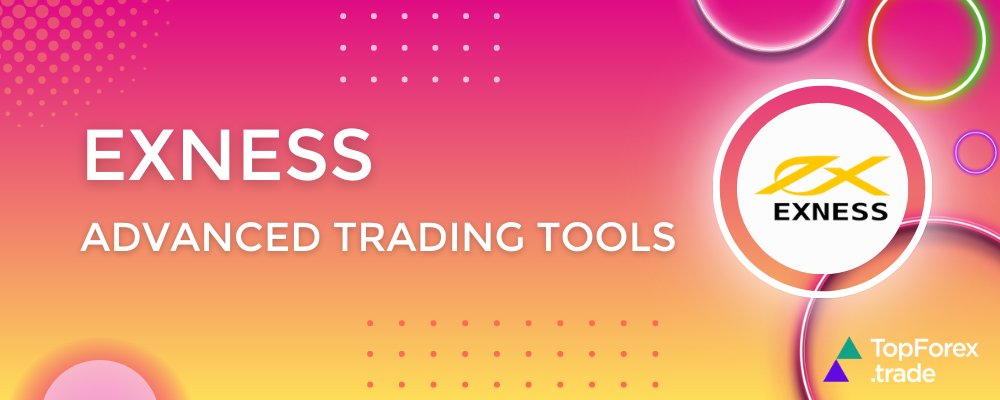 In the dynamic world of financial markets, staying ahead requires more than just a keen understanding of market trends. It demands access to cutting-edge tools that empower traders with insights, speed, and precision like never before. This is where Exness comes into play, revolutionizing the trading landscape with its advanced trading tools. Whether you're an experienced trader or just stepping into the realm of financial trading, Exness equips you with a suite of sophisticated resources designed to enhance your decision-making, refine your strategies, and ultimately elevate your trading experience. In this article, we delve into the realm of Exness's advanced trading tools, exploring how they work, their key features, and the advantages they bring to traders in an ever-evolving market.

Max. leverage
1:Unlimited
Deposit methods
Bitcoin, Perfect Money, Credit/Debit Cards, Neteller, Wire, Skrill
Max. leverage
1:Unlimited
Deposit methods
Bitcoin, Perfect Money, Credit/Debit Cards, Neteller, Wire, Skrill
Exness economic calendar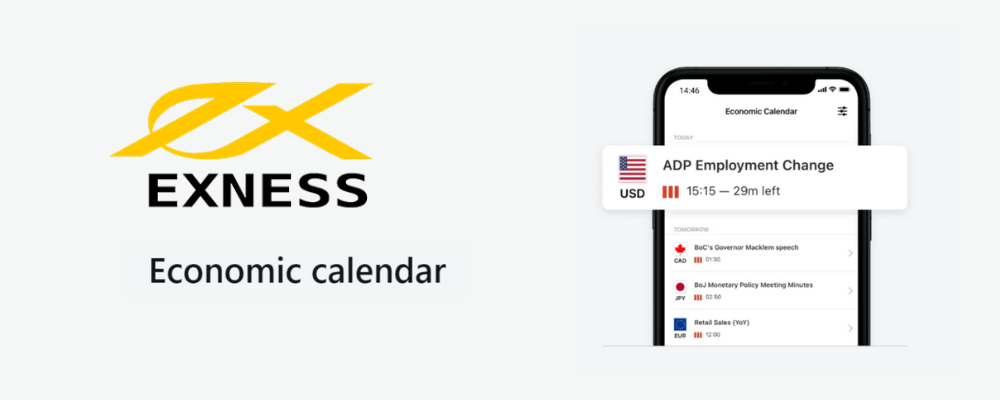 Stay ahead in the dynamic world of financial trading with the Exness Economic calendar. This comprehensive tool allows you to track high-impact news, key economic events, and data releases that shape the markets. By bookmarking the calendar and checking it regularly, you can remain up-to-date with the latest developments.
More than just a schedule, the Exness Economic calendar provides deep insights into the forces behind market movements. With an intuitive design, it keeps you informed about upcoming events that can impact global markets, from central bank decisions to vital economic indicators like GDP and inflation.
Empower your trading strategies by timing your trades strategically. Anticipate market volatility by identifying key economic events in advance, enabling you to adjust your strategies to market dynamics.
Exness trading signals by Trading Central
Exness also provides trading signals powered by Trading Central – a sophisticated resource that enriches your trading strategies. These signals combine diverse analytical methods, offering insights applicable to various market conditions and timeframes.
What distinguishes Exness trading signals is its comprehensive analysis. By integrating multiple analytical techniques, these signals provide a panoramic understanding of market trends. Encompassing technical indicators, chart patterns, and fundamental analysis, they empower traders with a holistic comprehension of potential market movements.
Adaptability is a hallmark of Exness trading signals. Regardless of market dynamics – be it a bullish surge, bearish downturn, or sideways drift – these signals remain relevant. This adaptability ensures that traders can make informed decisions, irrespective of prevalent market trends, fostering strategic agility.
Timeframes play a pivotal role in trading, catering to both short-term intraday players and long-term investors. With signals spanning different timeframes, traders can harmonize strategies with their preferred styles, utilizing these signals to elevate their trading decisions.
Exness trading signals cater to all experience levels, from novices to veterans. For newcomers, they serve as an invaluable learning tool, aiding in grasping market dynamics. Experienced traders, on the other hand, can refine existing strategies or explore new avenues. These signals offer a diverse toolkit seamlessly integrated into any trader's approach.
Exness market news by FXStreet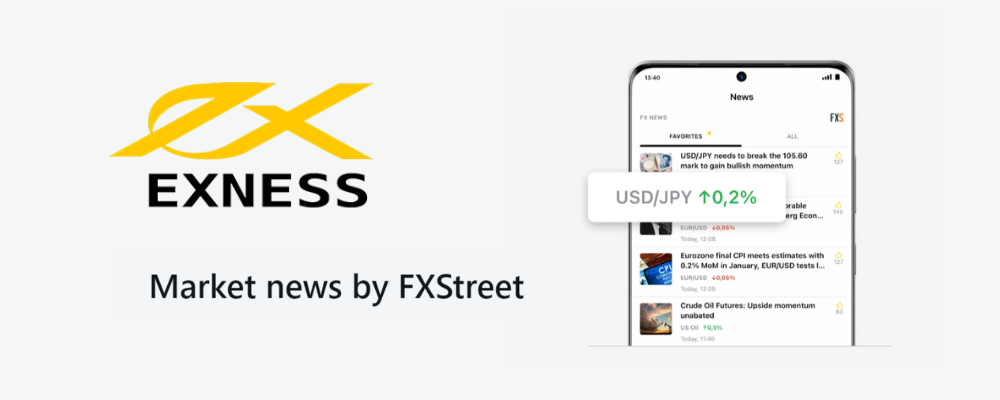 In the realm of financial markets, staying informed is non-negotiable. Exness offers market news by FXStreet – your direct link to real-time updates and essential market news. Whether you're an experienced trader or just beginning, this service keeps you in the loop with the latest insights, courtesy of FXStreet News' expert team.
No more missing out on critical information. With Exness market news, you receive instant access to the freshest updates, trends, and happenings in the financial world. This real-time advantage empowers you to make informed trading decisions with confidence.
The collaboration with FXStreet News brings a wealth of expertise to your fingertips. Their insights, opinions, and comprehensive market event coverage assist you in navigating the complexities of finance, allowing you to trade with greater insight.
Exness market news goes beyond delivering news; it provides context. By grasping the implications of market events, you develop a well-rounded perspective on how global occurrences influence different assets and markets. This comprehensive outlook aids in crafting strategies that align with larger trends.
Exness TC technical analysis indicator
Enhance your trading experience with the Exness TC technical analysis indicator, a downloadable plugin from Trading Central. This versatile tool integrates technical analysis strategies, forecasts, commentary, and key areas onto live trading charts seamlessly. Tailor it to your preferences, enjoy real-time insights on MetaTrader 4, and access global expertise in multiple languages. Whether you're a beginner or a seasoned trader, this indicator empowers you with valuable insights to refine your trading strategy.
Exness investment calculator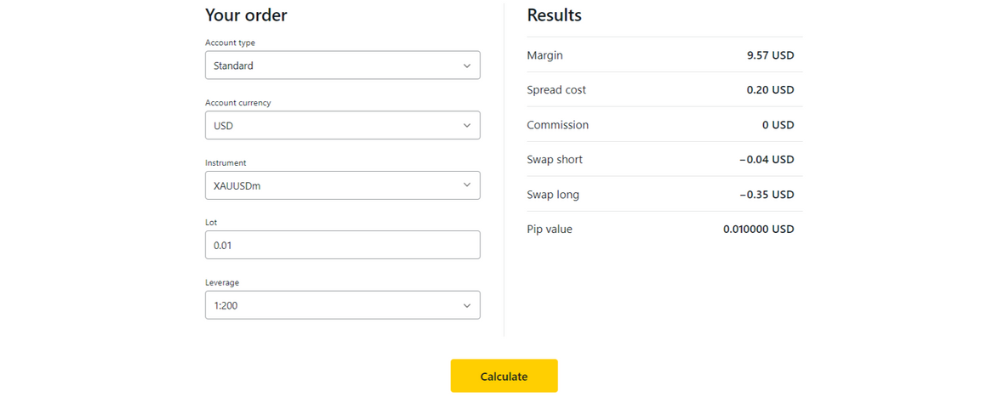 Navigating the intricacies of trading is made easier with the Exness investment calculator. Designed with user-friendliness in mind, this calculator takes on the heavy lifting by automating critical calculations for your trading position.
From margin requirements and spread costs to commission evaluations, swap rates, and pip values, the Exness investment calculator handles it all. It's your trusty companion whether you're dealing with a single position or managing multiple trades. With its comprehensive capabilities, this calculator ensures that your trading decisions are rooted in accurate and insightful data.
In a world where time and precision are paramount, this tool streamlines your trading processes effortlessly. By reducing the complexity of calculations and providing you with instant results, the Exness investment calculator empowers you to focus more on strategizing and executing trades.
Exness currency converter
For quick currency conversions, turn to the Exness currency converter. Enter your details and get real-time rates, ensuring you're always up to date. Whether you're traveling or trading, this accessible tool simplifies currency conversions at your fingertips.
Exness tick history
In trading, every shift matters. Exness tick history reveals these movements through ticks, capturing the tiniest price changes between trades. This history offers valuable data, from testing strategies to comparing broker pricing. By analyzing tick data, traders refine strategies and make informed decisions, gaining a deeper understanding of market dynamics.
Exness VPS hosting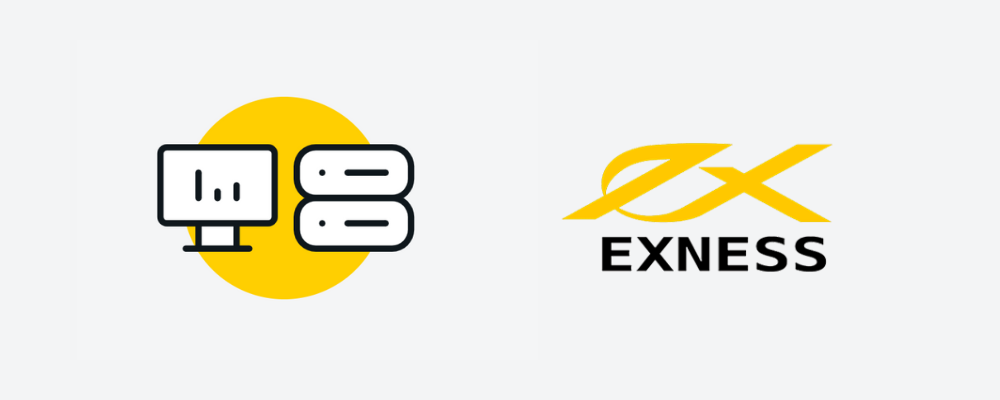 Enhance your trading experience with Exness VPS hosting – a revolutionary solution that empowers your trades with speed, stability, and mobility. A Virtual Private Server (VPS) strategically placed near Exness MT servers ensures rapid execution and consistent performance, regardless of your location.
By running your Expert Advisor (EA) on the VPS, you eliminate the uncertainties of varying internet connections, ensuring seamless trading execution. Enjoy 24/7 trading opportunities even when your personal computer is offline.
Exness VPS allows you to access your trading account and engage in market activities from anywhere, without the need for software installation, and is compatible with any operating system.
The VPS hardware specifications include Windows Server 2019 64-bit, 1 CPU core, 2 GB RAM, 50 GB disk space, and a strong and unique password for security. Incorporate Exness VPS Hosting into your trading strategy to optimize your trading environment and focus on executing successful trades with confidence.
Exness Trading Central WebTV
Tap into the financial heartbeat through Trading Central WebTV. Daily videos from NYSE's floor offer expert market commentary and trading ideas, powered by Trading Central. Stay informed, decide confidently, and navigate the financial world with ease.
Exness advanced trading tools summary
Exness provides an array of advanced trading tools, including a real-time economic calendar to track key events, expert trading signals for diverse conditions, market news for up-to-date trends, TC technical analysis indicator for enhanced chart insights, an investment calculator for simplified planning, VPS hosting for stable execution, and Trading Central WebTV for daily expert insights. To experience these features, simply click our special button and empower your informed decisions and strategy optimization.

---
Related articles:
Explore the potential of Exness Social Trading, a platform that allows you to easily monitor and embrace the tactics of skilled traders worldwide. Whether you aim to elevate your trading prowess or prefer to select a strategy aligned with your preferences, just pick a strategy, finance your account, and open doors to promising trade opportunities. Delve into an informative professional assessment to reveal the range of Exness Social Trading account options, favorable trading terms, clear-cut commissions, and included VPS services. You can also venture into the intriguing prospect of transforming into a strategy provider yourself.
Obtain an all-encompassing outline of Exness trading platforms through insights from industry specialists at TopForex.trade. Unearth crucial information regarding the broker's main platform, Web terminal, MT4 and MT5 terminals, along with their mobile application. Acquire a deep understanding of technical prerequisites, charting proficiencies, signaling choices, and extra attributes that cater to both Fundamental and Technical analysis approaches.
A thorough examination of Exness trading markets and instruments unveils a broad spectrum of investment possibilities. These encompass involvement in stock and index trading, participation in currency pair and commodity exchanges, and speculation on Cryptocurrencies. Exness presents a multitude of benefits, including leveraged trading, nominal commissions, tight spreads, a wide array of instruments, and proficient risk management tools.
---
Exness advanced trading tools - FAQ
Exness advanced trading tools are a collection of powerful resources designed to enhance your trading experience. Whether you're seeking real-time market updates, expert analysis, streamlined calculations, or a stable trading environment, Exness' advanced trading tools have you covered. Read the article to learn more about Exness advanced trading tools.
The Exness economic calendar is a real-time tool that helps you keep track of high-impact news, economic events, and data releases. It provides crucial information about market-moving events, allowing you to make well-informed trading decisions. Click our special buttons to check it out.
Exness trading signals by Trading Central offer expert insights and analytical approaches for different market conditions and timeframes. These signals empower your trading strategies by providing valuable information to guide your decisions. Check the article and try it out by clicking our special buttons.
The investment calculator simplifies complex trading calculations, helping you understand potential outcomes, evaluate risk and reward, and personalize your investment planning. It's a valuable tool for refining your trading strategies. Try it out clicking our dedicated buttons.
Exness VPS hosting, or Virtual Private Server Hosting, provides a stable and fast trading environment. Placed near Exness MT servers, it ensures reliable trade execution regardless of your personal internet connection. It's especially beneficial for running automated trading strategies and trading 24/7. Apply for your Exness VPS by clicking our dedicated buttons.