XM Group mobile app: engage in full-fledged Forex market transactions from any location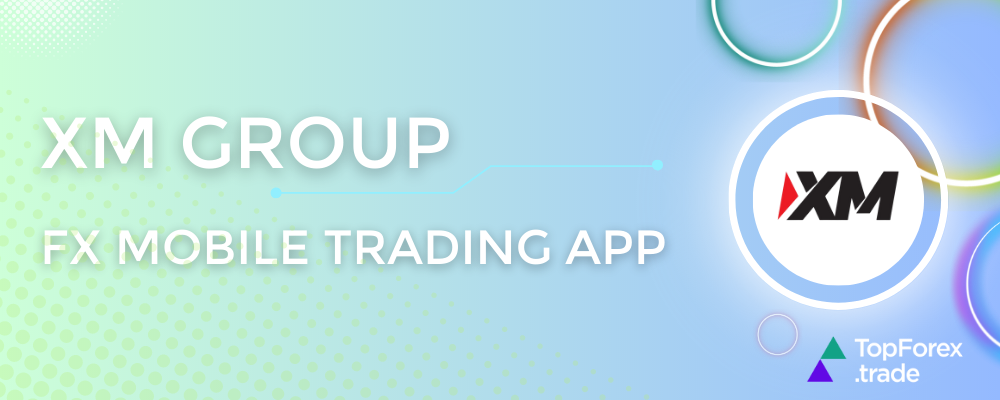 XM Group is a renowned online Forex and CFD broker that has been serving traders since 2009. In this review, we will explore the features, functionality, and overall user experience of the XM Group trading app, available for both iOS and Android devices.
As a popular broker regulated by esteemed financial authorities like CySEC and the FCA, XM Group offers a wide range of trading instruments, including currency pairs, stocks, commodities, and indices. With the introduction of their trading app, XM Group aims to provide traders with a seamless and convenient way to access the markets and manage their trades on the go.
We will delve into the app's key features, such as its user interface, charting capabilities, order execution, account management tools, and overall performance. We will also assess the app's compatibility, ease of use, and availability of essential trading functionalities.
Whether you are a beginner or an experienced trader, this review will help you evaluate the XM Group trading app and determine if it aligns with your trading requirements. So let's dive in and explore the features and functionality that the XM Group trading app has to offer.

Deposit methods
Bitcoin, Sofort, UnionPay, Neteller, Wire, Skrill
Deposit methods
Bitcoin, Sofort, UnionPay, Neteller, Wire, Skrill
XM Forex trading app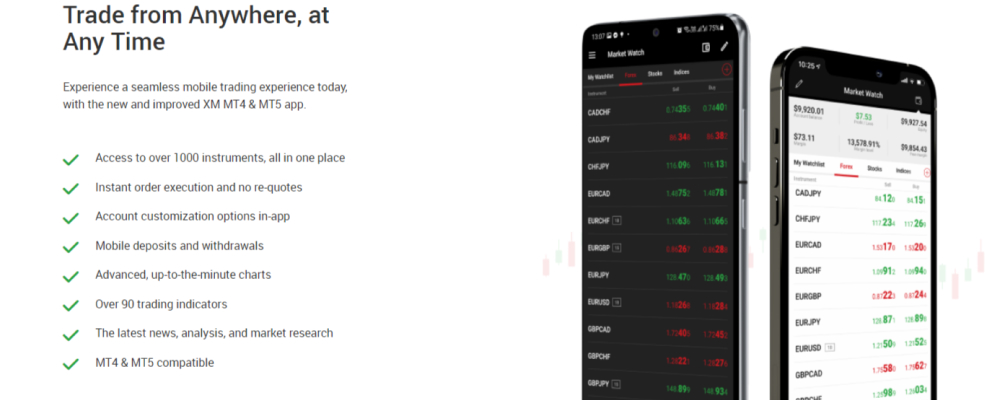 XM, a renowned financial services provider, offers its users a dedicated mobile trading app designed for both Android and iPhone devices. This proprietary app is meticulously crafted to deliver a unique and unparalleled trading experience, with a range of additional features exclusively tailored for XM traders.
The XM mobile app boasts an impressive array of key features, designed to empower traders and enhance their trading activities:
Wide range XM app instruments
With the XM mobile app, traders gain access to a vast portfolio of over 1000 financial instruments. This includes currency pairs, stocks, indices, commodities, and more. Conveniently accessible within the app, these instruments allow traders to diversify their trading portfolios and seize opportunities in various markets.
Instant order execution and no re-quotes of the XM app
Traders using the XM app can enjoy lightning-fast and reliable order execution, eliminating the frustrating delays caused by re-quotes. With no re-quotes, traders can confidently enter and exit trades swiftly, seizing favorable market conditions without disruption.
Customization options for personalized XM accounts
The XM app empowers traders to personalize their trading experience by customizing their account settings directly within the app. From adjusting leverage levels to setting up tailored notifications and configuring other account preferences, traders have full control over their trading environment.
XM mobile deposits and withdrawals
Convenience is key, and the XM app ensures that traders can conveniently deposit funds into their trading accounts and make withdrawals on the go. This allows for seamless and hassle-free transactions, providing flexibility and quick access to funds for uninterrupted trading operations.
Advanced, up-to-the-minute XM charts for market insights
The XM app equips traders with advanced charts such as real-time price quotes, volume information, and market depth. These real-time data features allow traders to stay updated with the latest market movements and make timely trading decisions.
Over 90 XM trading app indicators for in-depth analysis
The XM app offers an extensive suite of over 90 trading indicators such as moving averages (simple, exponential, weighted), Bollinger Bands, Relative Strength Index (RSI), Stochastic Oscillator, MACD (Moving Average Convergence Divergence), Fibonacci retracement levels, Ichimoku Cloud, Average True Range (ATR), Parabolic SAR, Volume Weighted Average Price (VWAP), and many more. These indicators serve as valuable tools for analyzing market trends, identifying patterns, and developing effective trading strategies. Traders can apply these indicators to the charts within the app, empowering them to make data-driven decisions.
XM app full compatibility with MT4 and MT5 platforms
The XM app seamlessly integrates with both the popular MT4 and MT5 trading platforms. Traders can effortlessly switch between the two platforms and access their accounts with ease. This compatibility ensures flexibility and continuity in their trading activities, allowing traders to stay connected and make transactions across multiple devices and platforms.
XM app customer support
In addition to its impressive features, the XM mobile trading app prioritizes exceptional customer support to ensure a seamless trading experience for its users. XM understands the importance of reliable and prompt assistance and thus offers comprehensive customer support services.
Traders using the XM mobile app have access to a dedicated support team that is available around the clock. Regardless of the time or their location, traders can reach out to the support team for assistance, guidance, or to address any queries or concerns they may have.
With its comprehensive range of features, the XM mobile trading app stands as a testament to XM's commitment to providing a user-friendly, efficient, and secure trading environment. It enables traders to stay connected to the markets, make well-informed decisions, and execute trades with ease, regardless of their location or the device they are using.
How to install XM mobile trading app?
To install the XM app you need to follow these simple steps:
Visit the official website of XM broker to create an account.

On the website locate the XM mobile trading app.

If using a website, download the app by clicking on the appropriate link or QR code for your device (Android or iOS).

Tap on the "Install" button.

If prompted, review the app's permissions and accept them.

Wait for the app to download and install on your device.
Once downloaded, launch the app, log in using your XM account credentials, and start trading conveniently from your Android or iPhone device.
XM mobile trading app summary
The XM Group mobile trading app is highly convenient for traders due to its accessibility and user-friendly interface. It provides real-time market data, instant order execution, a diverse range of instruments, and technical analysis tools. Traders can manage their accounts, access customer support and educational resources, all within the app. With the ability to trade anytime and anywhere, the app offers flexibility and convenience, empowering traders to stay on top of the markets and make informed decisions on the go.
Experience the Forex market on the go with the XM trading app for mobile devices by clicking our special button. Dive into Forex trading anytime, anywhere with the convenience of your smartphone or tablet.

---
Related articles:
Gain in-depth knowledge about the XM Group trading platforms, which encompass MT4, MT5, web terminals, and the mobile app. Explore their technical specifications, advanced charting tools, and additional functionalities like Expert Advisors. Unveil the ways to enhance your trading journey by creating an XM account, granting you access to complimentary VPS hosting, a vast collection of educational resources, and convenient technical support via the mobile app, allowing you to trade seamlessly anytime, anywhere.
Explore XM's extensive selection of trading instruments, offering a wide range of options including currency pairs and CFDs on commodities, stocks, and indices. Discover the various conditions and opportunities available for trading these instruments, taking advantage of tight spreads and flexible leverage. All of this can be accessed through XM's user-friendly platform, ensuring a seamless trading experience.
Discover the advantages of participating in XM broker's bonus programs, which include welcome bonuses and deposit bonuses. Obtain valuable information about the eligibility requirements, potential risks, and withdrawal limitations associated with these bonuses. Stay informed about the latest updates on XM's ongoing bonus offerings, ensuring you have the most up-to-date information at your disposal.
---
XM FX mobile trading app - FAQ
The XM mobile trading app is a mobile application developed by XM that allows traders to access the financial markets and trade various instruments, including Forex, stocks, commodities, indices, and Cryptocurrencies, through their smartphones or tablets. Check the article to get more information about XM app.
The XM mobile trading app is free to download and install. You can trade diffeent financial instruments and manage your account on the go. Click our special button to get XM app.
You can access your XM trading account through the mobile app. Simply log in using your account credentials, and you will have access to your account information, including your balance, positions, transaction history, and more.
The XM mobile trading app provides various features, including real-time market data, one-click trading for instant order execution, customizable charts and indicators for technical analysis, account management functions (e.g., deposit and withdrawal), educational resources, customer support, and more. Read the article to learn more about XM app.
The XM mobile trading app provides a demo trading feature. This allows you to practice trading strategies and explore the platform's functionalities using virtual funds without risking real money. Click our special button to try it out.