NAGA: Stocks and Crypto trading Social network
NAGA (also known as NAGA Markets) is a great choice if you're looking for an easy-to-use trading platform with advanced tools and want to join a big trading community where you can share your experience and discuss trading strategies with other people.
It is one of the best Social trading platforms and one of the most globally popular Forex and CFDs brokers. By signing up, you get access to more than 950 markets and instruments, including CFDs on ETFs, Forex pairs, CFDs on commodities, and Cryptocurrencies. You also get a wide range of professional tools and educational materials for traders of all skill levels.
You can trade and invest with more than a million other people, learn from them, copy the best traders, or become a professional Lead Trader yourself. As one benefit, you'll have more money coming in, your commission will be much lower, and you'll have a group of friends to talk about trading with. Or, if you're new to trading, you can get a lot out of NAGA's Autocopy feature, which lets you copy the most successful traders in real time.

Deposit methods
Maestro, GiroPay, iDEAL, PayPal, Credit/Debit Cards, Skrill
Deposit methods
Maestro, GiroPay, iDEAL, PayPal, Credit/Debit Cards, Skrill
NAGA Autocopy, the original social trading tool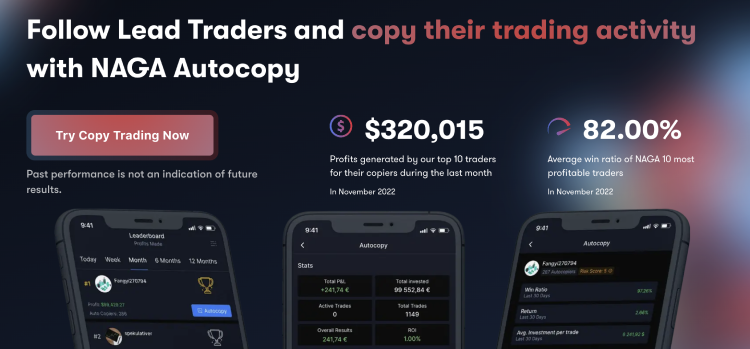 NAGA's Autocopy is the ultimate copy trading tool. All you need to do is find another trader, then click Autocopy to replicate their trading activity.
Here is how you can start: 
Look for a Lead Trader on the Leaderboard
Check out the traders' leaderboard and search by performance, assets, win rate percentage, and more. Choose the best one for you and press Autocopy.
Examine the trader's performance statistics
To access the Autocopy settings and vital trading indicators that show how the Lead Trader performs and how copiers benefit, click on the Autocopy button.
Select the type of Autocopy and the amount of funding
Choose whether to copy a trader using a percentage or a fixed amount per trade.
Confirm your settings and begin Autocopying
Enter the ratio or amount and press the "Start Autocopying" button to automatically mirror the positions of traders. In the Copy Trading section, you can monitor your progress or change your Autocopy settings at any time without closing your positions.
Add separate triggers for Stop Loss and Take Profit
You copy your Trading Leader's Stop Loss and Take Profit settings, but you can set the limits for each trade individually in your trades menu.
After you confirm your Autocopy settings, the algorithm will automatically start, unless you don't have enough money in your account. In this case, the order will be skipped, and the Autocopy timeline menu will show you the trades you missed.
You can copy as many traders as you want at the same time. Autocopy is always on unless you tell it to stop or the Lead Trader stops trading.
How to get Autocopied and earn a NAGA copy premium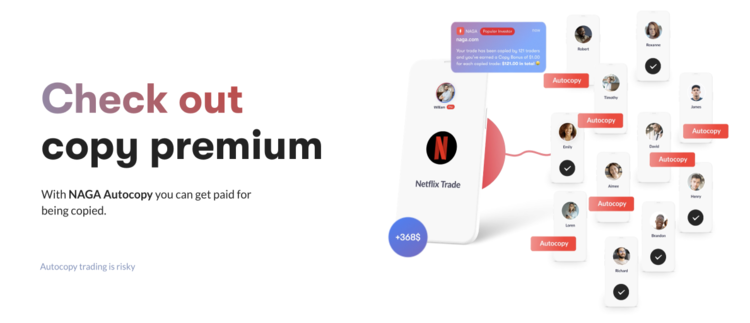 You need to meet both the trader account requirements and the trading requirements to get Autocopied and earn a copy premium.
Account requirements include: 
Be at least IRON Trader or higher;

Upgrade your account to live;

Upload documents and get verified;

Upload your first profile picture;

Publish your first post with valuable content to the feed;

Deposit at least $250 to your account;
Also, there are some criteria for your trading performance: 
Open your first own trade;

Do not close this trade for longer than 5 minutes;

Invest more than $100 in one trade;

Close your trade with a profit;
Copy premium is paid out only for profitable trades. Moreover, if you trade Forex and other people copy you, your Forex copy premium will double.
NAGA Autocopy fees, costs, and fund requirements
In terms of how much money you deposit, there are two ways to Autocopy someone: "Relative to the Leader" and "Fixed Amount Per Trade".
When you choose to invest "Relative to Leader," the minimum you can copy someone is the smallest available position of an instrument.
When you use the "Fixed Amount Per Trade,"  the least you can Autocopy someone is $50.
If you don't have enough money in your account, the trade won't be copied. You'll get a notification that your account doesn't have enough money and that you need to add money to it.
To copy a trader you'll pay a fixed €0.99 charge per trade. If your profit is more than €10, you have to pay an extra fee. If you copy a trader's order and it makes you more than €10, you'll have to pay a 5% fee.
NAGA Autocopy risk score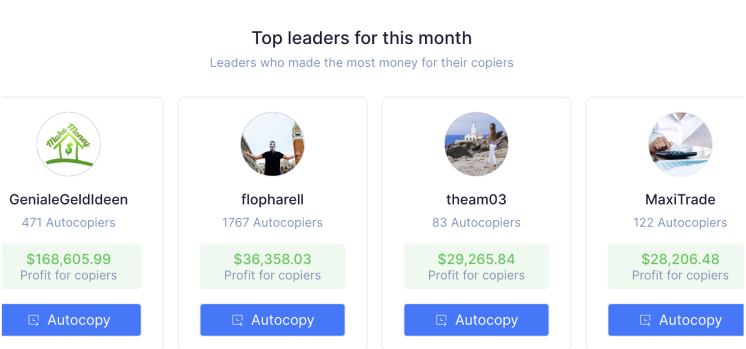 The risk that comes with investing is the one thing that no trader can avoid. But you can control risk by being smart about where you put your money. Based on the other trader's portfolio, this will help you make a well-thought-out choice.
On NAGA, the Risk Score is a way to figure out how much risk each trader is willing to take. So, you'll have a better idea of whether you want to Autocopy a certain trader or keep looking. Please remember that other things will also be taken into account.
The Risk Score is given a number between 1 and 10. The risk goes up as the score goes up, and vice versa. For example, a trader with a Risk Score of 10 is likely to make trades that could make or lose them a lot of money compared to their account balance. A trader with a Risk Score of 3, on the other hand, is likely to be more cautious and spread out.
The Risk Score on NAGA is calculated based on the trader's past actions and is updated from time to time. For NAGA traders' Risk Scores, the Max Drawdown, Used Margin, Sharpe Ratio, and Stop Out history are all taken into account.
New traders who have never used NAGA before will get a default Risk Score of 10 and won't be able to copy trades from other users. For the Risk Score to be less than 10, you must have closed more than 5 trades in the last 90 days and have made at least one trade in the last 30 days. So, in short, the more good trades you make, the lower your risk score gets, and the more likely it is that someone else will copy you.
Social trading with NAGA: everything you should know
NAGA is one of the best choices if you want a broker that can give you advanced but easy-to-use trading tools and connect you with the trading community at the same time. It has a wide range of trading instruments and learning resources to make trading more efficient. Several reputable regulatory bodies guarantee the last point, and NAGA has to follow their rules (the UK: FCA, Cyprus: CySEC, Europe: MiFID II, MiFIR).
Unique Copy trading mechanisms make it possible for NAGA to be friendly to users of all skill levels. If you're just starting out as a trader, you can use a demo account to practice, then switch to a real account and turn on the original Autocopy option. It is a cool feature on the NAGA platform that lets you automatically copy Lead Traders and learn from their experience.
All you need to do is choose the trader you want to copy, put in how much money you want to use, and click "Autocopy." Congrats! You've just begun automatically and in real-time copying the lead trader's trades.

NAGA Social trading - FAQ
It depends on the funds you choose to deposit. If you choose "Relative to Leader," you can only autocopy as much as an instrument's minimum available position. If you pick "Fixed Amount," the lowest amount is $50.
There is a fixed fee of €0.99 for the Copiers to duplicate the trades of the Lead Traders. If the copied trade makes more than €10.00, there is an extra 5% fee.
Traders on NAGA can Autocopy and be copied by other traders. To be eligible for Copy Premium, traders must meet certain criteria, have a certain level of expertise, and build up enough trust scores so that other users can start copying them.
The Leaderboard is the best place to look for a fine trader for Autocopy. When you open Top Traders, users are ranked by how much money they have made (the sum of gross profit made on NAGA). To narrow the results, you can change how they are sorted or add more filters. When you find a top trader on the Leaderboard who interests you, you can go to his or her profile page to see a bio, trading statistics, feed posts, and trading history.
You may not be able to autocopy for one of the following reasons: If you don't have enough money in your account, a trade will be skipped. If the margin level drops below 100%, the money in your account won't be enough to cover the margin needed to keep the position open. Your account could also be temporarily disabled if you didn't get permission to verify your documents (POI/POA).