What is Forex Social Trading?
The next milestone in the development of social media is Social Forex and equities trading. It's a fairly young style of trading that utilizes the Internet's potential to provide users with quick and continuous access to market information. Unlike fundamental and technical analysis, information is obtained from other users in Social Trading, allowing newcomers to execute trades without having to undertake their own assessments. In other words, you make financial decisions based on the data and judgments of others.
Through Social trading, users can share information with other members of the community in real-time. As one of the system's fundamental benefits, it allows rookie traders to observe and then imitate the transactions made by experts. 
Also, beginners can see how experienced traders conduct business, why they take particular actions, and what indicators they monitor while making a decision. Thus, Social trading allows amateurs to learn faster and in a real setting. 
In the past, it wasn't uncommon for new traders to lose their money before learning how to trade. The likelihood of such an occurrence is reduced through Social trading since it allows Copy traders to make deals with "training wheels". 
Another good thing is that the reputable Forex brokers we mention in this article excel in customer care and allow their clients to combine Social trading with Forex bonuses for different types of trading activity (for example, you can get a bonus of up to $5000 on your initial deposit). So in this case, if you're looking for passive income, you can use it to fund your Copy trading. Or, if you're on the path of developing skills for professional trading, you can spend it on testing different strategies without risking your own money.
Forex market Copy trading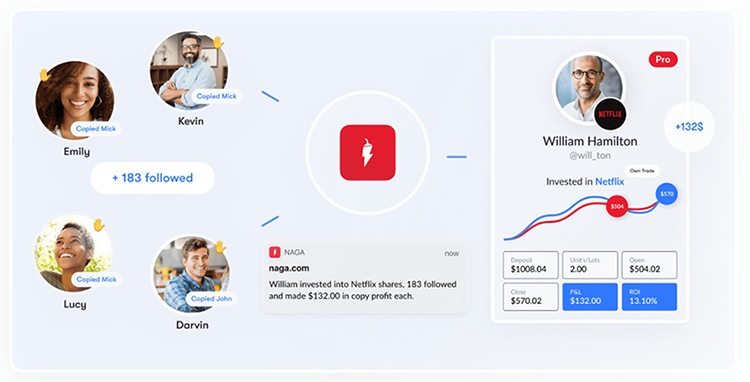 As the term indicates, Copy trading allows you to directly replicate the positions of another trader and link a share of your portfolio to theirs. By tying your profile to another trader's, you can copy all of their current market positions as well as any future deals they execute. Once they open a new trade, you automatically do it too. If they choose to close the deal, yours is closed as well. If they make a profit, then you earn proportionally to your stake too. 
It also does not imply that you have no influence over the outcome. Most platforms allow you to cancel deals, open new ones, and otherwise modify the overall outcome once you've made a connection. However, by copying another trader, you can make passive income trading any financial instrument including Cryptocurrencies and Binary options. 
Since Copy Trading allows beginner traders to make money on the market, this style of trading is becoming increasingly popular. Many traders, in fact, establish what are known as "people-based" portfolios: instead of trading Forex or equities, they put funds in other investors and do not make their own trades.
NAGA Markets' uniqueness lies in its true friendliness to users of all skill levels, accomplished via innovative Copy trading mechanisms. If you're just getting started as a trader, you can start with a demo account and work your way up to a real one, where you can turn on the NAGA Auto-copy feature. Or, if you're an experienced trader, you'll receive a substantial Copy bonus every time your deals are successfully copied. It's a win-win situation for everyone!

Deposit methods
Maestro, GiroPay, iDEAL, PayPal, Credit/Debit Cards, Skrill
Deposit methods
Maestro, GiroPay, iDEAL, PayPal, Credit/Debit Cards, Skrill
eToro's CopyTrader feature allows everyone to trade like an expert using other traders' experience, whether you're a newbie learning the basics or just don't have time to follow the markets: simply follow top-performing traders, automatically replicating their trading in your own portfolio. You can open an account with eToro and start copying other traders at no extra charge, management fees, or other hidden costs involved.
However, eToro is more than simply a Copy trading platform for people wishing to enhance their trading. You'll be joining a premier collaborative trading and investment community – a place to connect, share, and learn.

Deposit methods
Trustly, iDEAL, Rapid, PayPal, Klarna, Credit/Debit Cards, Neteller, Wire, Skrill
Deposit methods
Trustly, iDEAL, Rapid, PayPal, Klarna, Credit/Debit Cards, Neteller, Wire, Skrill
PAMM accounts in Forex trading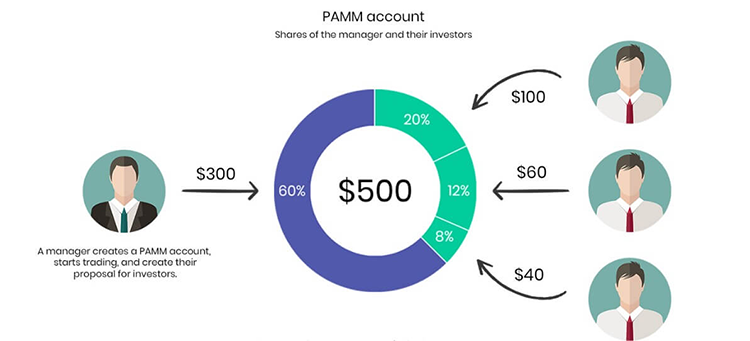 Percentage Allocation Money Management or PAMM is a type of pooled money Forex trading. Traders and investors have the option of entrusting their funds to the competent broker(s)/money manager(s) of their choosing in the proportions they wish. These managers may handle multiple Forex trading accounts with their own money as well as pooled funds in order to earn profits.
In this case, the goals of the Forex broker are: 
Provide a safe and secure platform for all parties engaged in the trading; 

Facilitate trading operations while staying inside the bounds of the legislative regulations; 

Provide account maintenance, deposits, withdrawals, and other associated tasks;

Allow transparent review, feedback, rating, and associated procedures for investors and money managers to pick and communicate with each other, in addition to a standard trading business platform;
Traders can choose their money managers for their Forex deals through PAMM accounts, which are a straightforward and hassle-free way to do so. Opting for this type of social trading gives users a chance to profit with little effort. However, based on the performance of a money manager, PAMM accounts carry the risk of capital loss. For this article our expert team conducted due research, choosing only reliable, time-proven regulated Forex brokers with millions of clients around the world to showcase. 
HotForex's PAMM account is actually one of the most popular among traders, even though its accessibility is subject to geographical restrictions. There you can apply for a PAMM account as either the PAMM money manager or as an Investor. With this account, for money managers and Investors, the tradable products are Forex, metals, oil, and indices with a maximum leverage of 1:300.
However, HotForex also offers HFcopy – the broker's original Copy trading feature, which allows traders to join forces by either creating trading strategies as a Strategy Provider or copying trades as a Follower. As followers, traders choose from the rank of successful Strategy Providers and link their accounts to theirs, so that the performance of the latter gets copied and translated into the accounts of the former.

Deposit methods
BitPay, VLoad, FasaPay, UnionPay, Perfect Money, WebMoney, Credit/Debit Cards, Neteller, Wire, Skrill
Deposit methods
BitPay, VLoad, FasaPay, UnionPay, Perfect Money, WebMoney, Credit/Debit Cards, Neteller, Wire, Skrill
MAM accounts in Forex trading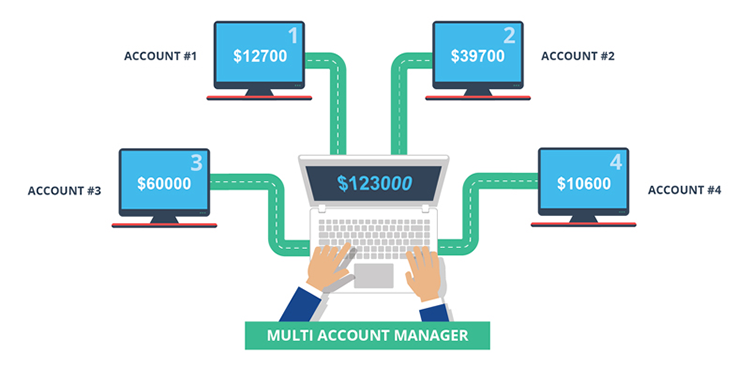 MAM means Multi-Account Manager or MAM is another social trading option that is quite similar to PAMM: the broker creates a pool of investor's accounts where clients deposit money for the account managers to trade with. 
However, with PAMM, generally speaking, managers trade with the pool of funds and don't have access to trading accounts, while with MAM, managers can sometimes personalize some settings for different accounts: change the leverage or trade/do not trade specific instrument types.
MAM-type accounts are defined by the investor's complete control and the option to open many accounts at the same time. For experienced traders, it is a chance to save capital from the mistakes of the manager. On the other hand, beginners can abuse this feature, risking the loss of their deposit. That's why competent, knowledgeable brokers attributed the biggest share of the trading success. 
AvaTrade provides a powerful MT4 MAM, allowing professional authorized traders to manage multiple accounts through a single terminal. The platform is a great solution whether you are an asset manager, hedge fund manager, or professional trader authorized to manage clients' funds since you can:
Trade multiple accounts simply, smoothly, and trouble-free;
Access the history and position of multiple accounts all in one go;
Make group trades for multiple accounts;
Or, if you just stepped on the path of a Forex trader and looking for some guidance, AvaTrade has solutions for you too: AvaSocial and AvaTrade Protection. The first one is the Copy Trading platform that enables you to duplicate the performance of successful traders you choose and earn passive income as they succeed in their trades. The second one provides reimbursement for losing trades at the end of the month in exchange for a hedging cost you pay to access this tool.

Deposit methods
Bitcoin, Sofort, UnionPay, Credit/Debit Cards, Neteller, Wire, Skrill
Deposit methods
Bitcoin, Sofort, UnionPay, Credit/Debit Cards, Neteller, Wire, Skrill
Social Trading with Top Forex brokers
In Social trading, sharing information and learning from the best is only the first step. Naturally, you can duplicate traders and collaborate with other like-minded people in a group for mutual profit. The possibilities are unlimited when it comes to Social trading: you will gain knowledge, trade, meet new friends, and earn money. It considerably reduces the time it takes to progress from a newbie to an advanced trader. You'll be able to confidently make your own transactions and even assist newcomers on their way to becoming traders before you realize it, or choose to stick with social trading making a passive income. 
Whatever you decide to do, a reliable broker is one of the key success factors. Brokers we review in the article hold regulations of the strictest financial authorities around the world and have been on the market for decades. They provide an opportunity to Copy trade almost any kind of financial instrument, including Cryptocurrencies and Binary options. Engaging with these brokers, you'll gain access to a variety of trading strategies, as well as demo accounts, negative balance protection, and popular trading platforms available for every possible device. 
HF Markets: HFcopy
HF Markets offers a choice of account types to suit the demands of a wide spectrum of clients, regardless of their degree of experience. The broker provides a wide selection of trading assets (over 1000 CFDs and 47 Forex pairs), high-quality software, competitive trading conditions, and immediate order execution. Several top-tier regulators' licenses across the world attest to the broker's trustworthiness.
HF Markets offers a proprietary Copy trading platform – HFcopy – in addition to upgraded MetaTrader and high-quality research. To encourage users in their trading pursuits, the broker offers a Forex bonus of up to $5000 on your initial deposit, as well as cash rebates of up to $8000 and seasonal bonus offers.

AvaTrade: AvaSocial
AvaTrade is a global CFD and Forex broker that supports trading of Forex and CFDs on a variety of asset classes, including Cryptocurrencies on different trading platforms for web, desktop, and mobile devices. Since its establishment in 2006, AvaTrade has had 300,000 registered traders complete more than 3 million deals every month, totaling more than $1.47 trillion in traded value.
AvaTrade is a truly reliable broker, holding regulatory licenses in different financial centers across the world. Copy trading feature, automatically duplicating the strategies of successful traders is available to AvaTrade customers. Unlike traditional trading, you will not be required to manage the trades directly: just choose a pro trader with a high success rate and the system will duplicate the transactions, automatically applying them to your deposit.

NAGA Markets: NAGA Autocopy
NAGA Markets is a renowned German broker that offers a wide selection of trading instruments as well as a competitive yet friendly social trading environment. With NAGA, you're granted access to over 950 markets, including ETFs, Forex, commodities, and crypto CFDs, as well as a large choice of professional tools and educational materials for traders of all levels.
With NAGA Autocopy, you can trade and invest together with over a million other people, learn from them and automatically copy the greatest traders, or become a trading pro yourself. As one, you'll have the opportunity to earn extra money by getting a Copy bonus. Alternatively, as a rookie trader, you can greatly profit from real-time auto-copying of the most successful traders: make money while learning.

eToro: CopyTrader
eToro – overall a major player in the online trading market – holds a plethora of tools to make your trade as comfortable as possible.
eToro offers some of the most appealing market conditions, only a $50 minimum deposit for a regular account, and minimal trading and non-trading costs. So, whether you're a seasoned trader or a complete beginner, eToro is a platform worth exploring. 
The broker is an excellent choice for traders who'd like to make passive income and wouldn't like to monitor the market 24/7. With the Copy Trading feature on the platform, you can trade independently or copy deals made by pro traders.
Minimum deposit to get into Social trading with eToro – $200

74% of retail CFD accounts lose money
Exness Social trading
Exness is one of the brokers that provides its clients with the option of Social trading, a feature that allows you to increase your potential trading gains by funding the strategies of other professional traders or sharing your own.
Social trading with Exness bears some core advantages: security of your funds (despite being "social",  you are the only person who has access to and controls over your fund.); only verified strategy providers (to become a strategy provider, a trader must meet the broker's high-performance standards, ensuring that you are following a skilled market master.); ability to compose a diversified portfolio (all of Excess' trading instruments are available for transactions via Social trading.); and access to all performance data as you can analyze the performance history of each strategy before you decide to invest in one.
The best point is that setting up Social trading is simple: flexible filters provided by Exness will help to find a strategy that suits your risk tolerance, invest funds, and earn when the strategy returns a profit.

Social Trading - FAQ
International Forex brokers that are licensed by top-tier financial regulators and have millions of clients around the world are definitely the best option for traders of any level. In our review we showcase only trustworthy time-proven brokers that offer advanced features for Social trading with capacity to Copy trade even Cryptocurrency and Binary options, variety of financial instruments to choose from and transparent bonus programs for every type of trading activity (up to 100% on your initial deposit, referral programs, seasonal bonuses).
PAMM (Percent Allocation Management Module) and MAM (Multi-Account Manager) are quite similar kinds of Social Trading. However, as we describe in detail in our article, with PAMM, managers normally trade with a pool of funds and do not have access to trading accounts, whereas with MAM, managers can customize some variables for different accounts, such as changing the leverage or trading or not trading specific instrument types.
One of the main appealing benefits of Social trading is the possibility to make passive income. There are a variety of financial instruments that can be traded in that manner, each with its own properties. In our article we discuss 3 main kinds of Social trading, including Copy trading, PAMM and MAM accounts.
Reputable international Forex brokers with advanced tools and developed trading infrastructure we mention in this article support Copy trading of almost any financial instruments including Cryptocurrencies (from Bitcoin and Ethereum to much more rare coins) and Binary options on the best market conditions, also utilizing opportunities of getting Forex bonuses up to $5000 on initial deposit.
With trustable regulated Forex broker Copy trading of Crypto is available and safe just as of any other financial instrument. In our article you'll find detailed information on how you can utilize the potential of Social trading not only to make passive income but also to learn from professional traders to boost your own skills and expertise.