AVA Trade
Trading with confidence
If you want to have access to more than 1250 assets, including Cryptocurrencies, 24/7 multilingual support all over the globe, and a five-star rated broker at Trustpilot – Ava Trade may be your choice.
Ava Trade is a versatile online trading broker. It has many advantages and numerous features to discover. It tells you what they are from the front page.
First, it's an unusually broad range of trading instruments: while many brokers offer a few hundred assets to choose from, Ava Trade's menu boasts 1250 items.
Second, the AvaTradeGo app is an award-winning trade application, and it deserves the name. In there, you find visual dynamics combined with modern technologies bringing execution up to the highest speeds and trade mechanics up to perfection.
Third, Ava Trade is a global broker and it's regulated by six international and regional financial authorities. Also, it is especially successful in the UK, Germany, South Africa, and Egypt – countries not only hard to win but to enter in the first place.
Finally, AvaTrade offers Autotrading apart from the numerous terminals and trade modes it provides. Definitely, it finds support among many traders because it's hi-tech, effective, and again, few of its competitors offer such a service.

1250 instruments available including , Cryptocurrencies, Stocks, Commodities and Indices
Desktop, tablet, mobile and Web-based trading
Competitive spread and leverage offering
Client funds are held in segregated accounts for increased security
Regulated in Europe, Australia, Japan, British Virgin Islands, UAE and South Africa
Trading websites in more than 20 languages
AVA Trade Regulation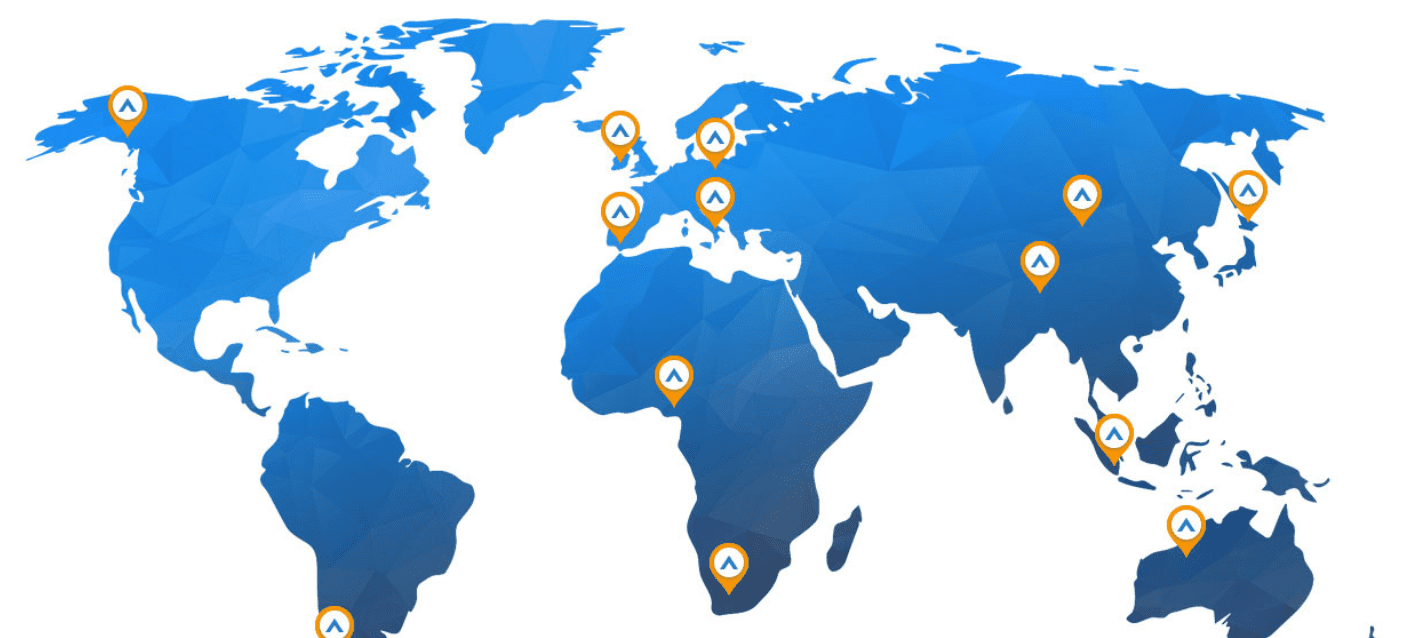 Ava Trade has a very formidable regulatory base. Here are some of the institutions that the broker is licensed by:
Investment Industry Regulatory Organization of Canada
British Virgin Islands Financial Services Commission
Financial Sector Conduct Authority (South Africa)
Australian Securities and Investment Commission
The Abu Dhabi Global Market Authorities
Financial Services Agency (Japan)
The Financial Futures Association of Japan
In addition to this cross-continent regulatory coverage, Ava Trade has multiple offices in most regions of the globe. Practically, it means that the broker is not only well-regulated and, hence, safe to go with but reachable and approachable.
AVA Trade Platforms
It may be easier to look for what AvaTrade doesn't offer. Here is the list of trading platforms the broker offers:
MetaTrader 4/5 – both platforms available for old-schoolers of MT4 and the next-gen fans of MT5
WebTrader – a trading platform mainly suggested to beginner traders that is available as online web-terminal
AvaOptions – if you want to trade options, it is the terminal you need, available in mobile and web versions
AvaSocial – a CopyTrading platform the enables you to copy the performance of successful traders you choose and gain with them the way they trade
AvaTradeGo – mobile trading platform, developed and designed by AvaTrade and featuring signature tools from the broker, including AvaProtect
Autotrading – platforms for automatic trade, including ZuluTrade and DupliTrade
It's not the full list of what the broker offers. The thing is that Ava Trade's strategy is to offer you the most suitable option of a trading terminal, whatever your objective is. You want to go for social trading – you'll have a platform for it; you want to autotrade – you'll have this one, too. Anything a trade is looking for will be found in AvaTrade's menu.
AVA Trade Mainstream assets
AvaTrade provides trades with a tremendously rich asset menu. Forex is obviously there. CFD's are there, too, including bonds, stocks, indices, ETFs and Commodities. The presence of bonds and ETF's is a very important tactical tool as these two asset types are normally considered much more stable than others and, therefore, are frequently used to stabilize portfolios.
That's why offering bonds and ETF's to trades, Ava Trade significantly increases the variety of trade strategies users can go for with this broker.

AVA Trade Cryptocurrency trading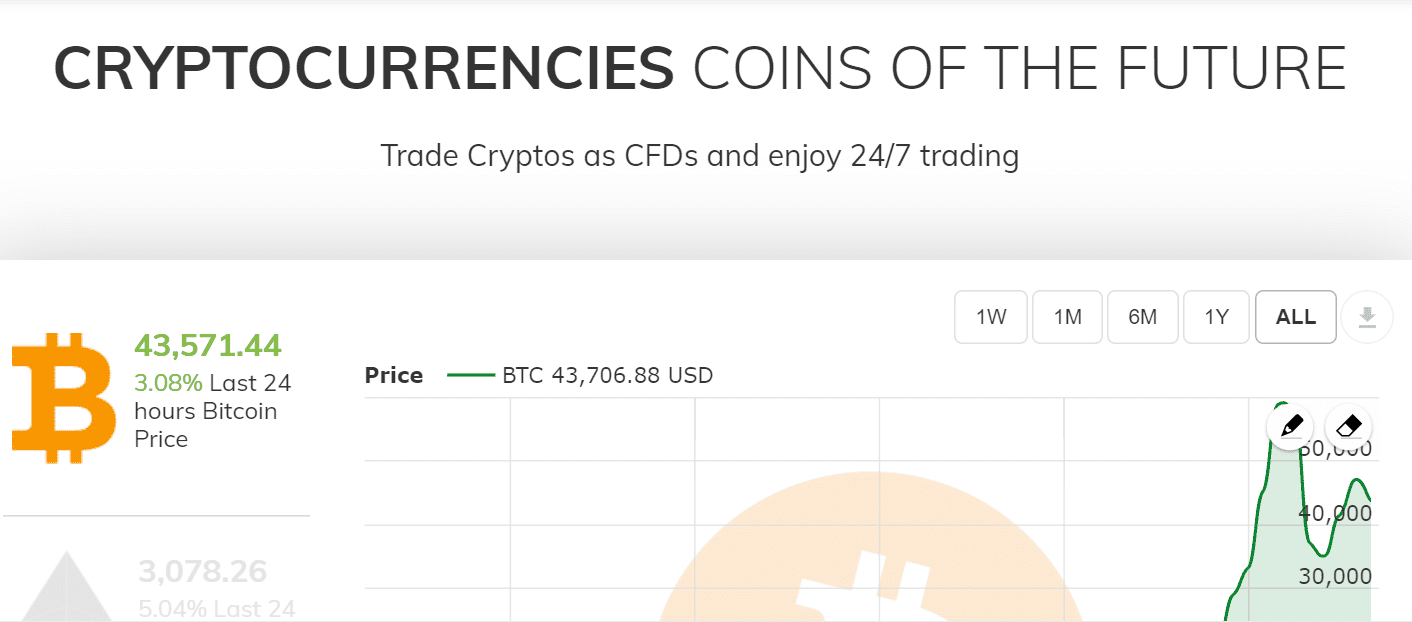 In addition to the traditional trading instruments such as Forex, Ava Trade offers cryptocurrencies: Bitcoin, Bitcoin Cash, Ethereum, Ripple, Dash, Litecoin, Bitcoin Gold, and EOS.
While most brokers prefer to avoid cryptocurrencies and others normally offer Bitcoin and Ethereum, AvaTrade goes the extra mile and provides you with the entire range of these digital assets.
In addition to the opposite spectrum presented by such safe-haven assets like bonds and ETF's, cryptocurrencies offer an opportunity to diversify your portfolio with more volatile assets and higher risk-to-rewards potentials.

AVA Trade Education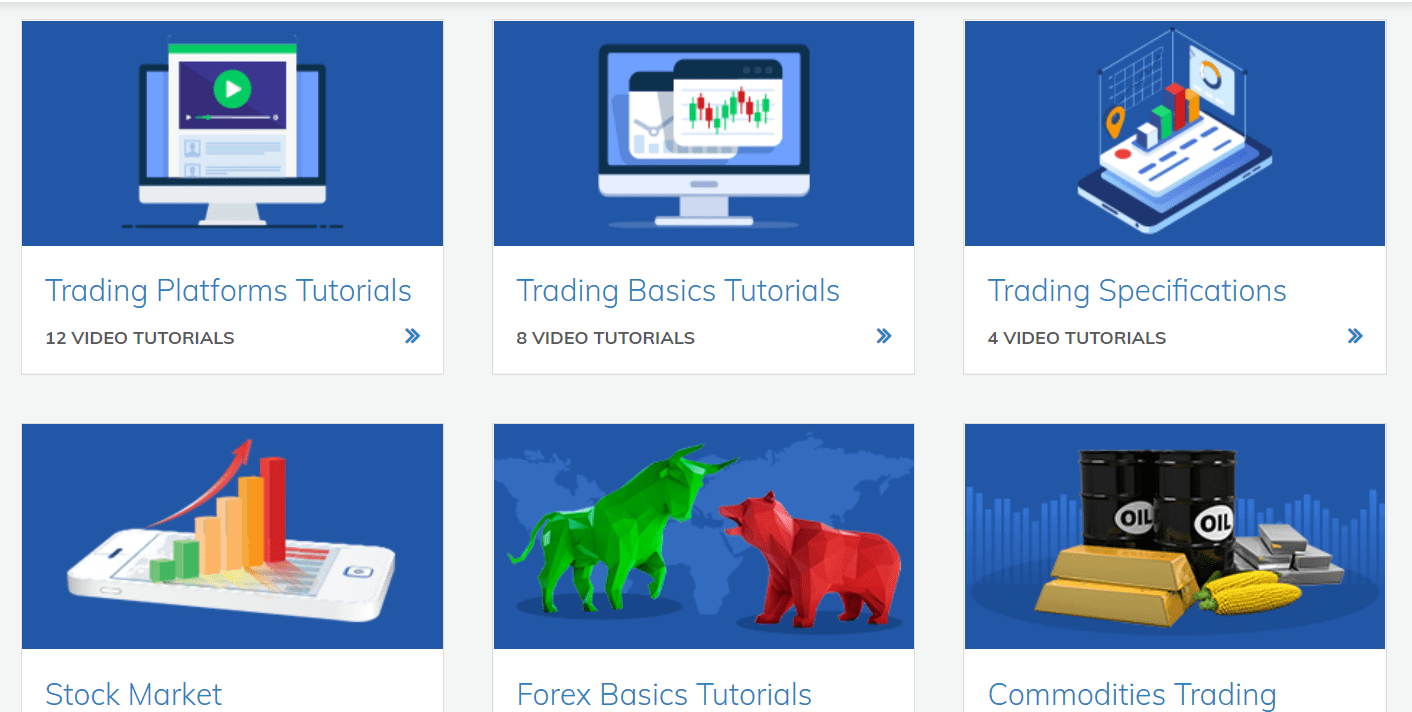 AvaTrade's knowledge base is very competitive. There are trading videos including explanatory materials for beginners, videos and articles on trading strategies and market rules, and tons of other information about market terms, order types, etc.
You may order an ebook on what you find necessary or find helpful information in the AvaTrade blog. Moreover, registering with AvaTrade entitles you to an Education Pack that includes daily fundamental and technical analysis and analytical posts from AvaTrade's professionals.
AVA Trade Protection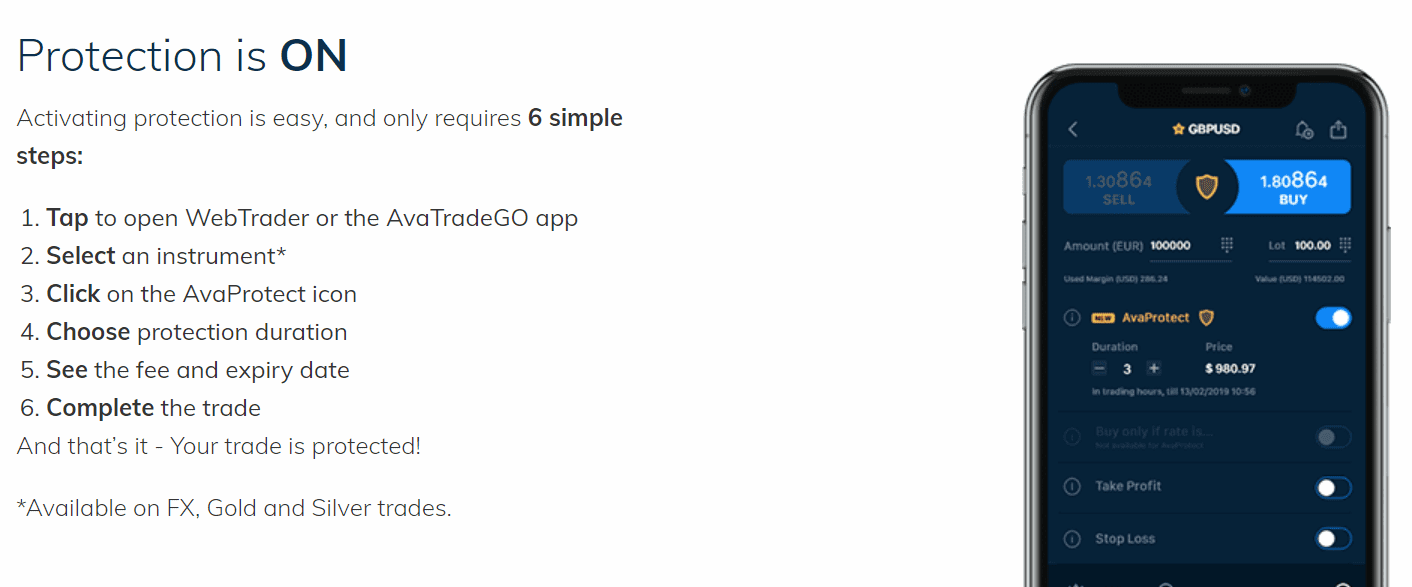 AvaTrade offers a tool to reduce financial risks – it's called AvaProtect.
Available on AvaTradeGo and WebTrader, this tool provides reimbursement for losing trades at the end of the month in exchange for a hedging cost you pay to access this tool.
The limit of this protection is one million dollars, and you may apply to a specific trade you choose.
AVA Trade Summary

AvaTrade is a versatile broker that offers a number of tools from tech-advanced autotrade terminals to financial risk-management initiatives. If you want to have safety combined with a wide choice of trading instruments and platforms, AvaTrade may be a suitable choice.

---
More about AvaTrade:
TopForex.trade review of AvaTrade's trading platforms: AvaSocial, AvaOption, AvaTradeGO, WebTrader, and MT4 and MT5 terminals. In-depth analysis of their technical capabilities and Social trading opportunities provided by the broker, as well as a step-by-step guide on how to set up an AvaTrade account and enjoy all the benefits of trading with a regulated, award-winning broker.
Everything you should know about AvaTrade's advanced trading features: risk management with AvaProtect, Trading Central analytics, the free Guardian Angel feedback and support system, Expert Advisors, auto deals with ZuluTrade, DupliTrade, and Capitalise.ai, as well as various in-house developments like AvaSocial.
AVA Trade overall scores
This review was created for you to learn more about AVA Trade and decide on how well it suits your needs and values. We scored it using our own criteria and methodology to present you with a full, informative report. However, some info is clearer in numbers! Please, see AVA Trade final scores in areas that our experts consider high-priority.
Currency pairs
Cryptocurrencies
Stocks
Commodities
Indices
FX Options
ETFs
Bonds
AVA Trade fees and commissions
AvaTrade does not charge deposit or withdrawal fees. FX Pairs may not be tradable shortly before and after End-of-Day (22:00 GMT or 21:00 GMT during US DST) – due to liquidity constraints during the Interbank settlement period. FX Options can be traded online up to 24 hours prior to their expiration.
Plenty of trading platforms
Global presence and regulation
Financial protection tools
AVA Trade broker FAQ
AvaTrade is under regulatory institutions almost all around the world and is trusted by millions of traders.
AvaTrade offers something that may be more valuable than bonuses – financial protection tools.
Yes, it is duly regulated by numerous international financial authorities.
Regular, Professional Trading Account, and Islamic.
Yes, AvaTrade offers eight cryptocurrencies to operate.
While your success depends on your trade strategy and experience, AvaTrade provides you with a number of tools to make your trade as effective and comfortable as possible.