AvaTrade platforms review: all you need for better Forex and CFDs trading results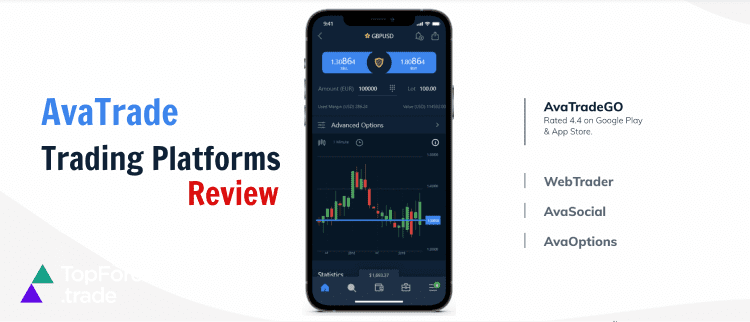 AvaTrade provides Forex and CFD trading services to customers all over the world, gaining special popularity in Latin America. The broker offers more than 1250 financial assets for trading and investing, including various currency pairings, Cryptocurrencies, commodities, equities, ETFs, bonds, and market indices.
AvaTrade has risen to the status of a global corporation, being present in the major online trading markets of the United States, Chile, Mexico, Australia, France, and more. The main office of the company is located in Dublin, Ireland. The Abu Dhabi Securities and Commodities Authority, the British Virgin Islands Financial Services Commission and the Australian Securities and Investments Commission (ASIC) have all licensed AvaTrde as a secure trading company.
Trading with AvaTrade is a good idea because of the low minimum deposit requirements, the absence of trading fees usually charged by brokers, and the spreads being competitively small and fixed. You can practice trading with a $100000 virtual demo account at no cost to you.
Review of AvaTrade's advanced trading features like Guardian Angel, Expert advisors, VPS hosting, features for automated trading, and more you can find in this article. 
MetaTrader 4/5, WebTrader, AvaOptions, AvaSocial (an original CopyTrading platform), AvaTradeGo, and Auto Trading (automatic trading platforms such as ZuluTrade and DupliTrade) are only some of the trading platforms and tools offered by AvaTrade to make trading easy and convenient.
In this piece, we'll take a close look at the various AvaTrave trading platforms on offer. Every trader's needs can be met because there are over seven options to choose from, all of which have exceptional technical capabilities.

Deposit methods
Bitcoin, Sofort, UnionPay, Credit/Debit Cards, Neteller, Wire, Skrill
Deposit methods
Bitcoin, Sofort, UnionPay, Credit/Debit Cards, Neteller, Wire, Skrill
AvaOptions trading platform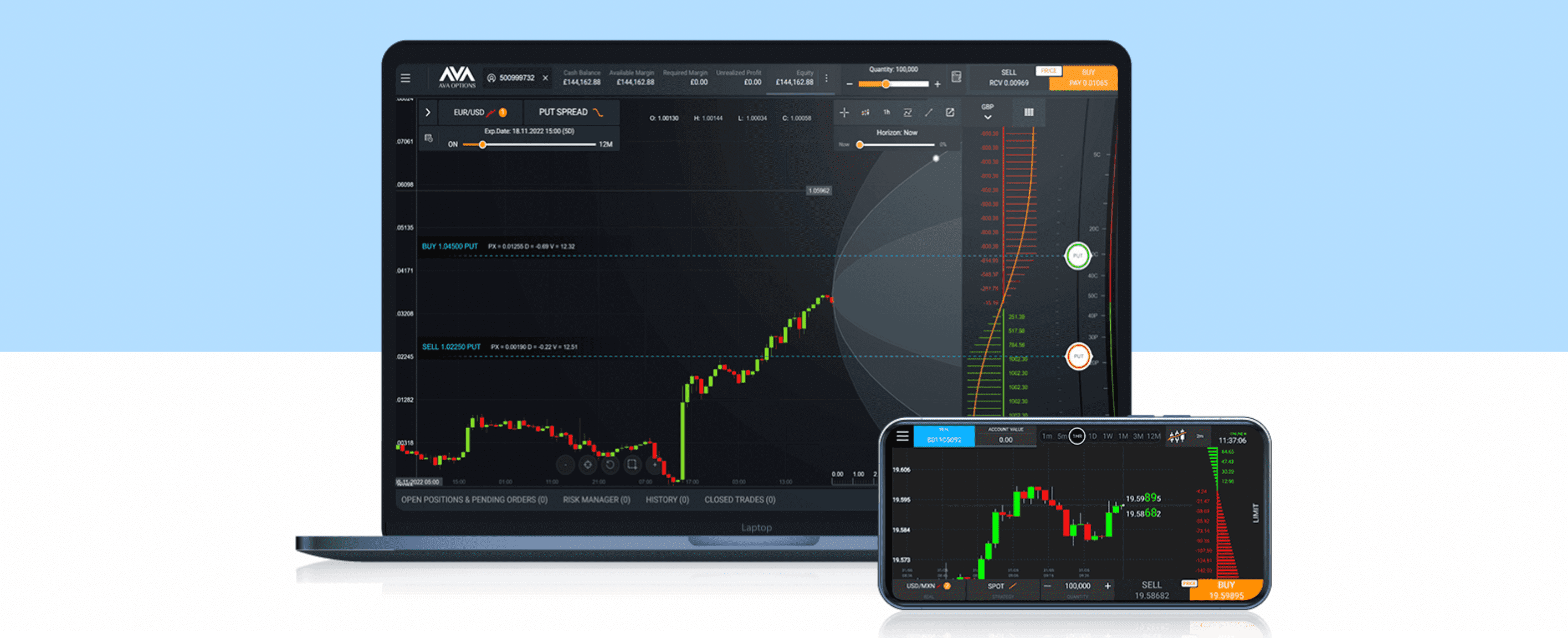 AvaOptions is a powerful desktop terminal designed particularly for options trading. It allows you to create an optimal well-tailored for your strategy portfolio in a single account by choosing from more than 40 currency pairs and combining put and call options. With a platform, you have total control over your portfolio, so risks and rewards can be thoughtfully balanced.
Coming from a general options sense, buy options can help you to mitigate the risks, while put options can boost your profits. On the AvaOptions platform, expirations are available on business days from overnight to one-year terms, depending on your preference.
Also, the platform offers a wide range of risk management tools and multiple trading simulators available both on desktop and mobile versions of the platform. There are also stop and limit orders, which can go off on predetermined premium levels, so you can follow your trading strategy with improved control over pricing efficiency.
AvaOptions platform core points:
13 option trading strategies available:

Spot, Call, Call Spread, Call Ratio, Put, Put Spread, Put Ratio, Straddle, Straddle, Butterfly, Condo, Risk Reversal, and Seagull, with automatic spreads reduction for combinations of strategies; 

Bar charts for single currencies and their pairs;
There is a page of Open Positions, where you can find each trade's advised risk measures, with sort and filter capabilities;
Profit/Loss charts are live-updated;
According to technical requirements, published on the broker's website, AvaOptions requires iPhones running iOS 11.0 or later, iPod touches running iOS 11.0 or later, Macs running OS X 11.0 or later with an Apple M1 chip, and iPads running iOS 11.0 or later.
The AvaOptions trading app may be downloaded from the App Store for free, and it comes in a number of different languages. Languages including Arabic, French, German, Italian, Japanese, Russian, Simplified Chinese, Spanish, and Traditional Chinese are among many that may be found here. The program, roughly 262 MB in size, is given free of charge by AvaTrade EU Limited. Foreign exchange (FX), indexes, and options can all be traded using the iOS app on an iPad or iPhone.
Yet,  you can perform all the same functions with the Android app as you can with the iOS.
In addition, the AvaOptions app provides interactive panels and user-friendly capabilities for a vast array of financial instruments. In addition, you may try out trading with the broker for free by signing up for a demo account.
AvaTradeGo: Forex trading mobile app

AvaTradeGo – is the winner of the Global Forex Award for Best Trading App, which welcomes you to join the worldwide trading community with real-time data and Social trading, and minimizes your exposure to risk and fraud with AvaProtect, the broker's exclusive risk management system.
It is an MT4-based application, where you can check out real-time data and charts while keeping tabs on your open trades. Hundreds of currency pairings, commodities, stocks, Cryptocurrencies, and more are available for trading on the go using your mobile device.
AvaTradeGo allows you to follow community trends and keep up with Social trading among the active traders on AvaTrade in real time as markets move. Its cutting-edge features allow you to get relevant financial data for precise examination of the issues at hand.
As a means of facilitating more informed and appropriate decision-making insights, what other traders purchase and sell, trading behavior, and visualizations with up-to-date information are all displayed across all your trading instruments in real-time.
AvaTradeGo app is available through both the App Store and Google Play.
AvaSocial for FX and CFDs Copy trading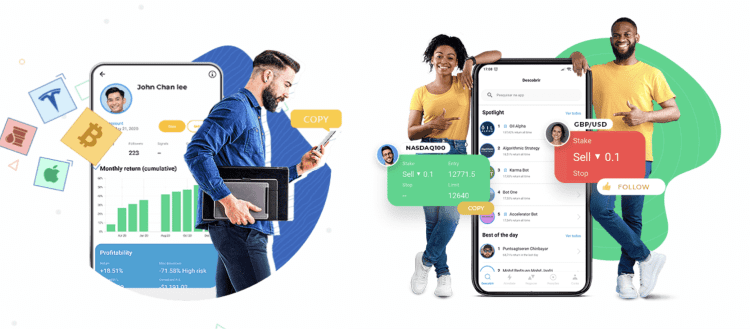 No matter how much or how little trading experience you have, AvaSocial is the way to go. Beginners can get some real-world market experience while they learn the ropes. With AvaSocial, you can get ahead faster by copying the strategies of successful traders who you like. By gaining insight into the market without the need for daily study, seasoned traders can save valuable time and encourage beginners to expand their horizons by investing in something they wouldn't otherwise. Trading can be automated, allowing you to leave your terminal while yet maintaining full faith in your methods.
With AvaSocial, you can find the best mentors and traders, talk to them one-on-one or in small groups, and duplicate their moves with a single tap.
Get trading advice from industry seniors
You can stay ahead of the pack while taking advantage of the market and chatting with pals on your own transparent network of fellow traders.
Follow the trades of your friends and expert traders in real time, and comment, share, like, or duplicate their signals all from your newsfeed.
The next generation of trading reports
Do you want more fans or are you simply pleased with your recent success? With AvaSocial, you can share a single image across several platforms in honor of a personal or team achievement across Facebook, Instagram, and Twitter.
Get recognized for the regular actions you take
If the majority of your traders turn profitable, you actively interact with other users or just have a winning run, the app will give you badges to put in your virtual trophy cabinet.

How to get into trading with AvaSocial?
Create your Social account by following the link below;
Download AvaSocial;
Enter your MT4 login details;
Pick assets you are interested in (FCA requirement);
Fund your AvaSocial account;
Start Copying;
Ava DupliTrade for automated FX trading

With DupliTrade, you can automatically copy the trades of professional traders into your own AvaTrade account, making it easier to replicate their success. It will help to bring your trading to the next level with a diverse portfolio and proven trading strategies developed by experts in the field. Their credibility and track record in the market helped them get the nod from the trading community.
The goal of DupliTrade is to provide effortless and fruitful automatic trading. You should, then, not only pick successful traders to copy, but also keep an eye on their performance to make sure they are still earning. Individual traders' outcomes may shift as a result of shifts in market conditions. Sometimes it makes it smart to stop following a certain trader and switch to one who has better performance. Keep in mind that success is transitory and that the successful traders of this month may turn out to bust next month.
Get the most out of your trading possibilities by signing up for a DupliTrade account and having the signals sent straight to your AvaTrade account. Your own or MT5 account will be automatically traded with DupliTrade's portfolio of top strategy providers once you deposit $2,000. You can practice trading without any real-market hazards by opening a demo account.

AvaTrade WebTrader
WebTrader is simple to use and suited for both novice and experienced traders without the need to download or install anything with a user-friendly interface and contemporary design.
You can buy and sell assets quickly and base your choices on the current state of the market. You can save time on conducting your own Technical or Fundamental analysis by getting precise information on what the AvaTrade community is buying or selling in real time.
Amazing features like AvaProtect, a risk-reduction tool that enables you to guard against losing transactions, are provided by WebTrader. You can also see trading history and charts, create market and pending orders, take profit and stop loss orders, and choose to partially close positions. With a single mouse click, you may open, close, and adjust both individual and aggregate positions.
AvaTrade MT4 trading platform

You can open an account with AvaTrade to trade on one of the most well-liked and potent retail trading platforms for financial assets online. AvaTrade MT4 is extremely dependable and designed for trading in various market circumstances. Additionally, it works flawlessly with both fast and sluggish internet connections.
With helpful MT4 tools, traders can conduct thorough price analyses on their favorite financial assets. The broker ensures that you can determine the best prices to enter and exit your trades with a variety of timeframes, customizable, interactive charts, graphical objects, and many built-in indicators.
AvaTrade MT4 by default permits hedging. Many traders find that hedging is a helpful tactic since it can shield them from market risks like excessive volatility.
Both novice and seasoned traders will find the MT4 platform to be quite simple to use. It has robust capabilities, but its layout and user interface are simple and clear. Trades may quickly access all necessary tools and data, including prices, indicators, and charts, thanks to the attractive design of the platform.
The strongest security and technological standards are present in MetaTrader 4. It supports the native MetaQuotes Language 4 (MQL4) programming language, allowing the creation of a variety of unique trading tools that can be used directly on the MetaTrader 4 trading platform. Based on the well-liked C++ language, the platform is flexible and supports the following:
EAs are computer programs that allow automatic automated techniques to be used in the forex market.
Traders can create their own unique mathematical instruments to carry out any analytical operation depending on predefined conditions in addition to the built-in technical indicators.
On the MetaTrader 4 platform, a script is an application that can be designed to carry out any task. For instance, a script may be written to cancel all open orders or remove every signal from a chart.
These are collections of unique functions created with the purpose of storing and sharing components of unique programs that are frequently used on the MetaTrader 4 platform.
You can access AvaTrade MT4 online, on your PC, iOS, or Android device. A single login can be used for cross-device accessibility, enhancing flexible and practical trade.
AvaTrade MT5 trading platform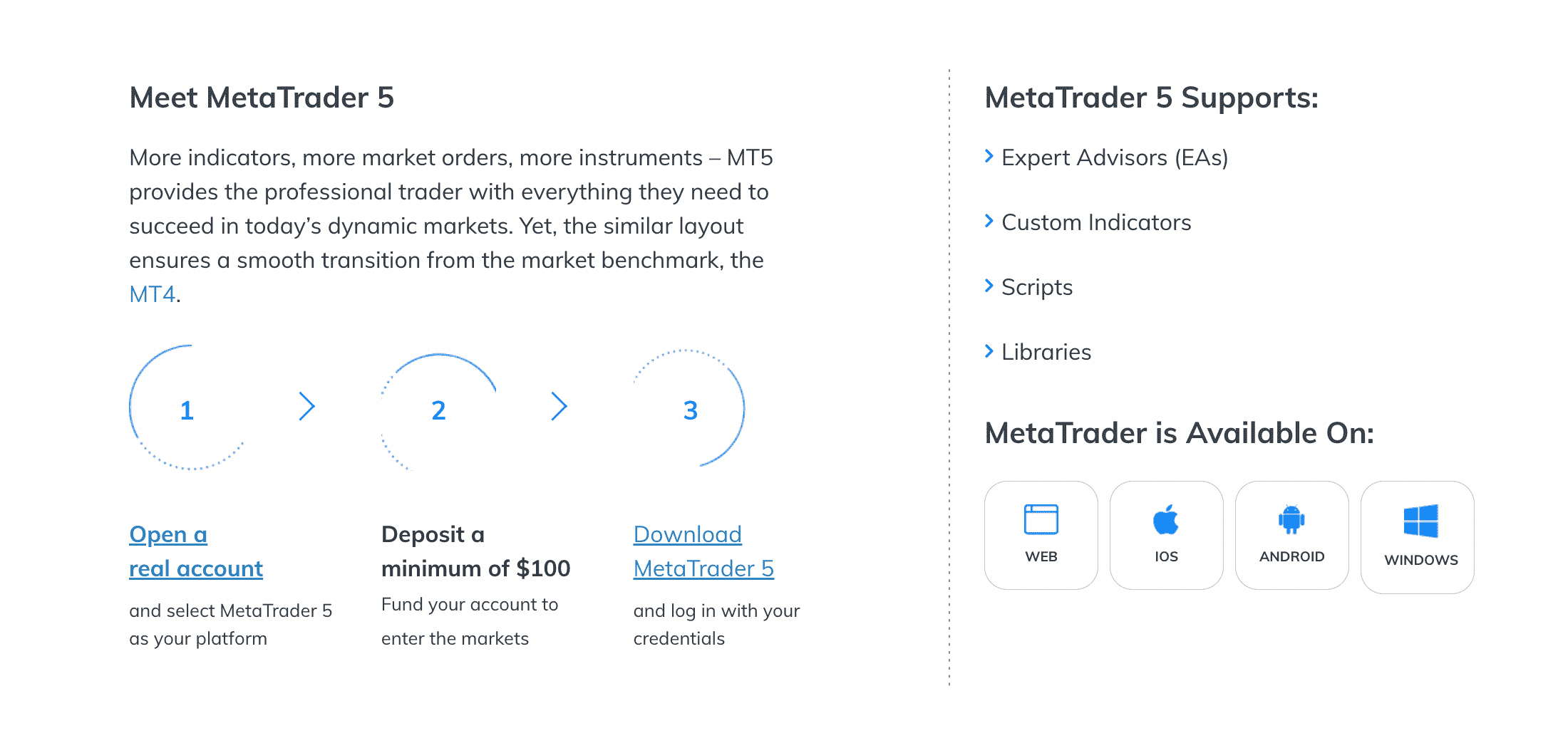 Modern multi-functional platform MT5 features extensive technical tools, Copy trading, and automatic trading systems. Compared to its predecessor, MT4, MetaTrader 5 is made to provide advanced trading across a wider range of asset classes. It is packed with features, has cutting-edge tools, and provides excellent execution.
Accessible with simplicity from your PC, iOS, or Android devices, as well as directly on the web, MT5 offers an endless range of shares, commodities, index, and ETF CFDs, as well as Forex pairs and Cryptocurrencies. All data transmissions are compressed and encrypted using 128-bit keys, giving it a high level of security.
You can build your own algorithmic hands-free or automatic trading robots with AvaTrade MT5 or purchase them from the store. Additionally, a variety of flexible, interactive, and sophisticated analytical charts are available on the site.
Here are some of the core features of the AvaTrade MetaTrader 5 trading platform:
Multi-asset trading (Forex, Stock, Index, Commodity, Cryptocurrency, and ETF CFDs);
One single login across all your trading platforms;
Micro lots available;
News streaming;
38 built-in indicators;
Guaranteed full data backup and security;
Multi-threaded strategy tester.
AvaTrade Forex and CFDs trading platforms: summary
Leaving your hard-earned money in a bank may not be a wise decision in the current economic situation: inflation can eat away funds if interest rates are low or nonexistent. Maybe, it's time to start making your money work. The Forex market is hosting millions of traders worldwide, each at a distinct point in their financial lives. AvaTrade offers a service for all types of traders, no matter what their financial objective and offers the choice of stocks, gold, crude oil, and others.
You can start by using a demo account, which requires no financial deposit, and the broker's wealth of educational resources. Prior to placing stop loss and taking profit orders, learn how to manage your risk and equity. Once you master the fundamentals, you can begin experimenting with hedging strategies—how to "insure" your positions—scalping, a high-pressure method of generating gains in a relatively short period of time, and other strategies.
Overall, online trading with a reliable broker is one of the best options if you're considering trying this new thing out. On the move, you can utilize the AvaTradeGo app, stick to WebTrader sitting at your desk, and once you've got the hang of things, you might want to try AvaOptions.
Also, there are also multiple opportunities for passive income provided by AvaSocial and other features for automated trading like DupliTrade or ZuluTrade. Follow the link below to open your trading account and start trading with as little as $100 or a free demo account. Join now and enjoy all the benefits of trading with a regulated, award-winning broker:

---
Related articles: 
Everything you need to know about AvaTrade's advanced trading features, including AvaProtect for risk management, Trading Central analytics, the free Guardian Angel system for feedback and support, Expert Advisors, and auto deals with ZuluTrade, DupliTrade, and Capitalise.ai.
All about CFDs trading: the essence of the financial derivative and key functional principles, including trading with leverage. The main advantages of financial derivatives and the best Forex brokers providing trading in CFDs for currencies, commodities, indices, Cryptocurrencies, and other instruments with various bonuses (including ones on initial deposits), Copy trading, free VPS hosting, and swap-free Islamic accounts.
Forex trading with leverage and margin: definitions of terms, trading benefits, margin calls, and risk-management strategies. Top Forex brokers offering Social trading, demo, and swap-free Islamic accounts with the best leverage and margin parameters for trading currency pairs, stocks, commodities, indices, ETFs, Cryptocurrencies, and other instruments.
AvaTrade platforms for Forex and CFDs trading - FAQ
As it was described above, Spot, Call, Call Spread, Call Ratio, Put, Put Spread, Put Ratio, Straddle, Straddle, Butterfly, Condo, Risk Reversal, and Seagull Option Strategies are just some of the 13 available in the AvaOptions trading platform. It's all handled on the go with your iOS device of choice. Traders can choose an expiration date up to a year in the future and any strike price in between. Multibank liquidity is offered, and deals can be seen live around the clock. Options trading can be done with a number of currency pairs and commodities, such as silver and gold. Also, it's possible that trade quantities might range anywhere from 10000 to 10000000.
Within the AvaTrade community, AvaSocial is all about social trading. Using Social trading software can cut down on your time spent studying. This highlights the need for copy trading, a method whereby novices can find guides, get answers to their questions, and mimic their transactions. You can improve your own portfolio's results by studying those of successful investors. Traders can also use real-time trading signals, updates to market data, and the social sharing of important market information. When using AvaSocial, traders can talk to others in the same position as them about their experiences, both good and bad. Another advantage is the ability to trade in dozens of different marketplaces for a wide range of currencies, cryptos, commodities, indexes, and equities. More detailed information can be found in the article above.
The use of the core ideas of Social trading has helped make automated trading a lot more transparent and easy to understand. What's more, not just anyone can become a signal provider on DupliTrade. All of the traders in the system who can be copied have been carefully checked out, and many of them have been trading for years or even decades. After passing DupliTrade's rigorous audit procedure, these traders nevertheless stay under the company's watchful eye to guarantee they maintain a high standard of excellence.
The WebTrader is a cutting-edge platform created especially for traders seeking a straightforward and uncluttered user interface. You may access WebTrader from any computer connected to the internet and place trades from anywhere on the globe without having to download or install anything. You'll get push notifications on everything that is affecting the markets, see what other traders are doing in real-time, and just place your own trades. Start trading with the broker and get access to WebTrader by following the link at the end of an article.
As we concluded in the article above, for those who prefer a straightforward user experience with all the essential features available immediately from a web browser, this platform is ideal. You can get up to a month of timeframes and a wide range of studies and indicators. For Technical analysis and immediate pattern recognition, be sure to use Trading Central, which is completely integrated into the platform, accessible from any computer using any browser, and doesn't need to be installed.