Alpari
Together, we can do more
Alpari started its way back in 1998 – that's when the entire online trading industry just started evolving.
22 years of operational experience is not what most brokers can boast. Yet, Alpari has it, and it means profound trust from its customers and the highest market resilience as a business entity. Both may be crucial in finding a reliable Forex broker.
Unlike many of its competitors, Alpari offers to investors PAMM accounts in line with its investment services. That's a very strong advantage as many users are looking for passive income in addition to or in replacement of active trading.
Contests may seem not a crucial advantage but practically, they mean a lot to traders, and Alpari has that, too. Primarily, contests make the daily trading routine more fun and engaging. Therefore, they spur motivation to polish one's trading skills and breed loyalty to the broker that provides a supportive environment.
Finally, Crypto CFDs are on Alpari's menu among other trading instruments. For many traders, that means a decisive advantage to go with this broker.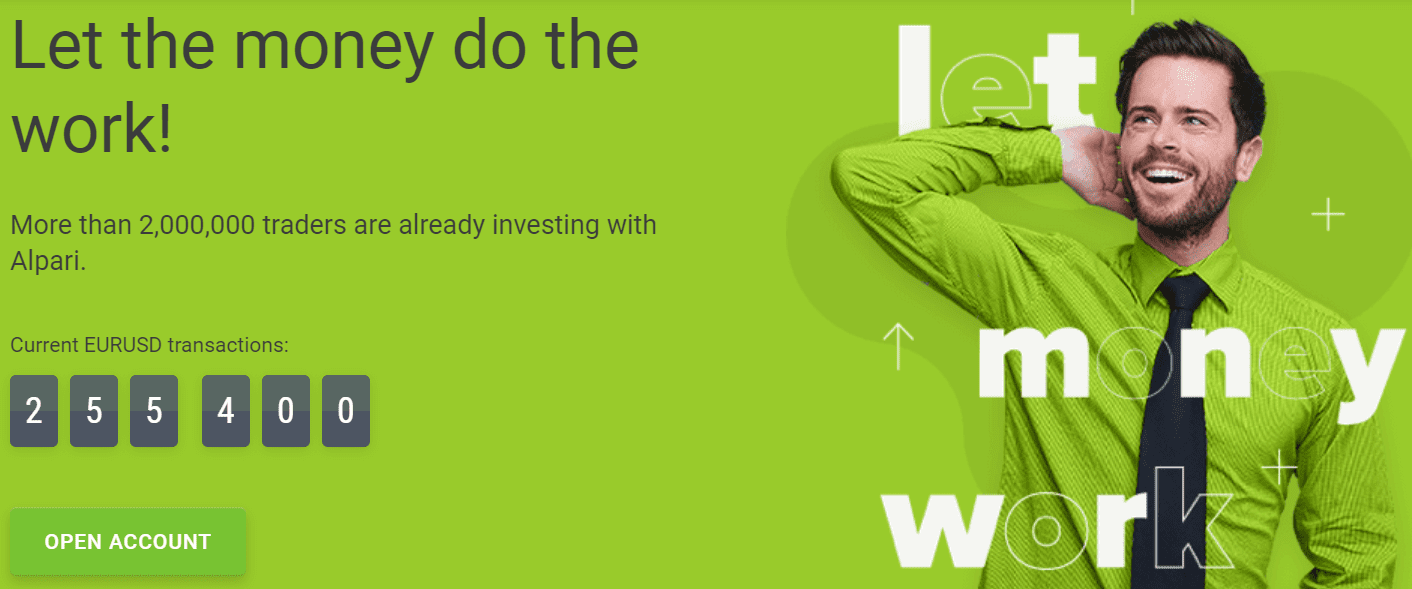 Passive income opportunities with PAMM accounts
Accepts a lot of different payment systems
High leverage up to 1:3000
Alpari Trading platforms
To those who are used to the old-good MetaTrader 4, Alpari gives the opportunity to trade it on mobile, web, and desktop versions. MetaTrader 5 is available, too, with a wider range of in-terminal tools and functions.
However, besides that, Alpari offers its own developed Alpari Mobile app. Available in AppStore/GooglePlay and best fit for trading on the go, this app has market reviews, an economic calendar, and a lot of other helpful tools combined with the ease to top up your account and trade what you want.
For investors, there is Alpari Invest. Traders can manage their PAMM accounts and portfolio in this app and quickly withdraw or deposit their funds on iPhone, iPad, or Android.
Alpari PAMM accounts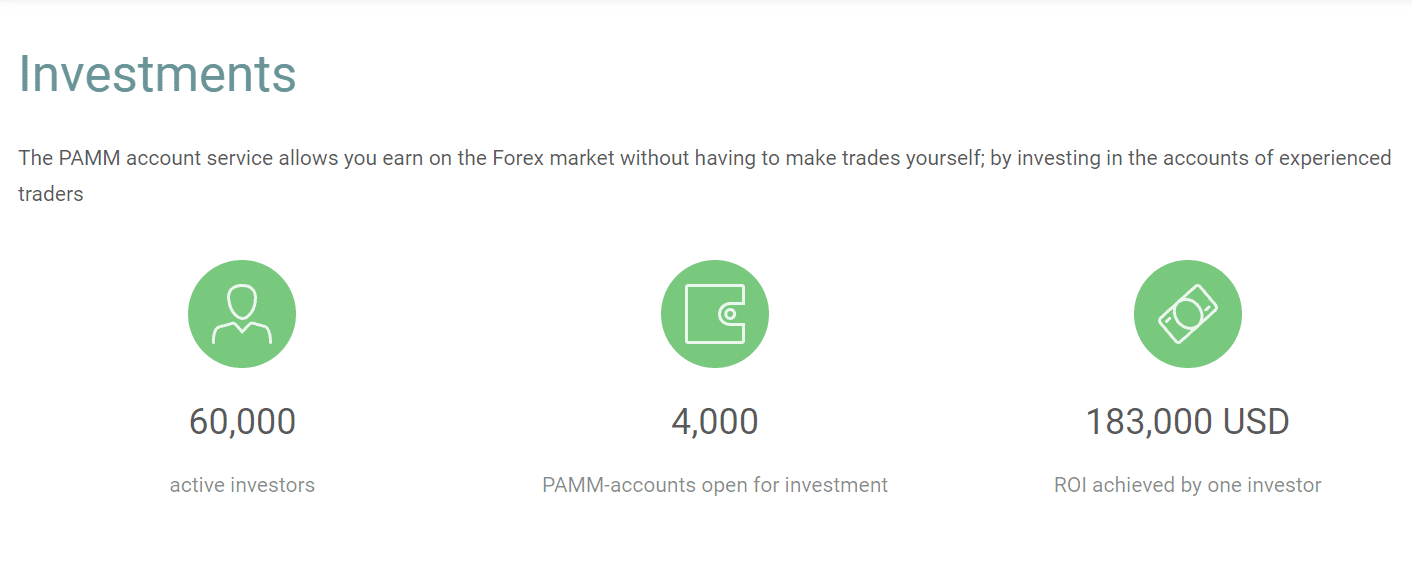 Although it's one of the mainstream services provided by online brokers, not all of them have it on their menu. Alpari not only provides this opportunity but lets traders choose a PAMM portfolio.
The scheme is simple. If you want to invest your money, you go to the rating list and choose the PAMM account manager that has the best trading performance as per your financial objectives – and invest into that PAMM account. The account manager will get a fee for successful performance, and you will potentially see your investment grow.
In the meantime, if you want to lower the probability of losses related to each of the PAMM accounts you may invest in, you may choose to invest in a PAMM portfolio. That will help diversify your investment risks across various PAMM accounts and make your overall investment more stable and reliable.
Generally, PAMM is a very useful choice for traders who may actually not have that much time to trade actively. However, they're still looking for opportunities to gain on the market moves – PAMM is their choice in this case. It doesn't require one's 24/7 attention like in the case of day trading: even with all the precautions such as Take Profit or Stop Loss, you still want to watch where your prices go and what's happening to your floating profit.
With PAMM, all you need is to choose wisely among the account managers based on their past performance and invest. Investing is basically about patience. If no force-majeure happens, your investment will perform as per the average performance of the account manager you've chosen. In the meantime, you can relax, wait, and let it grow.
Alpari Withdrawals and deposits

Alpari accepts many payment systems to top up your account or withdraw your funds. They include bank and card transfers, FasaPay, AdvCash, ZCash, PerfectMoney, and many more that you may well know.
On top of that, with Alpari, you may use digital currency networks of Bitcoin, Ethereum, Litecoin, or even pay/withdraw with USDT with 0% network commission on the transaction. That's another strong advantage on Alpari's side as most of its competitors are not that tech-advanced on payment systems.
Alpari Account types

Alpari offers four account types: Nano (for MT4 only), Standard (MT4/5), ECN (MT4/5), and ProECN (MT4).
Nano is for those who want to have a minimum deposit of $0. It allows leverage of 1:500 and a total of 35 trading instruments.
Standard requires a higher minimum deposit and offers leverage 1:1000 with approximately 50 instruments to trade.
ECN and ProECN provide leverage of 1:3000 and more than 70 trade instruments.
As a side note, Autochartist is made available by Alpari, too.
Alpari Cryptocurrencies
Several cryptocurrency CFDs are available for the corresponding account types: Bitcoin, Ethereum, Litecoin, BitcoinCash, and Ripple.
Together, these cryptocurrencies take the most of the global digital asset market capitalization. In the meantime, in between them, they differ enough so that traders may vary their strategies switching from a less risky to a more volatile crypto CFD.
Alpari Summary
Alpari is a very experienced and versatile broker. It has an in-depth knowledge of the industry and provides users with various account types and platforms. In addition, it offers not only PAMM accounts but PAMM portfolios to diversify any investment strategy you're up to. So, if you're looking for a solid combination of experience, reliability, and functionality in one broker, Alpari may be your choice.
Alpari overall scores
This review was created for you to learn more about Alpari and decide on how well it suits your needs and values. We scored it using our own criteria and methodology to present you with a full, informative report. However, some info is clearer in numbers! Please, see Alpari final scores in areas that our experts consider high-priority.
Forex pairs
Cryptocurrencies
Offers Cryptocurrency CFDs
Huge operational experience of more than 22 years in the market
PAMM accounts and PAMM portfolios available
Leverage up to 1:3000 available on ECN accounts
No service in the US and a number of other countries
Alpari broker FAQ
Alpari has been there since 1998, trusted by millions of traders.
It doesn't, but it offers crypto CFDs, PAMM accounts, a selection of loyalty programs, and traders contests.
Yes, by the Financial Services Authority of Seychelles.
Nano, Standard, ECN, and ProECN.
Alpari offers five crypto CFDs, including BTC and ETH.
Alpari is an excellent broker that provides you with all the tools you need to win on the market, but the outcome of your trade depends on your activities rather than on any external factor.