Axiory
The Purple Forex Company
It's hard to gain traders' trust on any continent. But it's exceptionally hard to reach recognition among traders of the wealthy countries of the Arabian Gulf such as Bahrain, UAE, or Qatar. Yet, Axiory reached that level, and the wealthy middle-easterners tend to choose this broker over its competitors. This broker is also chosen by traders from Africa, Latin America and Southeast Asia.
One of the reasons is that it has been in operation since 2011 and is regulated by the international financial authorities. That creates trust from the side of the global traders' community.
Another one is that Axiory has an office in Dubai, the globally recognized financial city-hub of the Middle East. Physical presence and personal touch always fortify people's trust as they know they can contact the company or speak to someone in its office if required.
Lastly, the corporate page of Axiory is really detailed and explicative in most topics pertaining to what this broker offers. That may not seem a crucial point, but at the end of the day, clients are met by the broker's webpage in the first place, and they want to see everything about what they're going to do on it. So, this creates even more transparency and leaves no doubts that this broker may be a worthy choice.

Autochartist and Strike Indicator
Not available in the US and EU
Trading platforms
While MetaTrader 4 and 5 are the by-default trading terminals provided by most brokers, Axiory stands out from the crowd with the cTrader.
This terminal is more tech-advanced and generally more up-to-date than the MetaTrader versions. It's progressive, with classy graphic design, efficient in-app flow, and a user-friendly interface. With Axiory, it's available for Windows/PC and iOS/Android mobile devices.
Accounts and instruments
There are five accounts you can choose from with Axiory

Alpha is an investment account specifically included to enable you to trade exchange-traded products such as stocks and ETFs.
Then, there are the other four: Nano, Standard, Max, and Tera. They mainly differ in spreads, maximum leverage, commissions applied, and terminals available.
What's important is that, for example, the Max account offers leverage up to 1:777, which is very rare among brokers. Possibly, Axiory is the only broker that offers leverage as high, and such an option is definitely another mark in its favor.
Accessible through these accounts, you have the following market sectors to trade: Forex, Sock CFDs  indices, energies, metals, stocks and ETFs.
The fact that Axiory provides both actual stocks to invest in and CFDs to just operate stock prices is another advantage on the broker's side. Many of its competitors either go with CFDs only, but that may not be enough for a trader who seriously considers investing in actual shares, with all the implications.
Therefore, on the one hand, Axiory provides trading opportunities for those who want to gain speculative profits from operating stock CFDs. On the other hand, it offers valuable investment opportunities for those who're thinking long-term and want to enjoy dividends and other perks of owning a share of a public corporation.
Islamic Account
Among the other account types, Axiory offers Islamic accounts, too.
The presence of this tool has definitely fortified Axiory's position worldwide and especially in the regions with a predominantly Muslim population: a lot of people prefer to trade according to Shariah principles of the Holy Qur'an.
One of these principles is that no interest should be taken – nor given – in the course of trade between people. As the overnight/swap/rollover fee is considered an interest payment, standard conditions of Forex trading fail to comply with this commandment of Islam.
That's why many Forex brokers came to a conclusion that including Muslims in the global traders' community requires creating a special type of account that doesn't charge rollover fees. This is how Islamic accounts were brought in, and Axiory is one of the brokers who offer this option.
Autochartist and Strike Indicator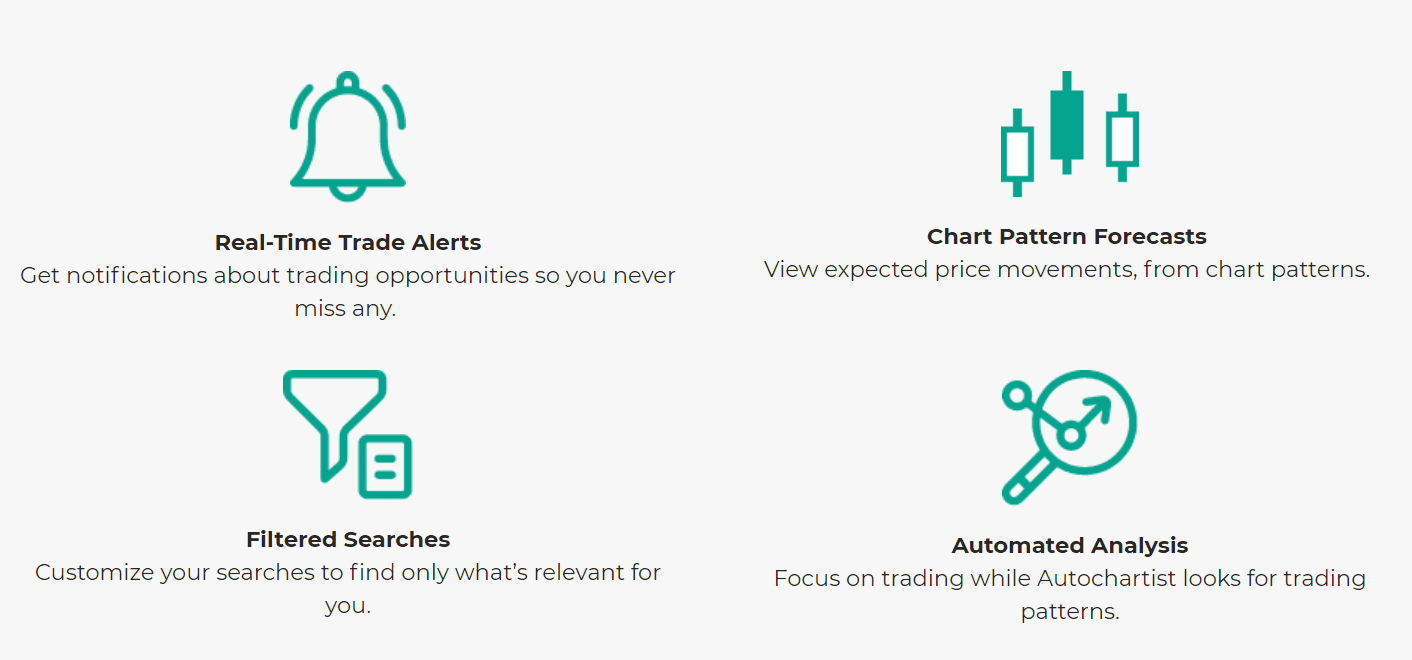 Axiory offers several tech tools to improve the traders' routine.
One of them is Autochartist. It's an automated engine that basically enhances and facilitates technical analysis. With Axiory, it's free of charge.
Another one is Strike Indicator. The main reason it's worth mentioning is that such technical add-ons to trading terminals are normally charged by their developers, but Axiory offers it for free on MT4 for Mac and Windows.
Smooth onboarding with Axiory is made available by the Jumio verification engine. Essentially, it's an AI-based method that accelerates user registration and document verification minimizing the overall process time.
Education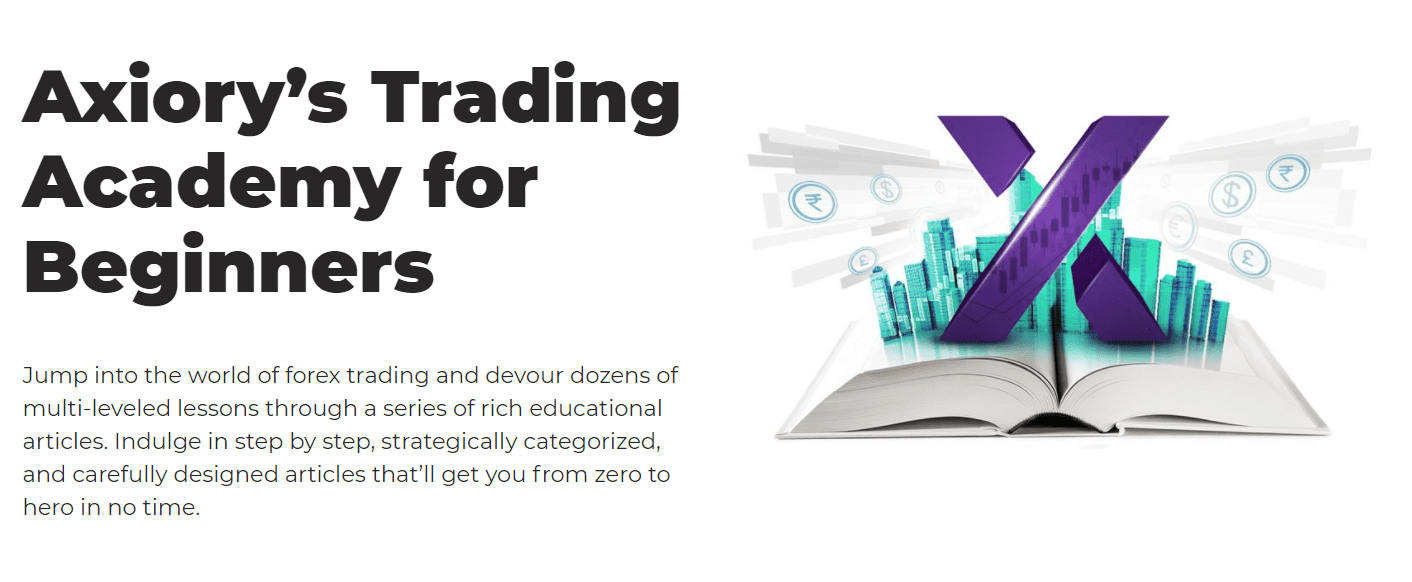 Axiory doesn't fall behind on the knowledge base. Its trading resources menu lists market news, technical analysis, webinars, platform tutorials, trading tips, and all other types of content for traders of all levels.
Non-trading transactions
There are almost a dozen payment methods accepted by Axiory. Among them there are JCB, UnionPay, Sticpay, Neteller, Skrill, Vload, and others.
Axiory doesn't take withdrawal or deposit fees, so it's free on the broker's side.
Brokers available in United States
Discover a broker you can trust by reading our in-depth and honest reviews, created by industry experts. Since 2019, we've reviewed over 200 forex brokers.
Summary
Axiory is a prominent Forex broker that offers many tech tools, a number of trading platforms, and a lot of assets to trade. A rich selection of leverage options up to 1:777, Autochartist and Strike Indicator, Islamic accounts, and a number of other features tell that entering into the world of online trading with Axiory is as comfortable as it may be potentially beneficial. Also it should be noted that Axiory broker constantly offers different bonus promotions which is great for traders.
Axiory overall scores
In this review, you can find all the information you need to decide whether Axiory is the right broker for you. Our expert team has thoroughly explored the broker, using a tested methodology and scoring system. This process places importance on the things we know matter most to traders. Below you can see how Axiory scored in each of our high-priority categories
Axiory fees and commissions
Axiory doesn't take withdrawal or deposit fees, so it's free on the broker's side.
Wide range of trading instruments, especially stocks
Both actual stocks and stock CFD's are in the list of trading instruments
The highest reputation in the Gulf countries of the Middle East and office in Dubai
No charge on deposit or withdrawal on broker's side
Not available in the US and EU