IQ Option
Reliable, Effective, Clear
IQ Option has been active since 2013. They've managed to earn a very positive reputation across the globe, especially in Latin America. So far, it may be mentioned as the absolute winner in Brazil and a Top-5-winner in Latin America and Asia.
In the meantime, CySEC's license gives IQ Option recognition in Europe, too.
This broker offers a very interesting asset menu that includes cryptocurrency CFDs. On top of that, this sector lists more than 30 cryptocurrencies to trade which gives IQ Option a formidable advantage ahead of its peers.
Licensing and regulation by the official international financial authorities mean it may be a safe broker to trade with, and a selection of trading platforms makes it user-oriented, too.
Active Worldwide since 2013
Large variety of payment methods
Withdrawal within one business day and no minimum withdrawal amount
IQ Option Binary Options
One of the primary services IQ Option offers to users is binary options which are only available to non-EU citizens due to European Union financial regulations.
The trade mechanism is quite straightforward: traders have to make a correct prediction about an asset price direction over a predetermined period. Essentially, all one has to do is choose "up" or "down", and if this is where the price goes by the time the period ends, the trader wins.
With IQ Option, the minimum investment to be made to access binary options of $10. The period may be set from one minute to one month, and the potential return may be as high as 95% on a correct prediction. In addition to that, IQ Option doesn't charge brokerage fees on this service.
IQ Option Forex instruments
Straightaway on its corporate webpage, IQ Options shows to its customers the total list of more than 400 trading instruments that consists of Forex, Stocks, Crypto, Commodities, and ETFs:
Forex includes 25 pairs available under leverage up to 1:1000 and a minimum investment of $10.
Stock CFDs list 180 instruments (which is a very impressive menu for stocks compared to most competitors in the global market), with leverage 1:20 and $10 of minimum investment.
Commodities include metals (gold and silver) and energies (WTI and Brent crude oil), with the same minimum investment and leverage up to 1:100.
There are 23 ETFs (once again, a very rich menu against the competitors) with conditions similar to the stock CFDs.
One of the crucial advantages of Forex trading is that unlike binary options, it is available in the EU, and it has earned the trust of a multi-million trader community across the globe as it is considered generally more predictable and financially safe.
IQ Option Cryptocurrencies
IQ Option's digital assets menu includes 35 cryptocurrency CFDs – that is considerably more than most of what competitors offer.
While Bitcoin CFD is provided at the leverage as high as 1:100, Ethereum is available at 1:50, and most other cryptocurrencies including Ripple and Litecoin trade at 1:20.
Deposits and withdrawals

Users may deposit and withdraw their funds through a variety of numerous payment methods that include bank and card transfers, UPI, RuPay, GlobePay, Skrill, Neteller, and others.
Some of those methods are rarely used by IQ Option's competitors, which makes this list another advantage in favor of this online trading broker.
IQ Option Trading environment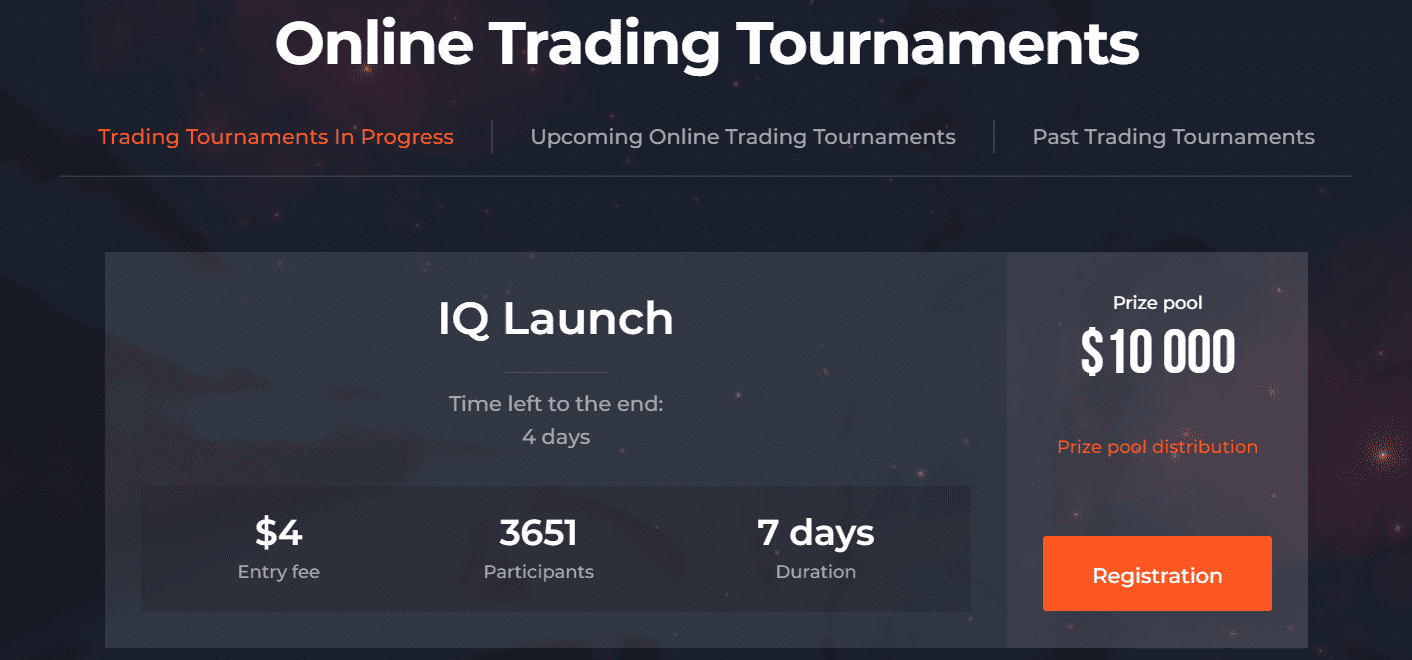 IQ Option did its best to make the process of trading as engaging as possible.
Tournaments. These are online trading contests that normally require an entrance fee of a few dollars, span anything from several days to an entire month, and reward winners with prizes as big as $50,000. Tournaments are only available to non-residents of the EU.
Stock Collections. This is a very useful and interesting feature that suggests to traders various stock portfolios to assemble. It may be Warren Buffett's favorites, top dividend kings, or AI-related public companies. In total, there are 15 stock collections, and they seem very attractive to choose from.
Of course, the traditional news feed and market analytics are provided as well, in line with the economic calendar and educational tools to equip traders with market knowledge.
Above all, IQ Option's 24/7 customer service supports 16 languages so most traders will find assistance in their native language any time and day.
IQ Option Trading platform
IQ Option's trading terminal is available on desktop for Windows/MacOC, as mobile version iOS/Android, and through the web.
Also, it allows practicing through an impressive free Demo account with a virtual fortune of $10,000 (refillable up to $1,000,000 per day) to hone your skills.
All the side services to the platform such as the market research tools, analytics, indicators, and access to the IQ Option traders community are provided by the broker as a due diligence.
IQ Option Summary
IQ Option may be an excellent choice for traders who want access to all sides of online trading, such as binary options, Forex, and crypto. Moreover, IQ Option may be a safe broker to go with: in addition to the general European regulatory authority CySEC, it has a strong footing in particular European countries as their respective financial institutions regulate it, too. Therefore, IQ Option may be an all-inclusive and reliable choice for anyone who wants to have a one-window entry into the world of online trading.
IQ Option overall scores
This review was created for you to learn more about IQ Option and decide on how well it suits your needs and values. We scored it using our own criteria and methodology to present you with a full, informative report. However, some info is clearer in numbers! Please, see IQ Option final scores in areas that our experts consider high-priority.
Forex pairs
Stock CFDs
ETFs
Commodities
IQ Option fees and commissions
Deposit: free of charge
Withdrawal: $5 with the minimal withdrawal of $30
Inactivity (90 days without a single trade): $10/month
Conversion: from 50 pips
Stock trading: no rollover fees, no commissions
Crypto trading: spreads from 0.75% to 2.5% for most coins
CFD trading: currencies – from 1 pip; commodities – from 2 pips; indices – from 100 pips; stocks and ETFs – 0.09$; crypto – from 0.75%
Both binary options and Forex trading
Withdrawal within one business day
Engaging trader tournaments
Well trusted in Latin America, Africa, and Asia
Superior Demo account conditions
No minimum withdrawal amount
Tutorial videos for beginners
No service in the US and a number of other countries
Binary options not available in the EU
IQ Option broker FAQ
IQ Option has been operating since 2013, providing online trade services for binary options and Forex.
No, but it does provide access to more than 250 trading instruments, among which there are 30+ crypto assets and 150+ stock CFDs.
Yes, it is regulated and registered by numerous authorities including CySEC and FSA in addition to various regional authorities in Europe.
Yes, IQ Option offers 30+ cryptocurrency CFDs.
You can open a Demo account to practice your trade skills with a virtual deposit and go for a live account.
IQ Option provides traders with all the necessary tools to make profits, but the outcome of your trade depends on your activity more than on anything else.