Malaysia's central bank reported Friday that GDP growth in the December quarter returned to 3.6% from a year earlier, exceeding the 3.3% median growth forecast in a Bloomberg survey. This resulted in a 3.1% increase in full-year GDP, which was within the official predicted range of 3% to 4%.
As Malaysia gives out vaccination booster doses and prepares to reopen its borders, growth is projected to go up. According to the central bank, better global demand and higher private expenditure will help the economy in 2022.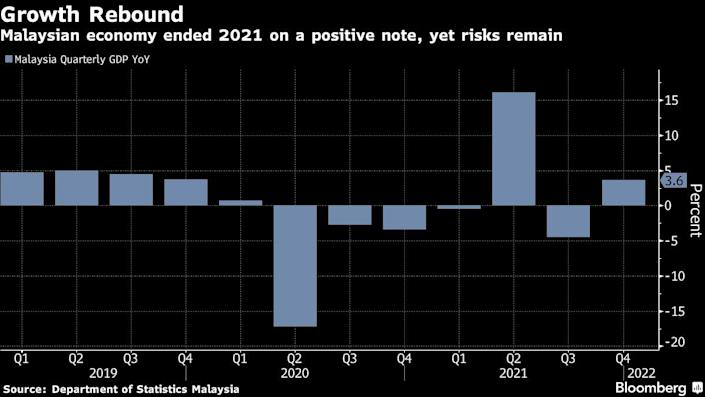 All sectors of the economy improved in the last quarter, according to Bank Negara Malaysia Governor Nor Shamsiah Mohd Yunus, who said that global demand and trade, as well as the revival of local activity, will keep the economy moving forward this year.
"Malaysia's GDP should be able to grow at a fair rate going forward," said Mohd Afzanizam Abdul Rashid, chief economist at Bank Islam Malaysia Bhd. "There are likely to be fewer limitations on mobility following the suggestion that international borders will reopen in March." He predicted that the economy will grow at a rate of 5.5 percent in 2022, but warned that supply chain concerns and the likelihood of increasing borrowing costs could jeopardize the estimate.
At the lunch break, Malaysia's main equity index jumped 0.2 percent, putting it on track for its highest weekly increase this year. The ringgit dropped 0.1 percent to 4.1880 per dollar, with 10-year bond yields rising two basis points to 3.72 percent.
Policy Assistance
High commodity prices and supply-chain concerns are still putting pressure on costs, according to Shamsiah, and inflation is projected to pick up this year while the core measure remains "moderate." She warned that "premature withdrawal" of monetary policy support would have an impact on the economy.
"We'll keep an eye on the current developments and any fresh information," she said. "How these events affect the growth and inflation forecasts will determine any adjustments to the degree of accommodation."
Bank Negara Malaysia can "can afford to hold out a bit longer than some of its EM peers" on hiking rates because of the country's current-account surplus, according to Wellian Wiranto, an economist at Oversea-Chinese Banking Corp. in Singapore. "We expect a rate hike in the third quarter, but only by a modest 25 basis points this year."
Slower-than-expected global growth and financial market instability, higher commodity and energy costs, greater supply-chain disruptions, and stricter pandemic restrictions locally are all risks to Malaysia's future, according to Shamsiah.
The official GDP prediction for this year is 5.5% to 6.5% growth, with any modifications to be announced by the central bank on March 30.

Subscribe for our newsletter
Get Forex brokers reviews, market insights, expert analytics and education material right into your inbox for free!
Preventing Lockdown
Malaysia has stated that it will not repeat last year's lockdowns, which caused the economy to decline for two quarters. Despite the omicron wave, hospital admittance rates have remained manageable because to the country's improving immunization rate — roughly 54% of the adult population had had booster injections as of Thursday.
As a result, a government advisory group recommended that the country reopen its borders by March, potentially boosting consumer spending and aiding crucial industries like banking and construction. This comes just days after the Ministry of Health said it would only propose such a step if the booster rate improved.
The economy increased 6.6% on a seasonally adjusted basis in the third quarter compared to the previous three months, compared to a 6.3% median projection in the Bloomberg survey.