Atlas VPN 
Atlas VPN: your ultimate guardian in the cyber wilderness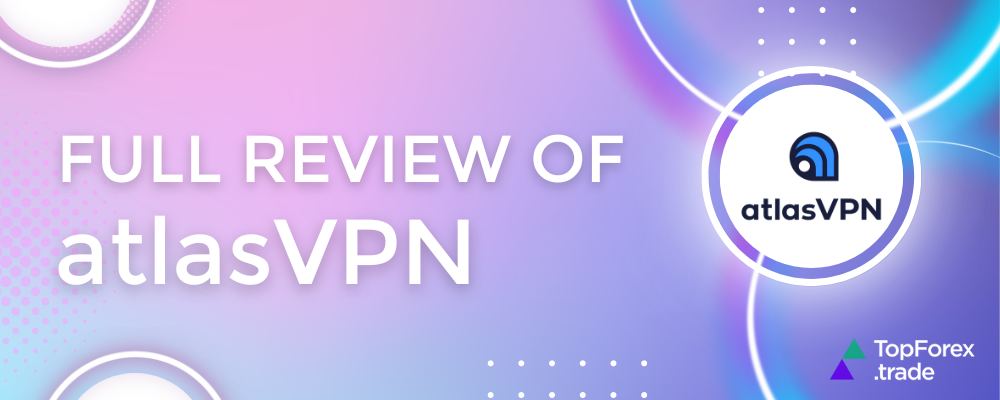 For quite some time, Virtual Private Networks (VPNs) have been widely employed to safeguard online privacy for both computers and Internet users, a level of protection that is difficult to attain elsewhere. Their primary application lies in business settings, where they facilitate secure access to local networks for remote users, minimizing the risk of information leaks. Furthermore, VPNs prove useful in circumventing geo-blocking for streaming services and games, ensuring unrestricted access to content. Additionally, they serve as a means to maintain anonymity and conceal one's IP address. With a plethora of VPN services available in the market, selecting the right one can be time-consuming. However, after extensive testing, we have handpicked one of the finest VPN offers available to present to you.
AtlasVPN is a major foreign VPN provider with an audience of over 6 million people. Currently, the company's network has more than 750 servers located in 43 countries.
Software applications are crafted to cater to all prevailing platforms, encompassing mobile devices running on both iOS and Android operating systems. A fully functional free version is offered, albeit with some restrictions such as a monthly cap on the amount of data traffic allowed and a limited selection of available locations.
Opting for a premium subscription brings about a substantial enhancement in service quality. It eliminates any traffic limitations, granting unrestricted access to all available locations. Moreover, premium subscribers experience a significant boost in access speed, up to four times faster compared to those using free accounts.
The company doesn't collect any confidential information about its users and is supported by the "Warrant canary" principles. Let's take a closer look at all the features of Atlas VPN.
Price: From $1.83 per month
Free plan or trial: Free version of Atlas VPN. A 30-day money-back
Servers: more than 1000+ servers in 49+ locations
Logging policy: No-log policy
Location (jurisdiction): The USA
Protocols/Encryption: ChaCha20, IKEv2, WireGuard, AES-256 encryption
Torrenting: P2P file sharing and torrenting allowed
Streaming: Netflix US, Hulu, HBO, BBC iPlayer, Disney+, Amazon Prime, and more
Support: 24/7 chat and email
Features: Private DNS, MultyHop, ad and malware blocking, Kill-Switch, Warrant canary, SafeSwap, and SafeBrowse
Additional features
Multiple Server Locations
Streaming services unlock
-
Number of server countries
#
Additional features
Multiple Server Locations
Streaming services unlock
-
Number of server countries
#
Atlas VPN: speed and performance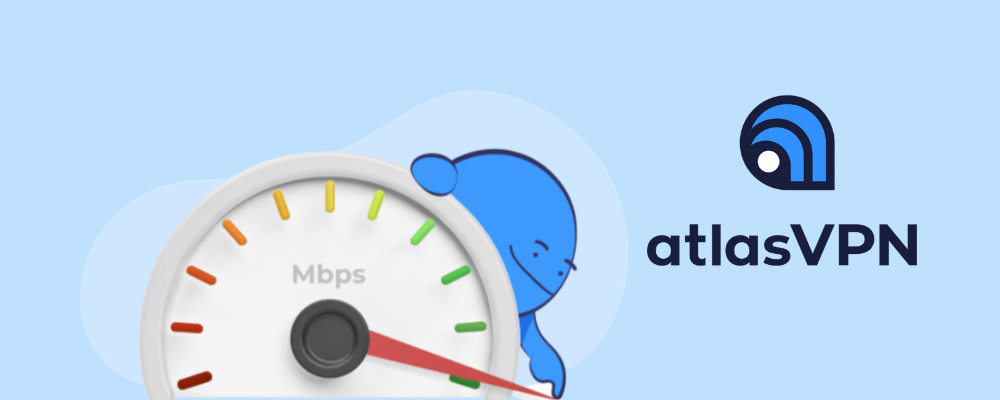 The connection speed and response time (ping) depend on many factors: what encryption protocol is used, what location and server are selected, how far it is from the user's location, network restrictions of local Internet providers, current channel load, etc.
To minimize all these risks, Atlas VPN provides an intelligent choice of the fastest and most convenient connection in relation to the client – just click the Connect button.
Besides, since the introduction of the WireGuard tunneling protocol, Atlas VPN speed has increased dramatically. The average download speed is delayed by about 20%, which is expected from WireGuard as it is one of the fastest protocols. Ping was within reasonable limits and increased in proportion to the distance to the server.
Atlas VPN: secure connection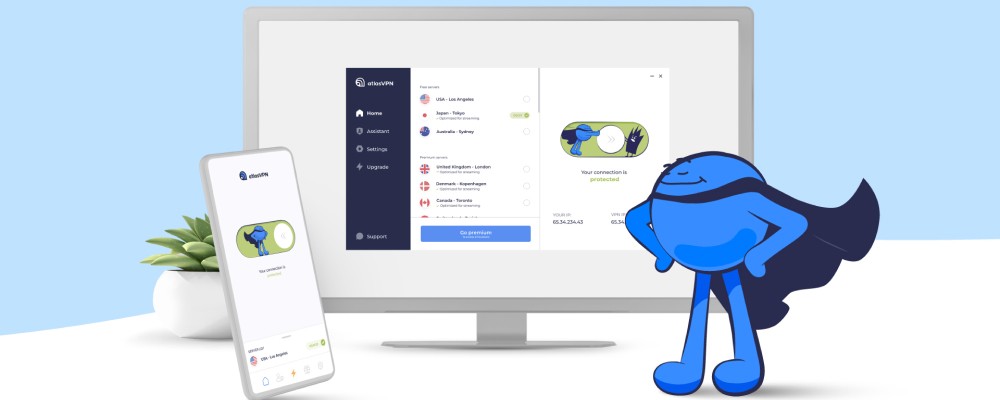 Atlas VPN prioritizes security and employs a robust combination of encryption protocols to ensure the utmost protection for its users' data. By utilizing ChaCha20 and AES-256 encryption algorithms, they guarantee that data transmitted through their network remains highly secure and virtually impenetrable to unauthorized access.
Furthermore, Atlas VPN establishes tunnels using the widely recognized IPSec/IKEv2 and WireGuard protocols. IPSec (Internet Protocol Security) is a suite of protocols that authenticates and encrypts data, while IKEv2 (Internet Key Exchange version 2) facilitates secure key exchange for establishing a secure connection. WireGuard, on the other hand, is a modern and efficient VPN protocol known for its simplicity and strong security features.
To reinforce the security even further, Atlas VPN incorporates SHA-384 (Secure Hash Algorithm 384) as an additional layer of data integrity verification. SHA-384 is a cryptographic hash function that ensures the integrity of transmitted data, making sure that it remains unaltered during transit.
Additionally, Atlas VPN employs Perfect Forward Secrecy (PFS), a critical security ingredient that generates unique session keys for each VPN connection. PFS ensures that even if a long-term encryption key were to be compromised, it would not affect the confidentiality of past or future VPN sessions.
By combining these advanced security measures, Atlas VPN establishes a strong and reliable defense against potential threats, safeguarding its users' online activities and data from prying eyes.
For those who are even more concerned about security, some features are available, such as SafeSwap: an unusual and first-of-its-kind feature aimed at increasing privacy and anonymity by rotating IP addresses without reconnecting to another server.
To protect against malicious sites and infected applications Atlas VPN has a SafeBrowse mode. When using Atlas VPN, if you encounter any webpage with a malware threat, Atlas will block it instantly.
The company is constantly developing its technologies in the field of connection protection and recently introduced a new method of routing Internet traffic called MultiHop+, which is more secure and private than conventional methods. This is achieved by allowing users to connect to the Internet at the same time through multiple alternate VPN locations. 
In addition, Atlas VPN's split tunneling lets you control which apps can bypass your VPN security, while the Tracker Blocker tool's functionality helps you prevent third-party trackers from collecting information about your online activities.
Atlas VPN: prices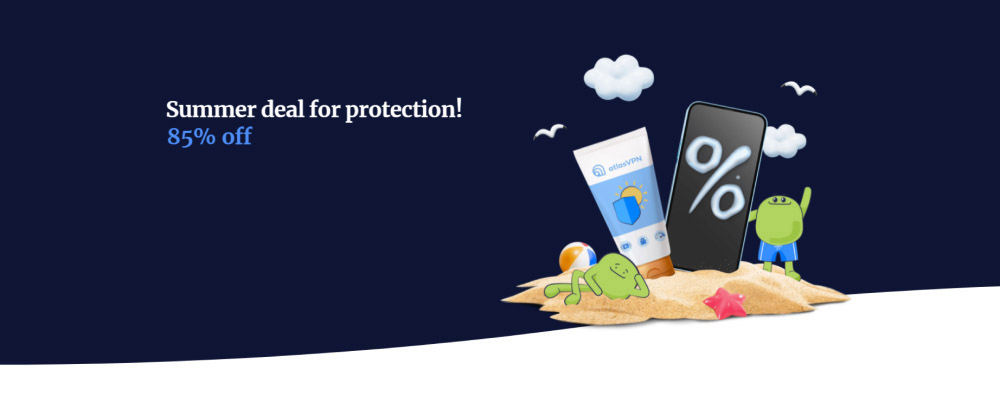 Atlas VPN is notable for its rather low prices for its level of security, speed, and useful features. There are three tariff plans that differ in the period of service use: a month, a year, or three years. Most users prefer to buy a 3-year subscription as it only costs $1.83 per month and you save up to 85%. With all the benefits that AtlasVPN offers, this is a very cheap deal that you won't be able to easily find elsewhere.
Each plan comes with a 30-day money-back guarantee

The service can be paid for by bank cards, Google Pay, and PayPal, as well as Cryptocurrencies, to remain anonymous even in payment methods
In addition, Atlas VPN is one of the few services that has a free version with 3 locations and no speed limits, which is just enough to get acquainted with the service.

Atlas VPN: privacy protection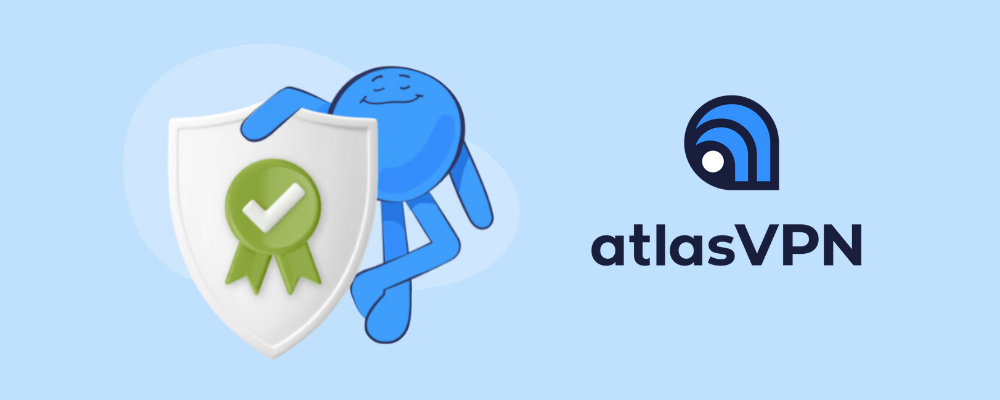 Atlas VPN is registered in the jurisdiction of the United States, the state of Delaware.
The company adheres to a policy of complete absence of logs and implements the "Warrant canary" strategy, that is, in the event of a request from law enforcement agencies, the relevant information will be published on the pages of the site, this information can be used as a warning signal about a violation of confidentiality.
As of 2023, Atlas VPN has not received any letters from the national security agencies of different countries in order to transfer anyone's data.
Atlas VPN for torrenting
Atlas VPN is a great VPN for torrenting as the company allows P2P file sharing across its entire network of servers and doesn't impose limits on the amount of data. This means that you can download as much content as you like.
Another thing that makes Atlas VPN perfect for torrenting is its solid security. Besides, the provider doesn't keep logs, which means you don't have to worry about your torrent history falling into the wrong hands.
The average download speed is around 4-6MB/s (32-48MB/s). Thus, for example, downloading a 2.7 GB file will take about 7-8 minutes. 
Atlas VPN: uninterrupted media streaming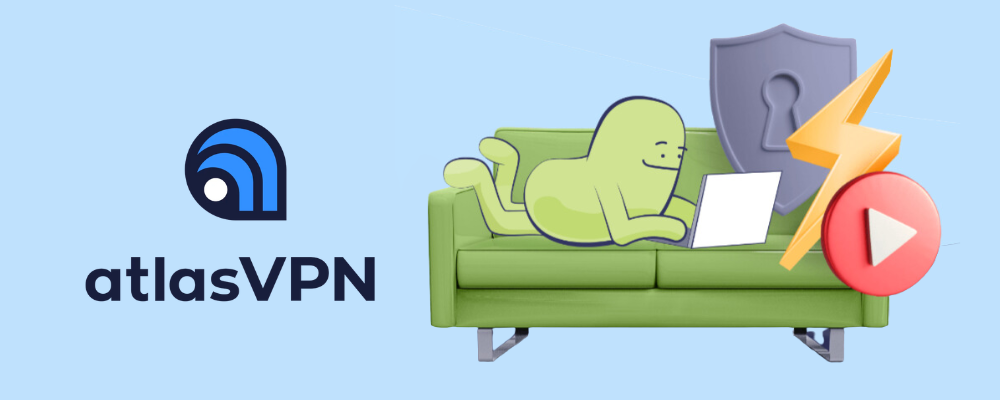 Bypassing geo-blocks and accessing geo-restricted content around the world are the two main tasks of a VPN. In fact, most people use VPNs not for security, but for entertainment purposes.
Atlas VPN works reliably with Netflix, including the US version. In addition to Netflix, the streaming service has also unlocked:
Hulu

BBC iPlayer

HBO Max

Amazon Prime Video

ESPN

Disney+

Hotstar

DASD
The bottom line is that you can unblock almost all streaming services with Atlas VPN.
Atlas VPN for gaming
Atlas VPN's excellent speed and acceptable ping make it a good choice for gaming. In most gaming situations, you won't notice a significant difference below 120ms ping. But if you are one of the fastest and most enthusiastic players, you should choose servers closer to your location in order to minimize delays.
Atlas VPN: devices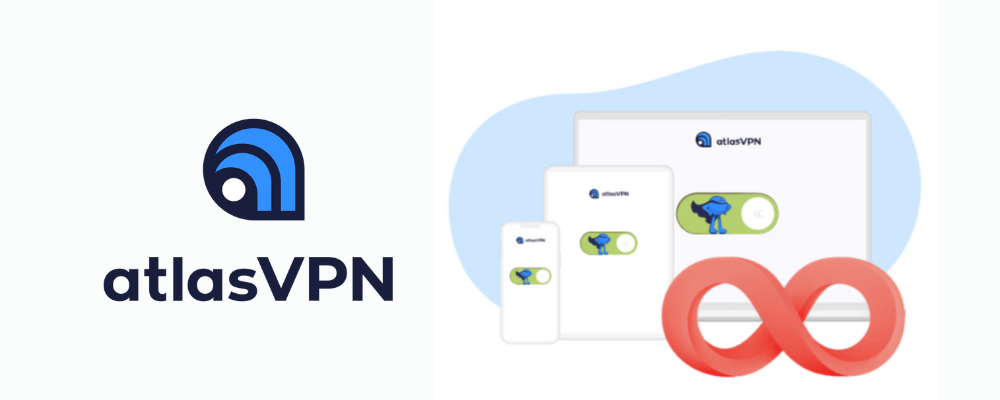 AtlasVPN has an unlimited number of concurrently connected devices: this is another advantage over other services and will be essential for families, small offices, or if you just own a lot of gadgets.
Atlas VPN supports all major platforms: it has native apps for Windows, macOS, iOS, and Android.
Atlas VPN: support
Atlas VPN users can ask their questions or report problems to technical support specialists 24/7 in the following ways:
through emails: the method works for all users, including those who have free accounts

in an online chat: available to premium users i.e. who bought a subscription
In addition, at any time you can refer to the detailed help section on the company's website.
Atlas VPN: servers network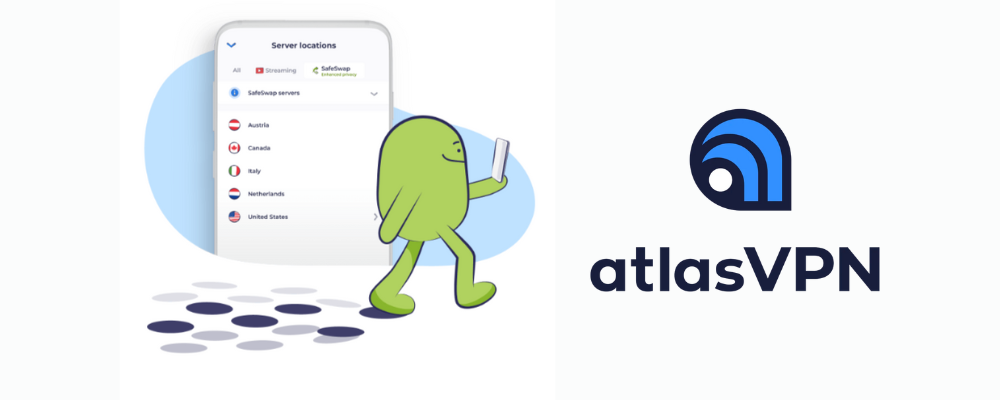 Atlas VPN has a fairly wide network of servers and offers customers to choose from any of the 49+ available locations with more than 1000 servers and they are well distributed on the map. There are the USA, Great Britain, Canada, Australia, UAE, Singapore, Germany, Spain, Latvia, India, Bulgaria, Hong Kong, and many others.
Atlas VPN summary
AtlasVPN is an excellent VPN provider that is suitable for use by clients from different countries. The service compares favorably with its competitors by its low prices (from $1.83/month), the availability of a free version with a monthly traffic limit, and high connection speeds. At the same time, no one will monitor how many devices simultaneously access the network, whether torrents are downloaded or the blocking of different sites is bypassed.
The company ensures user privacy by refraining from collecting logs, providing a trustworthy and secure environment for its customers. With a vast network of over 1000 servers distributed across 49+ countries, users can enjoy a wide range of options for seamless connections. The service boasts stable connections, and its protection measures have stood the test of time, guaranteeing a reliable and consistent experience. The commitment to maintaining a high level of security ensures that users can browse the internet with peace of mind and confidence in their data's safety.
All in all, this service is definitely worth paying attention to.

Atlas VPN overall scores
This review was created for you to learn more about Atlas VPN and decide on how well it suits your needs and values. We scored it using our own criteria and methodology to present you with a full, informative report. However, some info is clearer in numbers! Please, see Atlas VPN final scores in areas that our experts consider high-priority.
Atlas VPN broker FAQ
Atlas VPN is one of the best VPN providers with free and cheap paid versions that have decent speed, security and no logs. The company supports all necessary protocols and military encryption, and also has many well-established technologies such as Kill Switch, advanced IPv6 leak protection and private DNS. Check the article for more details.
Atlas VPN allows you to use P2P traffic and you will be able to download torrents anonymously using their servers. Download speeds are decent and Atlas asks you to use P2P responsibly and not infringe copyrights. Read the review and get the best VPN discount.
If we look at the top level AES-256 encryption, ultra-secure tunneling, and their no-logs policy, Atlas VPN is one of the most secure VPNs out there today. In addition, such features as SafeSwap and Kill Switch increase the security of this service. Click our special buttons to get the best VPN deal.
You can use Atlas VPN with any number of devices as the service offers an unlimited number of simultaneous connections. Check the article to get a doscount.
VPN Atlas follows the no-logging policy: they aren't storing any private information. In addition, on the Warrant canary tab, you can see if Atlas VPN has received a request to transfer user data to the government. Atlas updates this page daily, so you'll always be aware if someone wants to get your data.