A comprehensive guide to opening an eToro account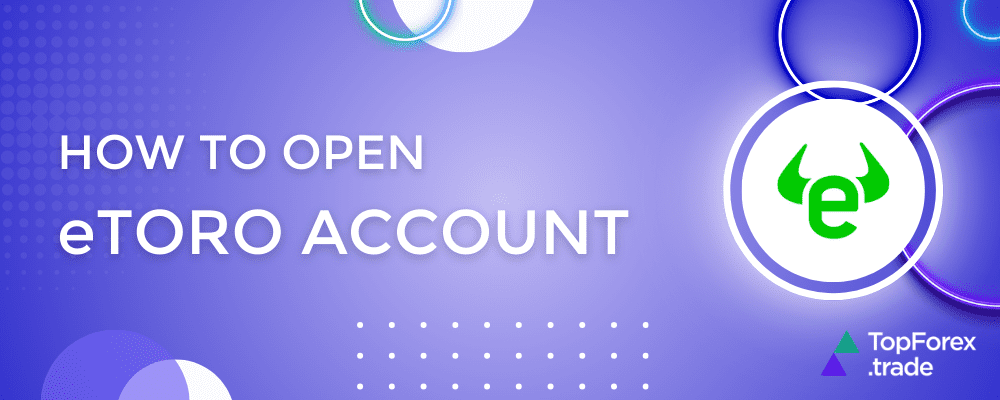 eToro has emerged as a leading online trading platform, revolutionizing the way individuals engage with financial markets. Known for its innovative social trading features, eToro provides a unique experience for both novice and experienced investors. In this guide, we'll explore general information about the broker, delve into eToro's special features, and provide a step-by-step guide to help you open an account and kickstart your trading journey.
Founded in 2007, eToro has grown into a globally recognized platform, catering to millions of users across the world. The broker is regulated by top-tier financial authorities, ensuring a secure and transparent trading environment for its users.

Deposit methods
Trustly, iDEAL, Rapid, PayPal, Klarna, Credit/Debit Cards, Neteller, Wire, Skrill
Deposit methods
Trustly, iDEAL, Rapid, PayPal, Klarna, Credit/Debit Cards, Neteller, Wire, Skrill
Here are some key aspects of eToro:
eToro is regulated by reputable financial authorities such as the Financial Conduct Authority (FCA) in the UK and the Cyprus Securities and Exchange Commission (CySEC). Stringent security measures, including SSL encryption, protect user data and financial transactions.
eToro offers a wide range of financial instruments, including stocks, cryptocurrencies, commodities, forex, and more, providing users with diverse investment opportunities.
The platform's intuitive interface makes it accessible for users of all experience levels. CopyTrader feature allows users to replicate the trades of successful investors automatically.
eToro special trading features

eToro Social trading
eToro's hallmark feature is Social trading, which brings a collaborative and community-driven aspect to the platform. Here's a closer look at how it works:
With eToro's CopyTrader, you can mimic the trades of successful and experienced investors. This feature allows you to allocate a portion of your funds to automatically replicate the trades of a chosen investor. By leveraging the wisdom of seasoned traders, even those new to the market can potentially make informed investment decisions.
Social feed and interaction
eToro incorporates a social feed where users can share insights, market analyses, and trading strategies. Engage with other traders, ask questions, and stay updated on the latest market trends. This social aspect adds a layer of transparency and community support, fostering a collaborative environment.
CopyPortfolios for diversified investments
eToro offers a feature known as CopyPortfolios, which are professionally managed, diversified investment portfolios. These portfolios are designed to mitigate risk and provide exposure to different markets, industries, or trading strategies. Users can choose from various CopyPortfolios based on their risk tolerance, investment goals, and preferences.
eToro Cryptocurrency trading
eToro has established itself as a go-to platform for cryptocurrency enthusiasts. Here's why crypto traders often choose eToro:
A wide range of cryptocurrencies
eToro offers an extensive list of cryptocurrencies, ranging from well-known assets like Bitcoin and Ethereum to altcoins with growth potential. This diverse selection allows users to build a comprehensive crypto portfolio.
When you trade cryptocurrencies on eToro, you are buying and owning the actual asset. This means you can withdraw your cryptocurrencies to private wallets, providing an added layer of control and security.
eToro provides innovative tools for crypto traders, including real-time price tracking, advanced charts, and market analysis. Whether you're a seasoned crypto trader or a newcomer, eToro equips you with the necessary resources.
eToro educational resources
eToro recognizes the importance of education in empowering its users to make informed decisions. Here's how eToro supports ongoing learning:
eToro regularly conducts webinars and tutorials hosted by industry experts. These sessions cover a wide range of topics, from basic trading concepts to advanced strategies, helping users enhance their trading skills.
Market Analysis and Insights
The platform provides comprehensive market analysis, including daily market reviews and insights. Stay informed about market trends, news, and potential opportunities that may impact your trading decisions.
Trading demo account for practice
eToro's virtual portfolio allows users to practice trading with virtual funds. This risk-free environment is ideal for honing your skills, testing strategies, and gaining confidence before engaging in real-money trading.
Open an account with eToro
Embarking on your trading journey with eToro is a straightforward process. Follow these step-by-step instructions to open your eToro account and start navigating the exciting world of online trading:
1. Follow the link to get to the registration page
Begin by using this link to access eToro's registration page. This ensures you are on the correct page and allows you to take advantage of any special promotions or offers.
2. Complete the registration form
Once on the registration page, you'll be prompted to fill out a registration form. Provide accurate details, including your full name, email address, and a secure password. Ensure that the email address you provide is valid, as you'll need it for account verification and communication.
Alternatively, you can expedite the registration process by signing up with your Google or Facebook account.
3. Verify your identity
To comply with regulatory standards and ensure the security of the platform, eToro requires users to verify their identity. Follow these steps to complete the verification process:
Upload a copy of your government-issued ID, such as a passport or driver's license.
Provide proof of address, such as a utility bill or bank statement.
The verification process is typically swift, but it may take a little longer during peak times. Once verified, you'll have full access to your eToro account.
4. Fund your account
With your account verified, it's time to fund it. eToro supports various payment methods, including credit/debit cards, bank transfers, and e-wallets. Choose the method that suits you best and follow the on-screen instructions to deposit funds into your account.
The minimum deposit amount may vary depending on your location and the chosen payment method.
5. Explore the platform
Take a tour of the eToro platform to familiarize yourself with its features. Navigate through the different sections, including the dashboard, watchlists, and markets. Pay special attention to the social feed and explore the various trading instruments available.
Consider using the virtual portfolio feature to practice trading with virtual funds. This allows you to test your strategies and get comfortable with the platform before risking real money.
6. Start trading
Once you're comfortable with the platform and ready to start trading, select the asset you want to trade. eToro provides a user-friendly interface with real-time charts and tools to assist you in making informed decisions.
Click on the "Trade" button, specify the amount you want to invest, set your stop-loss and take-profit levels if desired, and execute the trade.
Monitor your investments through the portfolio section and stay updated on market trends via the news feed and market analysis tools.
Congratulations! Now you know how to start trading with eToro and are ready to take the first steps toward realizing your trading goals. Whether you're interested in Social trading, exploring the list of trading markets, or enhancing your skills through educational resources, eToro provides a comprehensive platform to meet your needs.
Now, take advantage of the dedicated link below to open your eToro account and embark on a rewarding trading journey.

76% of retail CFD accounts lose money
Start FX trading with eToro - FAQ
Yes, eToro is a highly secure platform. Regulated by authorities such as the Financial Conduct Authority (FCA) and the Cyprus Securities and Exchange Commission (CySEC), eToro prioritizes the safety and privacy of its users. For more information on eToro's security measures, check out our comprehensive guide.
eToro distinguishes itself through its innovative social trading features, allowing users to engage with a community of traders, share strategies, and even replicate successful trades. Explore these unique features in detail by referring to our guide on eToro's special features.
Absolutely! eToro is renowned for its extensive Cryptocurrency offerings, providing users with access to a diverse range of digital assets. To learn more about trading Cryptocurrencies on eToro, delve into the second part of our comprehensive guide.
eToro's CopyTrader allows you to automatically replicate the trades of successful investors. This innovative feature is part of eToro's Social trading platform, offering a collaborative approach to trading. For step-by-step instructions on using CopyTrader, explore the detailed guide in our article.
Follow our step-by-step guide in the third part of the article to navigate the registration, verification, and funding stages seamlessly. Get started on your trading journey by referring to the detailed instructions in our guide.
Absolutely. When you trade cryptocurrencies on eToro, you own the actual assets, giving you the flexibility to withdraw them to a private wallet. For more details on managing your cryptocurrencies on eToro, refer to the relevant section in our guide.