eToro Social and Copy trading: discover the key features to trade with the best in the market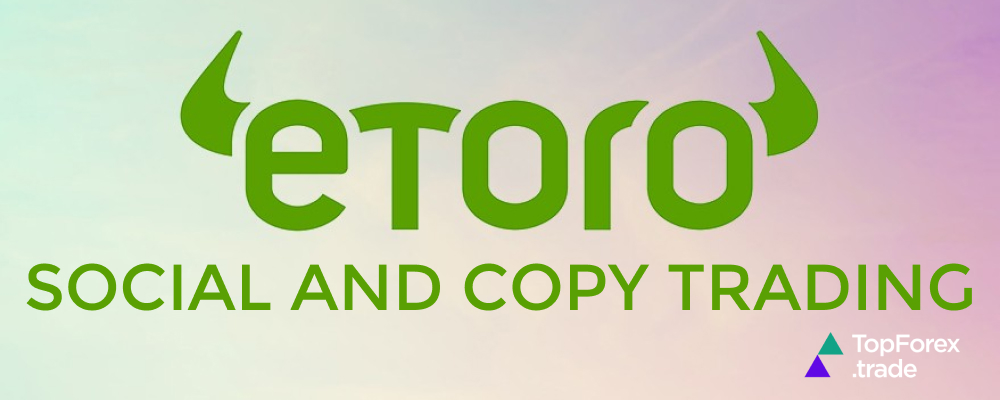 eToro is a popular and well-established online trading platform that was founded in 2007. It offers a wide range of assets to trade, including stocks, Cryptocurrencies, commodities, and more. The company is known for its reliability, security, and transparency. The platform is regulated by reputable financial authorities, including the FCA and CySEC. It also has a strong reputation for transparency, and users can easily access information about fees and other important aspects of trading on the platform.
Another notable feature of eToro is its mobile app, which allows users to trade on-the-go and access their accounts from anywhere. The app offers all the same features as the main platform, including access to a variety of trading assets.
The web version has a user-friendly interface and offers low fees compared to many other online brokers. One of its most innovative features is Social trading, which allows users to follow and copy the trades of other successful traders. This can be especially useful for novice clients who are still learning about the market. eToro also offers a robust education center that provides a variety of resources, including webinars, guides, and articles to help users improve their trading skills.
In general, eToro is a comprehensive platform that serves the needs of traders of all levels. Its user-friendly interface, low fees, and innovative features make it a popular choice for both novice and experienced traders. Furthermore, in this article, our main focus will be on exploring eToro's Social trading features, examining its functionality, and discussing the advantages they offer to traders.

Deposit methods
Trustly, iDEAL, Rapid, PayPal, Klarna, Credit/Debit Cards, Neteller, Wire, Skrill
Deposit methods
Trustly, iDEAL, Rapid, PayPal, Klarna, Credit/Debit Cards, Neteller, Wire, Skrill
What is eToro Social trading and why do traders need it?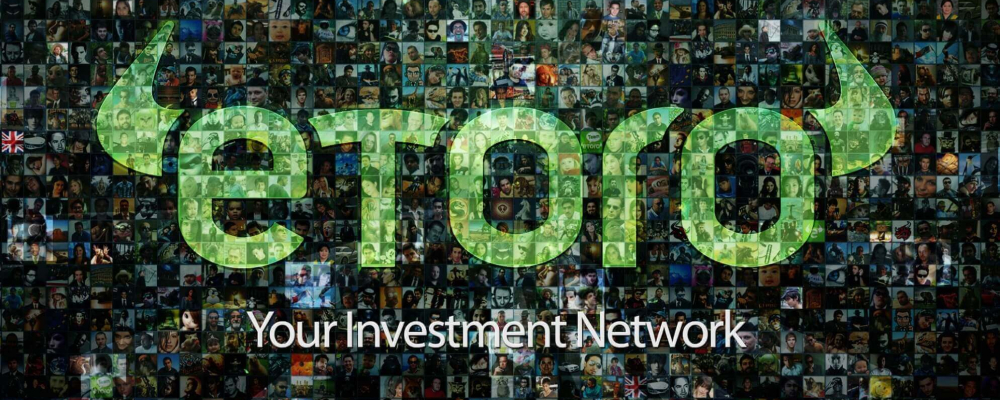 eToro Social trading is a unique feature offered by the eToro platform, which allows market participants to follow and copy the deals of users who have achieved their trading goals or have a proven track record in trading in real time. As the world's leading social trading network, eToro has been able to refine its knowledge and experience into practical trading tools, making it a one-stop shop for stock trading, online investing, Crypto trading, and more.
eToro stands out for its comprehensive range of social features that go beyond the traditional trading platform. Its innovative approach to social trading has made the financial market more inclusive and engaging for people across the globe, fostering a vibrant community of traders who can collaborate, exchange ideas, and learn about market trends and trading tactics.
In addition to its Social trading features, eToro maintains active social channels, including its social media profiles, blog, and forum, providing traders with a variety of resources to support their trading journey. This social aspect is particularly helpful for novice traders who may feel isolated or overwhelmed when first starting.
All in all, eToro Social trading is a valuable tool for traders looking to learn from successful traders and potentially increase their profits while minimizing their risk. With its extensive range of social features and resources, eToro has created a welcoming and supportive trading community that is accessible to traders around the world.
eToro CopyTrader systems
eToro's Social trading capabilities go beyond just communication and idea sharing. The platform offers tools like CopyTrader and Smart Portfolios that enable traders to explore new avenues for maximizing their investments and potential profits.
CopyTrader is a standout feature that has helped eToro become a leader in fintech innovation. With this system, traders can select the traders they want to follow, choose the amount to invest, and have their actions automatically copied in real-time with just one click.
eToro CopyTrader – Copying all trades
The CopyTrader feature on eToro allows users to copy all of the currently open trades of the selected trader they are copying. By selecting this option, users will have the existing open deals of the copied trader opened in their account with the current market rates. This means that users will have the same stop-loss (SL) and take-profit (TP) as the original trade, and will mirror the copied trader's future actions, including changes in SLs and TP and closing of the trade, from the moment they begin copying them.
It's important to note that if the copied trader extends their SL by adding more funds to a position, the user's SL will adjust accordingly. However, the user's position amount will remain the same as the initial amount, resulting in potential differences in gain percentage between the user's copy account and the copied trader's account.
Users have the ability to close a specific copied trade without closing the entire copy account. If the copied trader opens a position in markets that are closed during the time they are copied, the system will open a Market Order for the user, and once the market is open, the order will execute into a position with the first market rate. 
eToro CopyTrader – Copying only new trades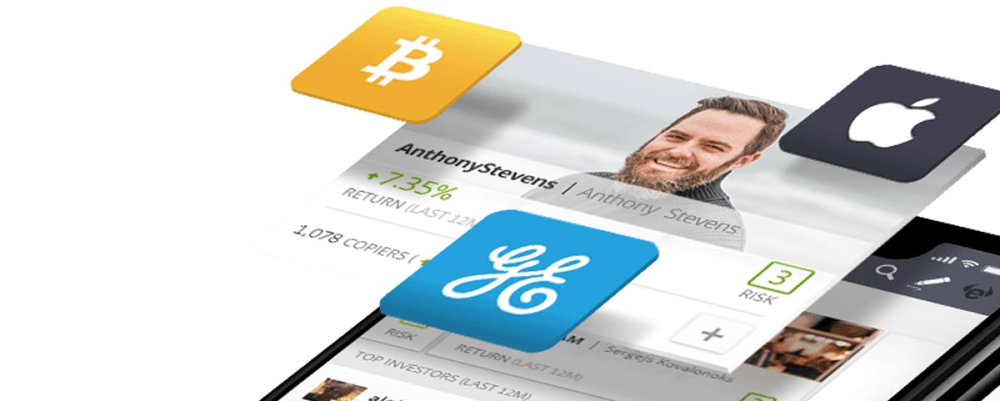 By selecting to copy only new trades on eToro, you will replicate the trades that the trader you copied opens after the copying process begins. These trades will open at the same rate as the original ones and have the same SL and TP levels, with duplication occurring automatically. Additionally, you can close a specific trade without having to close the entire copy account. The proportions of new trades will be determined based on the copied trader's realised equity, but they may change if the trader alters their available balance or closes an old trade that is not being copied.
eToro Copy Stop-Loss (CSL)
CSL is an automatic risk control system for managing your Smart Portfolio. It allows you to set a dollar value to control risk for each copy relationship based on real-time Profit/Loss values. The default setting is 40% of your total invested copy value per copy relationship, which means that the relationship will terminate when the value has decreased by 40%. You can manually adjust the CSL value between 5% to 95%, but the system won't allow a value that's too small and could trigger immediate closure of the relationship. When the CSL triggers, all positions in that relationship will close, and the remaining funds will be returned to your balance. Note that the CSL value will change if you change your copy amount, and you can update the CSL at any time.
eToro Copied Trades SL
The Copied Trades SL was implemented to limit the risk of investing too much with a single trader. Since the Copied Trades SL safeguards your copied trades, it provides greater flexibility when setting Stop Losses (SL).
Normally, adding funds to trades is required when increasing the SL. However, with copied trades, additional funds are not deducted from the copy amount when the copied trader extends their SL. This means that a trade can incur losses of 200% or more without triggering the SL and potentially recover without affecting the copy balance. The copy relationship will only be closed if the copied trader reaches your set CSL for total unrealized losses.
Because funds are not added to copied trades, there may be a discrepancy between the available copy balance and the copied trader's balance. Additionally, the gain or loss of copied trades is calculated based on the original investment amount, which may differ from the copied trader's current balance.
eToro CopyTrader – Pause Copy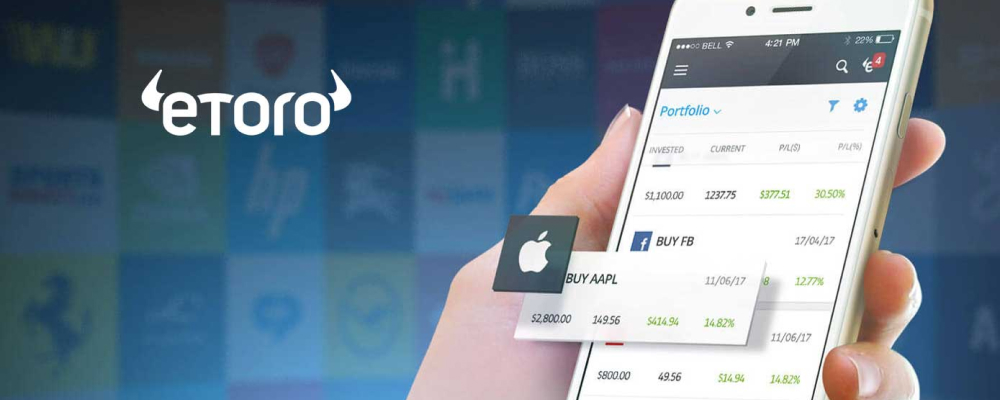 The CopyTrader feature on eToro also has a "Pause Copy" function that lets you stop copying a trader without closing all of the currently opened positions. You can activate this feature by going to the portfolio page, clicking on the settings button, and selecting "Pause Copy." While "Pause Copy" is active, no new trades will be opened, but all currently opened trades will continue copying the SL/TP and close actions from the Copied Trader.
eToro CopyTrader – Stop Copy
To stop copying an investor altogether, you can choose "Stop copying" from the copy settings menu. You will have two options: "Sell All," which closes the copy entirely, or "Keep All," which will transfer all copied positions to your own portfolio, where they can be managed independently of the copy.
eToro Smart Portfolios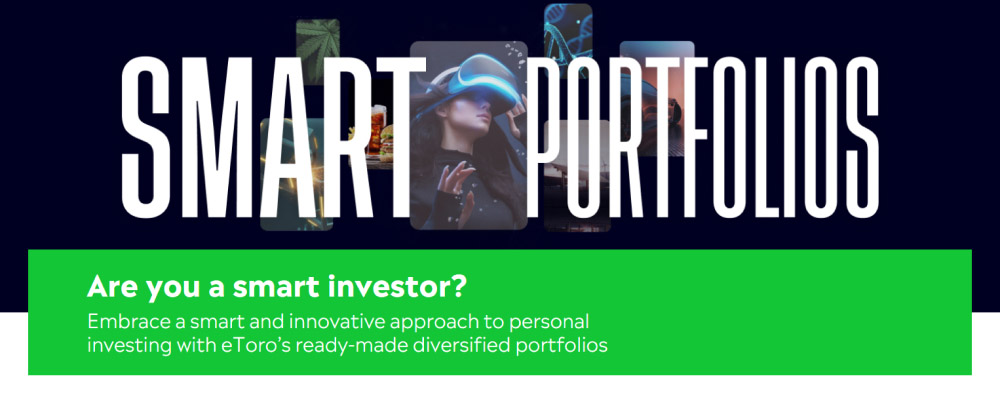 eToro also offers Smart Portfolios, which are thematic investment instruments programmed for long-term double-digit returns. Each Smart Portfolio aggregates various assets or a group of traders and is constantly optimized by machine-learning algorithms. 
There are two main types of Smart Portfolios offered by eToro: Market Smart Portfolios and Top Trader Smart Portfolios. Market Smart Portfolios aggregate various assets together in a single portfolio, following a predetermined market strategy or focusing on a specific market segment. The composition of each portfolio is determined by eToro's financial experts, in conjunction with a machine-learning algorithm, programmed to reduce risk and increase profit.
For example, eToro's BigTech Smart Portfolio groups major companies from the tech sector, offering an asset for traders who wish to invest in the industry as a whole. Similarly, eToro's Renewable Energy Smart Portfolio includes companies involved in renewable energy, including solar power and wind energy.
Top Trader Smart Portfolios, on the other hand, leverage eToro's CopyTrader tool to group successful traders together in different portfolios. The traders within each portfolio are selected by eToro's investment committee and a sophisticated algorithm that looks for specific trading attributes optimized for profit. For example, the GainersQtr Smart Portfolio groups investors who have shown consistent returns and are likely to turn a profit over the next quarter, according to predetermined parameters that the Smart Portfolio's algorithm takes into account.
The minimum investment amount for Smart Portfolios is as low as $500, and the default Stop Loss for a Smart Portfolio is set at 10%. The weights allocation of each Smart Portfolio can change over time, as the algorithm optimizes the portfolio for profit and risk reduction. With eToro's Smart Portfolios, traders can gain exposure to a wide range of markets and assets, while leveraging the expertise of eToro's financial experts and machine-learning algorithms to maximize returns and minimize risk.
eToro Social News Feed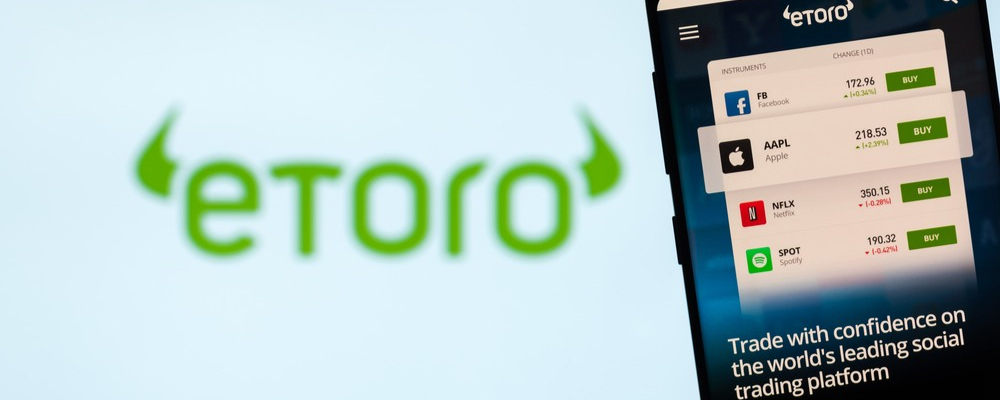 In addition to CopyTrader systems, eToro offers a unique feature called the personalized Social News Feed that combines elements from social media and online trading. With this feature, you can follow the financial instruments and traders you like, interact with other members of the eToro community, and join discussions. The News Feed is similar to other social networks, allowing you to post updates, tag instruments or traders, share posts, and comment on others' updates.
Moreover, the eToro platform provides notifications when a user you copy writes a new post or when an asset on your watchlist becomes volatile, among other important updates. These notifications appear on the web platform and as push notifications on your mobile device. With eToro's Social News Feed, you can stay connected with the trading and investing world and receive updates on the traders and assets you're interested in.
The advantages of eToro's Social and Copy trading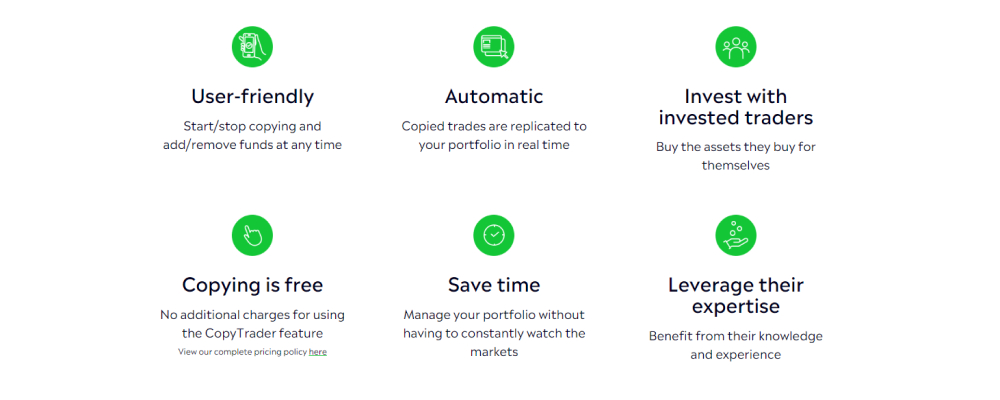 eToro's Social and Copy trading features offer numerous advantages to its users. Here are some of the benefits:
Copy trading enables users to replicate the trades of top-performing investors, giving them access to their expertise and knowledge. Copied trades are automatically replicated in real-time, providing users with flexibility and control over their investments.
Users can start/stop copying and add/remove funds at any time, making it easy to manage their portfolios.
eToro allows users to buy the same assets as the investors they are copying, allowing them to invest with invested traders.
The CopyTrader feature is free to use, without any additional charges, allowing users to copy trades for free and save time managing their portfolios without constantly watching the markets.
The platform is user-friendly, making it easy for users to manage their investments and copy trades with ease.
Whether you are a beginner or an experienced investor, eToro's Social and Copy trading features provide a simple and effective way to invest in the markets.
How to join the eToro Social trading community and start coping deals?
Joining the eToro social trading community is a simple process that can be completed in just a few steps. 
First, click our special button and create an account. 
You will then be asked to provide some basic information about yourself, including your name, email address, and country of residence. After completing this step, you will need to verify your email address and provide some additional information about yourself, including your financial experience and investment goals.

Once you have created your account and completed the verification process, you can start exploring the eToro social trading platform. 
You can browse through the profiles of other traders on the platform, review their trading history and performance, and select the traders that you would like to copy. You can also start building your own profile, connect with other traders, and share your own trading insights and experiences.
To start copy trading, simply select the traders that you would like to copy and allocate a portion of your investment funds to each trader. 
eToro will automatically replicate the trades of the traders that you have selected, allowing you to benefit from their expertise and experience without having to actively manage your investments. You can adjust your copy trading settings at any time, and you can also stop copying a trader or withdraw your funds from the platform whenever you like.
Summing up eToro Social and Copy trading features
In summary, eToro's Social and Copy trading features offer several benefits for investors looking to gain exposure to the markets. The platform allows users to connect with a community of traders, follow and interact with other members through a personalized news feed, and even copy the deals of top-performing traders. 
Copy trading is made easy with the CopyTrader feature, which allows users to automatically replicate the trades of experienced traders in real-time. Additionally, eToro's Smart Portfolios offer a way to invest in diversified thematic portfolios that are managed by expert financial analysts and sophisticated algorithms. 
All in all, eToro's Social and Copy trading features provide a user-friendly way for investors to leverage the knowledge and experience of others while managing their own portfolios. Click our exclusive button and immerse yourself in the eToro Social trading community.

---
Related articles:
Get a comprehensive insight into eToro's trading markets that offer various investment opportunities such as direct investment in stocks, ETFs, and Crypto assets. You can also trade CFDs on currency pairs, indices, and commodities with leverage and enjoy minimal commissions, low spreads, and an extensive range of instruments and risk management tools.
An in-depth review of eToro's Forex trading in Romania: popular trading instruments like forex pairs, securities, crypto, and CFDs, a user-friendly Forex platform, multilingual technical support, social trading features, and a free demo account.
A real trader review of the top international Forex brokers, highlighting the best retail trading service providers with user-friendly platforms. These brokers offer a wide range of market instruments including currency pairs, stocks, CFDs, commodities, and ETFs. Users can also take advantage of social trading, demo accounts, mobile trading apps, and advanced tools to enhance their trading experience.
---
Disclaimer:
eToro is a multi-asset platform that offers both investing in stocks and Crypto assets, as well as trading CFDs;
Please note that CFDs are complex instruments and come with a high risk of losing money rapidly due to leverage. 81% of retail investor accounts lose money when trading CFDs with this provider. You should consider whether you understand how CFDs work and whether you can afford to take the high risk of losing your money.
Past performance is not an indication of future results. The trading history presented is less than 5 complete years and may not suffice as a basis for an investment decision.
Cryptoasset investing is highly volatile and unregulated in some EU countries. No consumer protection. Tax on profits may apply.
eToro USA LLC does not offer CFDs and makes no representation and assumes no liability as to the accuracy or completeness of the content of this publication, which has been prepared by our partner utilizing publicly available non-entity-specific information about eToro.
eToro Social and Copy trading - FAQ
eToro's Social trading feature is a platform that allows users to follow and interact with other traders. Users can see the trades that other users are making in real time and choose to copy them if they want. Read the article and learn more about eToro Copy systems.
eToro's Copy trading feature allows users to automatically copy the trades of other high-achieving traders. Users can browse the profiles of other clients and see their past performance, risk score, and other relevant information before deciding to copy them. Discover more about eToro Social and Copy trading by reading the article.
eToro's Copy trading feature allows users to copy multiple traders simultaneously. This allows you to diversify your portfolio and reduce your risk by spreading your investments across different traders and markets. Additionally, eToro provides tools to manage your copied trades, such as setting stop-loss orders and adjusting your copy allocation between different traders. Browse through the article to explore the various opportunities offered by eToro's Social and Copy trading systems.
Users have full control over their portfolio when using eToro's Copy trading feature. While your portfolio will automatically copy the trades of the traders you choose to copy, you still have control over your portfolio's overall allocation, and risk management, and can add or remove funds at any time. Additionally, you can choose to stop copying a trader or adjust the allocation of funds to each copied trader as you see fit. Explore the possibilities of eToro's Social and Copy trading by reading the article and gaining valuable insights.
In order to start to Copy trading on eToro, you need to register an eToro account by clicking on our dedicated button, completing your profile, depositing funds, selecting a trader to copy, and clicking "Copy".