NAGA Markets Forex trading platforms: popular MT4 and MT5 terminals, along with the feature-rich NAGA Web and mobile apps
NAGA Markets stands as a highly regarded international brokerage firm, offering traders a wide range of over 950 instruments and assets. This comprehensive selection encompasses currency pairs, stocks, indices, commodities, and ETFs, presenting abundant investment opportunities for growth and diversification.
If you are new to Forex trading or just want to automate your deals NAGA offers the remarkable NAGA Autocopy tool, empowering traders to replicate the trades executed by accomplished and successful traders on the platform. By harnessing this feature, users can effortlessly follow and learn from the strategies employed by Top traders, gaining valuable insights and enhancing their own trading performance.
In addition to NAGA Autocopy, NAGA Markets provides an assortment of trading tools and educational resources. These tools are thoughtfully designed to optimize the efficiency and safety of trading activities, ensuring that traders receive the necessary support and knowledge to make well-informed decisions.
Regarding regulatory compliance, NAGA operates as an authorized broker under the supervision of CySEC in Cyprus. Furthermore, NAGA complements the Markets in Financial Instruments ('MiFID') directive with the aim of regulating the markets of financial instruments and the provision of investment services and activities within the European Economic Area.
In terms of the trading platform, the company provides renowned options such as MT4 and MT5, alongside the NAGA Web app and mobile applications, which we will delve into within this article.

Deposit methods
Maestro, GiroPay, iDEAL, PayPal, Credit/Debit Cards, Skrill
Deposit methods
Maestro, GiroPay, iDEAL, PayPal, Credit/Debit Cards, Skrill
NAGA Markets Forex trading MT4 and MT5 platforms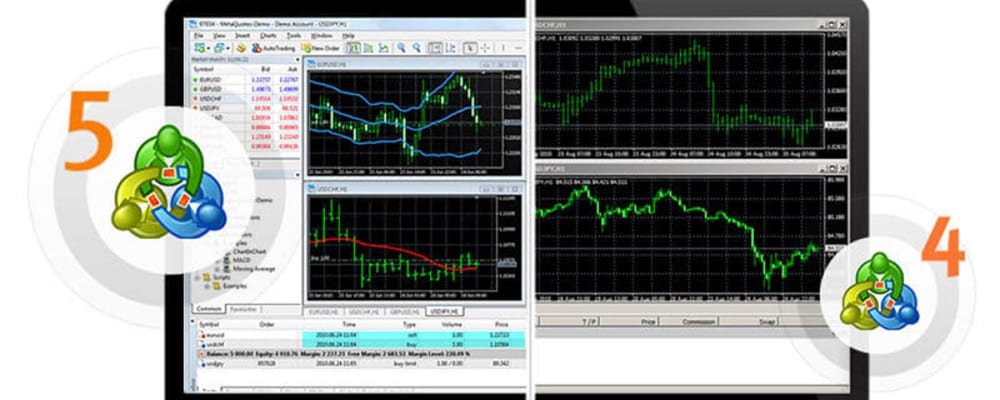 NAGA Markets offers trading services on both the MT4 (MetaTrader 4) and MT5 (MetaTrader 5) platforms, providing users with a range of features and tools to enhance their trading experience.
When trading with NAGA on the MT4 platform, you have the advantage of using a familiar interface while still benefiting from the Social Trading capabilities of the NAGA platform. This means that everyone can copy experienced users' trading activity, which is synchronized with their NAGA profile. The MT4 platform offered by NAGA also includes a customizable interface, allowing you to tailor it to your preferences.
In addition to the familiar trading environment, NAGA's MT4 platform provides a comprehensive set of tools for technical analysis. Traders can access 30 technical indicators, allowing them to analyze price trends and make informed trading decisions. Furthermore, the platform offers 31 graphing objects, enabling traders to visualize and interpret market data effectively. When it comes to order types, the MT4 platform supports 4 pending order types and 3 order execution types, giving traders flexibility in their trading strategies.
For those looking for even more power and a broader range of instruments, NAGA also offers trading on the MT5 platform. With MT5, traders can access a wider array of instruments, including real stocks, in addition to currency pairs and CFDs on futures. This expanded offering allows traders to diversify their portfolios and take advantage of various market opportunities.
In terms of technical analysis capabilities, NAGA's MT5 platform offers 38 technical objects, providing traders with a robust toolkit for analyzing price charts and patterns. The platform also includes 44 graphing objects, enabling traders to annotate and highlight important market data. When it comes to order types, the MT5 platform supports 6 pending order types and 4 order execution types, offering traders more flexibility and control over their trades.
One convenient feature of both the MT4 and MT5 platforms is the ability to transfer funds between accounts. This makes it easier for traders to manage their finances and allocate funds across different trading accounts within the NAGA ecosystem.
In summary, NAGA Markets provides traders with the option to use either the MT4 or MT5 platform, depending on their specific trading needs and preferences. With both platforms, traders can benefit from NAGA's comprehensive suite of trading tools and services to enhance their trading experience.
NAGA Markets Forex trading Web app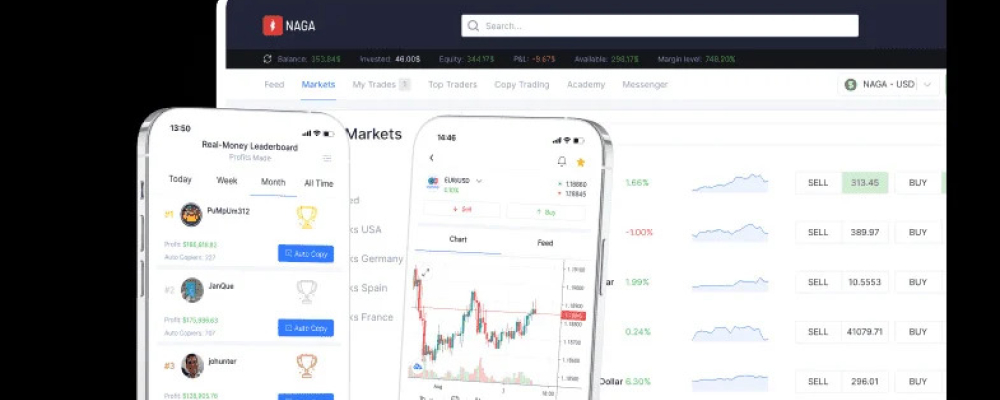 In addition to popular MT4 and MT5 options, NAGA offers its own Web trading app. The NAGA Web app is an essential tool for traders who want to stay informed and connected to the market at all times. The NAGA Web app serves as a portable trading environment, granting users access to essential trading features regardless of their location. With the recognition of the growing demand for real-time market updates, NAGA diligently designed and developed its trading Web app to fulfill the needs of its users.
The NAGA Web app incorporates nearly all the features available on other platforms supported by NAGA. With this user-friendly and advanced platform, traders can access over 1000 instruments, allowing them to diversify their portfolios and take advantage of various market opportunities.
One unique aspect of the NAGA Web app is the ability to profit from sharing your trading experience. Users can publish posts and share their insights, strategies, and experiences with the NAGA community. This feature also enables them to gain recognition and potentially get copied by other traders. By sharing their expertise, traders can not only enhance their own reputation but also contribute to the overall knowledge and growth of the NAGA trading community.
Staying up to date with the latest market news is crucial for making informed investment decisions, and the NAGA Web app ensures that users have access to real-time market updates. The NAGA feed provides traders with the most recent market news, allowing them to stay on top of market trends and identify potential trading opportunities. By staying informed, traders can make better-informed investment decisions and find inspiration for their own trading strategies.
Furthermore, the NAGA Web app offers an Auto Copy feature, which allows users to automatically replicate the trades of successful traders on the platform. By exploring the Top Traders leaderboard on NAGA, users can choose the trader they wish to Auto Copy based on their risk appetite and investment goals. This feature provides an opportunity for novice traders to learn from experienced professionals and potentially replicate their success in the market.
All in all, the NAGA Web app is a powerful trading tool that combines convenience, advanced features, and real-time market updates. Whether traders are looking to diversify their portfolios, share their trading experience, or copy successful traders, the NAGA Web app provides the necessary tools and resources to achieve their goals.
NAGA Markets Forex trading app for iOS and Android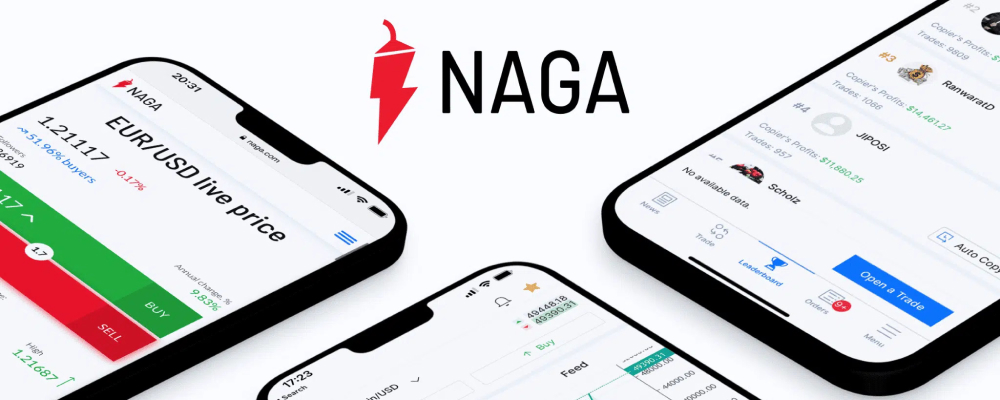 NAGA also offers a trading app available for both iOS and Android devices that has gained significant attention in the financial trading industry. It provides a user-friendly interface and a comprehensive range of features, making it a preferred choice for traders of all experience levels. Whether you are a seasoned investor or just starting your trading journey, NAGA offers a platform that caters to your needs.
With the NAGA trading app, you can enjoy a range of convenient features that enhance your trading experience. One such feature is the ability to receive price alerts directly on your smartphone. Set up personalized price alerts for specific assets, and the app will notify you when those assets reach your desired price levels. This ensures that you stay informed and can seize opportunities in the market at the right time.
Staying updated with the latest market news is important for making informed trading decisions. The NAGA app keeps you in the loop by providing real-time market news and updates. You'll receive notifications on your mobile device, ensuring that you are always aware of important events and developments that can impact the financial markets.
In addition to trading and staying informed, the NAGA app offers a unique feature called NAGA Radar. This mobile-exclusive feature allows you to discover other NAGA traders who are located nearby. You can connect with these traders, share insights, and potentially collaborate on trading strategies. NAGA Radar enhances your social trading experience by facilitating connections with like-minded traders in your area.
The NAGA app for Android and iOS offers a seamless and intuitive trading experience, allowing you to trade on the go. Whether you're commuting, traveling, or simply away from your computer, you can access the app and trade directly from your mobile device. The app is designed to ensure that you never miss an investment opportunity, providing you with the freedom and flexibility to manage your trades anytime and anywhere.
NAGA Markets Forex trading platforms summary
NAGA Markets is a financial brokerage firm that understands the diverse needs of traders. To cater to different preferences and trading styles, they offer a variety of trading platforms. 
For those who prefer web-based trading, NAGA Markets offers the NAGA Web app. This platform enables users to access their trading accounts directly through a web browser. It boasts a user-friendly interface, real-time market data, and a range of trading tools to support informed decision-making.
Traders on the go can take advantage of the NAGA Mobile app, available for both iOS and Android devices. This app allows users to access their accounts, execute trades, monitor positions, and receive real-time market updates. With intuitive navigation, charting tools, and push notifications, the NAGA Mobile App ensures that traders stay informed even when they are away from their computers.
Moreover, NAGA Markets supports the popular MetaTrader 4 (MT4) and MetaTrader 5 (MT5) platforms. MT4 is known for its extensive range of trading tools and user-friendly interface. On the other hand, MT5 offers advanced technical analysis tools, a wider range of order types, and improved execution speeds. 
By providing these trading platforms, NAGA Markets aims to accommodate traders of all levels of experience and trading preferences. Traders can choose the platform that best suits their needs and access a wide range of financial markets to execute their trading strategies with ease. Click the button below and choose the platform that suits your trading needs.

---
Related articles: 
NAGA, a well-established and regulated broker in the Forex and CFDs industry, presents an exciting avenue for Social trading. By becoming part of our network of experienced traders, you gain access to invaluable knowledge from market experts. Through our platform, you can effortlessly replicate their trades automatically, potentially enabling you to generate profits even while you rest. Join NAGA today and seize the opportunity to learn, grow, and potentially earn in your trading journey.
Explore the primary factors that make NAGA Markets the top choice for novice traders: a complimentary demo account offering $10000 in balance, the option to replicate trades of experienced professionals, access to educational resources, user-friendly web, desktop, and mobile platforms, a wide selection of over 1000 trading assets, and supplementary trading tools.
Peruse genuine traders' evaluations of global Forex brokers: exceptional providers of retail trading services featuring intuitive platforms and diverse market instruments encompassing currency pairs, stocks, CFDs, commodities, and ETFs. Benefit from social trading via demo accounts, mobile trading apps, and advanced tools for enhanced trading experiences.
---
NAGA Forex trading platforms - FAQ
NAGA Markets offers a range of trading platforms, including MetaTrader 4, MetaTrader 5, NAGA Web and mobile apps. Check out the article to learn more about NAGA Markets platforms' features.
NAGA Web and mobile apps are proprietary trading platforms developed by Naga. These platforms are designed to provide a user-friendly and intuitive trading experience across multiple devices, including desktop computers, smartphones, and tablets. Read the article to get more NAGA Markets apps insights.
NAGA Web and mobile apps provide access to various financial markets, including currency pairs, stocks, Cryptocurrencies, and commodities. They offer real-time price quotes, charting tools, trade execution capabilities, and Social trading features that allow users to interact with other traders and follow their strategies. Read the article and click our special buttons to start trading.
NAGA platforms support automated trading strategies. You can use expert advisors (EAs) or trading bots to execute trades based on predefined rules and algorithms.
NAGA provides customer support to assist users with any issues or inquiries they may have. You can typically reach their support team via email, live chat, or phone.