Empower your trading success with NAGA Markets: regulated platform, diverse instruments, Social trading, and exceptional support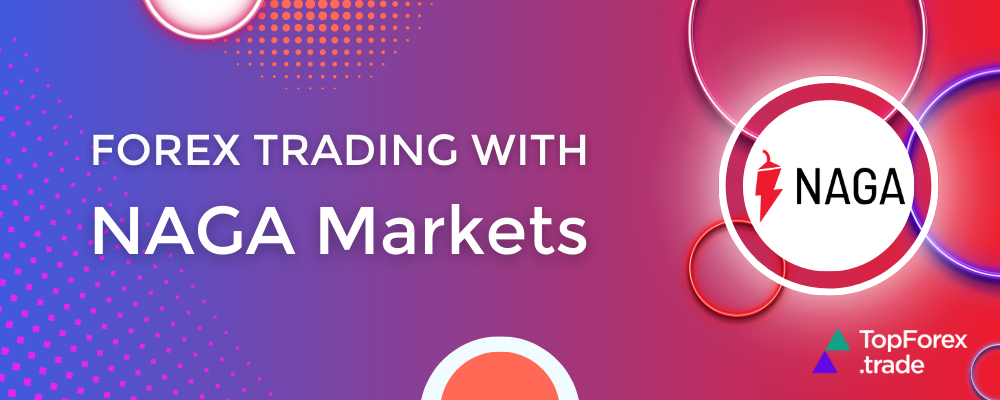 Are you in need of a reliable Forex broker that can guide you through the dynamic and thrilling realm of trading your favorite assets? Your search ends here with NAGA Markets. With its dependable platform, comprehensive array of services, and unwavering dedication to customer contentment, NAGA Markets stands out as a premier selection for newcomers and seasoned traders alike. In this piece, we will delve into the fundamental attributes and advantages of selecting NAGA Markets as your preferred Forex broker.

Deposit methods
Maestro, GiroPay, iDEAL, PayPal, Credit/Debit Cards, Skrill
Deposit methods
Maestro, GiroPay, iDEAL, PayPal, Credit/Debit Cards, Skrill
Why should you choose NAGA Markets?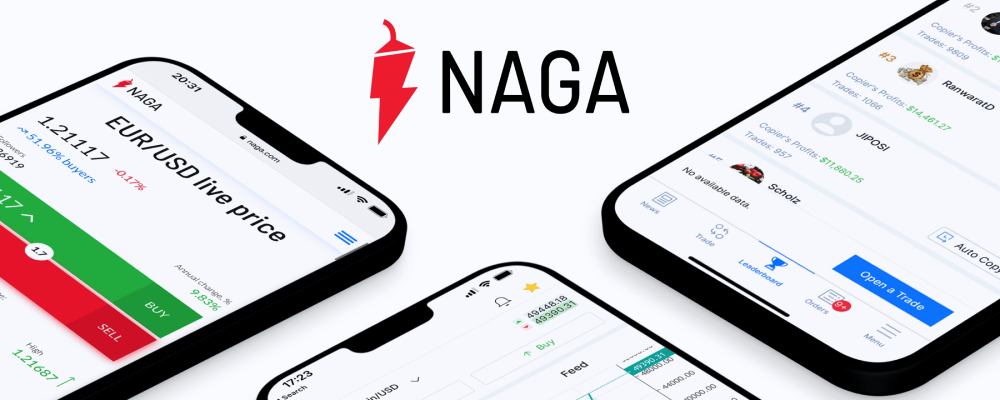 NAGA Markets presents itself as an excellent starting point for embarking on your Forex journey. With a comprehensive suite of features tailored to both beginners and seasoned traders, this platform offers a seamless and user-friendly experience. From its wide range of currency pairs to its educational resources designed to nurture trading skills, NAGA Markets sets the stage for a successful foray into the dynamic world of Forex trading. In the following sections, we'll delve into the compelling reasons that make NAGA Markets a top choice for those looking to begin their Forex trading adventure.
The platform of transparency and regulation
Positioned as a Platform of Transparency and Regulation, NAGA stands out as a broker duly authorized by CySEC in Cyprus. This endorsement underscores NAGA's commitment to operating within established regulatory frameworks, providing users with a secure and compliant trading environment. It is worth noting that NAGA goes beyond mere authorization by aligning itself with the principles of the Markets in Financial Instruments Directive ('MiFID'). This directive, integral to European financial markets, seeks to effectively regulate financial instrument markets and ensure the proper provision of investment services and activities within the expansive scope of the European Economic Area. This dual approach of authorization and alignment with MiFID exemplifies NAGA's dedication to fostering transparent and well-regulated trading practices for the benefit of its users.
Asset availability
Within its offerings, NAGA Markets provides an extensive array of financial instruments tailored to traders' diverse needs. These encompass a dynamic spectrum: forex, encompassing a variety of currency pairs; stocks sourced from prominent global exchanges; commodities, spanning coveted precious metals and vital energy resources; indices that mirror the performance of stock markets.
User-friendly trading platforms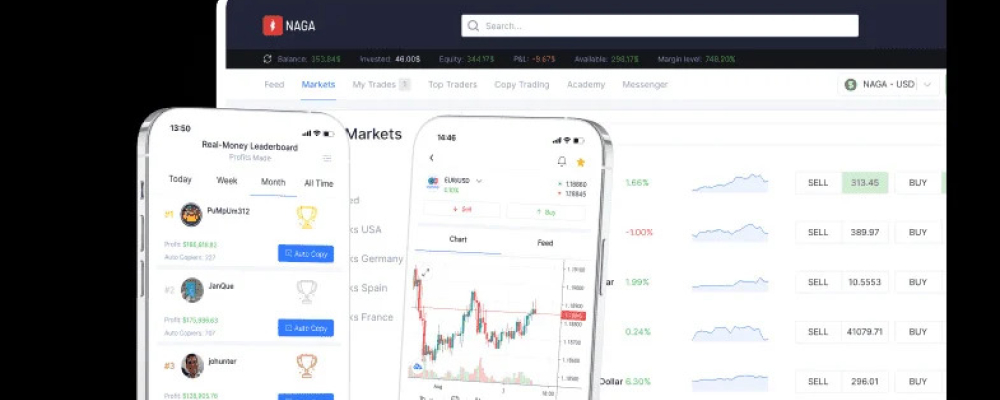 Recognizing the diverse requirements of traders, NAGA Markets stands as a financial brokerage firm that offers a versatile approach. Tailoring their services to cater to various preferences and trading methodologies, they present a diverse range of trading platforms.
For those inclined towards web-based trading, the NAGA Web app is a viable option. This particular platform grants users direct access to their trading accounts via a web browser. Its notable features include a user-friendly interface, real-time market data, and an array of trading tools designed to facilitate well-informed decision-making.
Traders who maintain an on-the-go lifestyle can tap into the advantages of the NAGA Mobile app, accessible on both iOS and Android devices. This app empowers users to seamlessly manage their accounts, execute trades, oversee positions, and receive live market updates. Through its intuitive navigation, integrated charting tools, and real-time push notifications, the NAGA Mobile App ensures that traders remain well-informed, even while being physically distant from their computers.
In addition, NAGA Markets extends support to the renowned MetaTrader 4 (MT4) and MetaTrader 5 (MT5) platforms. Renowned for its distinct attributes, MT4 boasts an extensive suite of trading tools coupled with a user-friendly interface. Conversely, MT5 offers advanced technical analysis tools, a broader range of order types, and enhanced execution speeds, catering to traders with more intricate requirements.
Competitive spreads and low fees
NAGA Markets offers an appealing fee structure, characterized by affordability and transparency. Deposit fees are nonexistent, and withdrawal fees range from $0 to $5, contingent on the VIP user level and a minimum withdrawal amount of $50. Trading fees encompass categories like CFDs (€2.50 per transaction), stocks (€0.99 per transaction), ETFs (0.10% of notional value), and swaps. Copying trader strategies incurs a fixed €0.99 fee per trade, with an additional 5% fee for profitable trades exceeding €10. Cryptocurrency transactions involve fees of 0.99% for wallet withdrawals and 0.50% for sending via email. Notably, NAGA Global client withdrawals may incur an additional fee, of up to 20% of the amount, as decided by Payments/Compliance discretion. This fee structure emphasizes NAGA's commitment to competitive and transparent pricing.
NAGA Markets operates with dynamic spreads, mirroring the interbank forex market's nature. This approach offers distinct benefits, as variable spreads tend to be lower than fixed spreads. However, for traders who opt for fixed spreads, an insurance premium becomes a relevant consideration. This flexibility in spread options exemplifies NAGA's commitment to accommodating diverse trading preferences and needs.
Variety of account types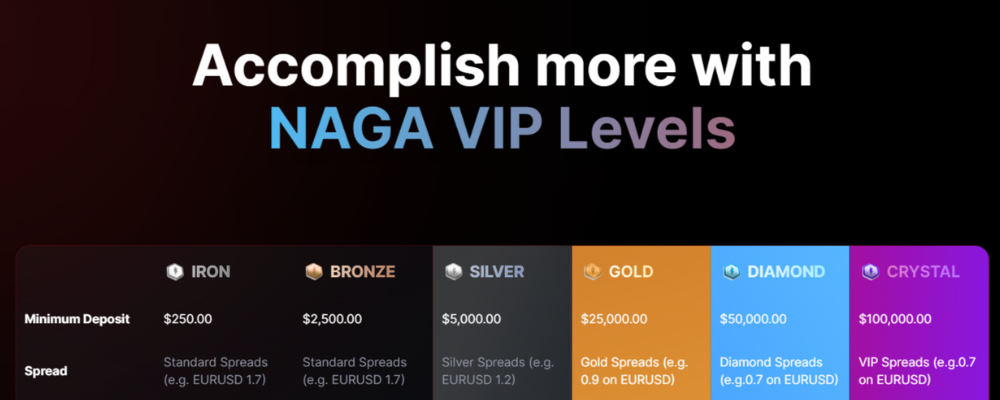 NAGA Markets presents a diverse array of trading accounts, meticulously designed to cater to varying trader preferences and levels of expertise. These accounts span a spectrum of tiers, ranging from Iron to Crystal, each offering distinct features such as differing minimum deposits, spreads, copy premium earnings, and access to valuable resources like webinars and personalized tutoring. Additionally, NAGA acknowledges traders who adhere to Islamic principles by offering an Islamic swap-free account option. For those seeking a risk-free introduction, NAGA Markets extends a demo account alternative. This simulated environment enables traders to practice, acquaint themselves with platform features, and refine strategies without real-money exposure.
Outstanding customer support
In the realm of Forex trading, having dependable customer support is paramount. NAGA Markets places a strong emphasis on its exceptional customer service, providing round-the-clock multilingual support. Whether you're seeking clarification on your account, seeking guidance with a trade, or in need of technical assistance, the NAGA Markets team stands prepared to offer prompt and reliable assistance at all times.
Copy trading
Traders often find themselves navigating the complexities of buying and selling various assets with limited experience. They seek transactions with minimal risks while aiming for optimal outcomes. Additionally, time constraints can hinder in-depth market analysis. NAGA Markets addresses these challenges by introducing Copy trading, a straightforward concept where you select a trader to auto-copy, allocate your desired funds, and mirror their trades proportionally. This approach allows traders to exit specific trades individually, temporarily halt auto-copying, and set customized stop-loss and take-profit levels to align with their preferences.
Advanced trading tools
NAGA's website offers a range of additional tools catering to traders of all levels. These include a trading calculator for margin, pip value, and swaps, an economic calendar for staying updated on news and trends, an earnings calendar to track companies' reports, and NAGA Price Alerts to notify traders of price changes for well-timed entries and exits.
Start Forex trading with NAGA Markets today
In summary, NAGA Markets stands as a trusted and credible option for those seeking to enter the world of Forex trading. Bolstered by its transparent approach, diverse trading instruments, competitive spreads, intuitive platforms, outstanding customer assistance, and Copy trading, NAGA Markets equips traders with a comprehensive toolkit for triumph in the Forex landscape. Regardless of your expertise level, NAGA Markets is dedicated to empowering your trading expedition and aiding you in realizing your financial aspirations. Don't hesitate—to commence your trading journey with NAGA Markets today and encounter the transformative distinction firsthand!

---
Related articles:
Unveil the potential of NAGA Markets' Social Trading platform: forge connections with skilled traders, tap into expert market insights, and seamlessly emulate their trades for the possibility of achieving success.
Dive into an in-depth assessment of NAGA Markets' trading platforms conducted by market experts at TopForex.trade. Uncover comprehensive insights into the broker's primary Web and mobile trading applications, as well as the MT4 and MT5 terminals. This thorough evaluation covers essential elements like technical requirements, charting features, signal offerings, and other functionalities, empowering you with valuable information to make informed and confident trading decisions.
NAGA's trading markets and instruments present a versatile spectrum of investment prospects. You have the option to invest in actual stocks and engage in speculation concerning currency pairs, commodities, futures, and ETF CFDs. Leveraging this potential enhances your trading prowess. This advantage is accompanied by modest commissions and competitive spreads, delivering a cost-efficient trading environment. The platform's extensive selection of instruments caters to a wide range of preferences, rendering NAGA an optimal selection for traders in pursuit of a comprehensive and well-rounded trading journey.
---
Forex trading with NAGA Markets - FAQ
NAGA Markets provides different account types: Demo, and live with VIP levels. The Demo account is equipped with virtual funds to practice trading strategies without real money risk. The Live account allows you to trade with real money and access real market opportunities. The VIP accounts offers premium features and personalized support for high-level traders. Read the article to learn more about NAGA account types.
NAGA Markets offers a range of trading platforms, including MetaTrader 4, MetaTrader 5, NAGA Web and mobile apps. Check out the article to learn more about NAGA Markets platforms' features.
NAGA provides a diverse range of trading instruments, including real stocks, Cryptocurrencies, currency pairs, commodities, futures, and ETF CFDs. Check the article to learn more about NAGA trading conditions.
Forex traders can use the unique copy function with NAGA, the essence of which is that you select the trader whom you want to auto-copy, enter the amount of funds you want to allocate, and mirror his trades in your proportions. This will allow you to receive passive income and spend less time analyzing the markets. Follow the special buttons and try Copy trading with NAGA.
For Forex beginners and for those who want to practice their strategies, NAGA provides a free unlimited demo account with a virtual balance of $10000. Read the article, learn about all the possibilities of trading with NAGA, and open an account using our special button.