NAGA Markets mobile app: seamlessly trade Forex anywhere, anytime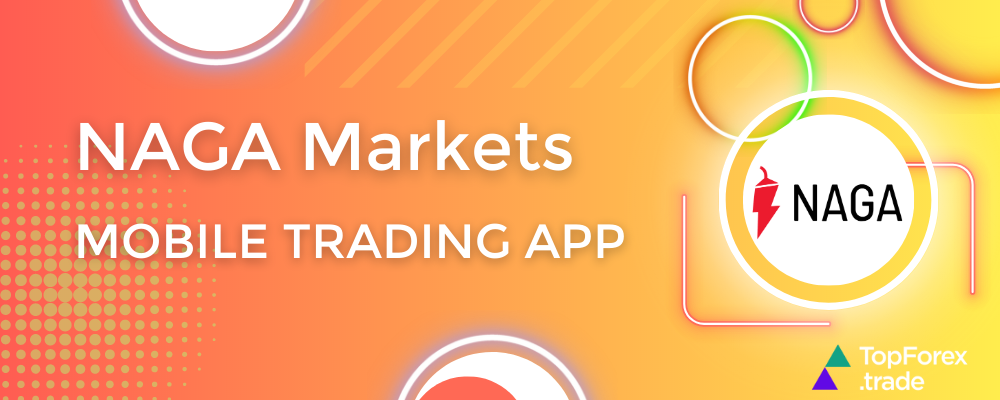 NAGA Markets is an international social network and investment platform that caters to traders of all levels, providing access to various financial markets. The broker offers an impressive range of over 1000 instruments and assets, including currency pairs, CFDs on stocks, indices, commodities, and ETFs.
As a NAGA user, you are offered the choice of opening various account types: demo, live, and VIP levels. The demo account provides you with a virtual balance of $10000, enabling you to experiment with various trading strategies without the fear of losing your actual funds. The live account, on the other hand, allows you to engage in real money trading and access genuine trading opportunities. Lastly, the VIP level accounts are the most exclusive option, providing premium features and benefits to high-level traders. With VIP accounts, you gain access to personalized support, faster execution of trades, advanced market analysis tools, and special offers tailored to your trading needs.
NAGA ensures flexibility in accessing markets by offering multiple Forex trading platforms. You can use the web version of the NAGA terminal, or choose the widely recognized MT4 and MT5 terminals, popular among traders.
In addition to these comprehensive desktop platforms, NAGA has developed a user-friendly mobile app for both iOS and Android devices. This app allows you to conveniently trade on the go, bringing the power of NAGA Markets to your fingertips. In this review, we will delve into the features of this mobile app and explore how it enhances your trading experience.

Deposit methods
Maestro, GiroPay, iDEAL, PayPal, Credit/Debit Cards, Skrill
Deposit methods
Maestro, GiroPay, iDEAL, PayPal, Credit/Debit Cards, Skrill
NAGA Markets mobile app features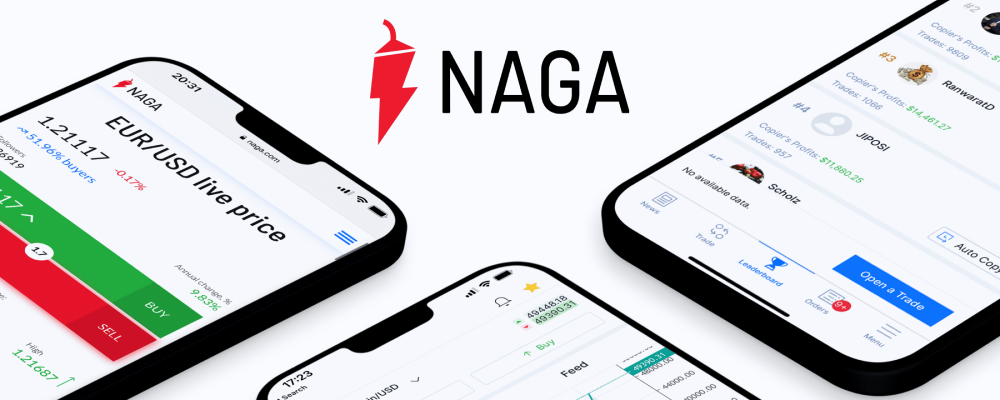 NAGA has gained significant recognition in the financial trading industry with its trading app, available for both iOS and Android devices. The app boasts a user-friendly interface and an extensive range of features, catering to traders of all levels of expertise. Whether you're an experienced investor or just beginning your trading journey, NAGA provides a platform that meets your requirements.
Stay on top of the markets with Naga's price alerts
With the NAGA trading app, your trading experience is elevated through a plethora of convenient features. Notably, the app enables you to receive price alerts directly on your smartphone. You can set personalized price alerts for specific assets, and the app will promptly notify you when those assets reach your desired price levels. This ensures that you remain well-informed and can seize market opportunities at the most opportune moments.
Real-time market news at your fingertips
Staying up-to-date with the latest market news is crucial for making informed trading decisions. The NAGA app keeps you informed by delivering real-time market news and updates directly to your mobile device. You'll receive timely notifications, ensuring that you are always aware of crucial events and developments that can impact the financial markets.
Connect and collaborate with NAGA Radar
Apart from trading and staying informed, the NAGA app offers a unique feature called NAGA Radar. This exclusive mobile feature allows you to discover other NAGA traders who are located nearby. By connecting with these traders, you can share insights and potentially collaborate on trading strategies. NAGA Radar enhances your social trading experience, fostering connections with like-minded traders in your area.
Trade anytime, anywhere with Naga's intuitive app
The NAGA app for Android and iOS provides a seamless and intuitive trading experience, enabling you to trade on the go. Whether you're commuting, traveling, or away from your computer, you can conveniently access the app and trade directly from your mobile device. The app is designed to ensure that you never miss an investment opportunity, granting you the freedom and flexibility to manage your trades anytime and anywhere.
An additional standout feature of the NAGA app is the Auto Copy function, which allows you to automatically replicate the trading activities of top investors on the platform. By choosing from a pool of successful and experienced traders, you can mirror their trades in real-time, capitalizing on their expertise and potentially increasing your own profits. This innovative feature makes it easier than ever for traders to participate in the financial markets and can be a valuable tool for both beginners and seasoned investors alike. With the NAGA app's Auto Copy, you can take advantage of the wisdom and success of top traders without the need for extensive market knowledge or experience.
Advanced tools for in-depth analysis and insights
In addition to its user-friendly interface and Auto Copy functionality, the NAGA app equips traders with advanced tools for in-depth analysis. Whether you're a technical analyst or a fundamental trader, the app provides a wide range of charting tools, indicators, and analytical resources to enhance your decision-making process. Stay ahead of market trends and identify potential opportunities with the app's comprehensive suite of analysis tools, empowering you to make well-informed trading choices.
Robust security measures for peace of mind
Understanding the importance of security in the trading world, NAGA ensures that its app is equipped with robust measures to protect your personal and financial information. The app uses state-of-the-art encryption technology to safeguard your data and offers secure payment methods for deposits and withdrawals. Trade with confidence, knowing that your privacy and funds are in safe hands with Naga's dedication to security.
Dedicated customer support for an exceptional experience
NAGA takes pride in providing exceptional customer support to its users. Whether you have questions about the app's features, need assistance with your account, or require technical support, Naga's dedicated team of experts is available to help. Experience peace of mind knowing that assistance is just a message or call away, ensuring a smooth and hassle-free trading experience on the NAGA app.
NAGA Markets mobile app summary
The NAGA Markets trading app is a comprehensive and user-friendly platform that caters to traders of all levels. It offers a range of features, including price alerts, real-time market news, and NAGA Radar for social trading connections. The app's Auto Copy function allows users to replicate the trades of top investors, making trading easier for beginners and experienced traders alike. Advanced tools and robust security measures ensure a safe and informed trading experience, while dedicated customer support and educational resources empower users on their trading journey. NAGA fosters a thriving trading community and continually updates the app to stay at the forefront of the financial markets. Overall, the NAGA trading app is a powerful mobile solution that brings financial markets to your fingertips with convenience and innovation.
To experience the NAGA trading app and unlock its full potential, simply click our special button and create a free account today. Join thousands of traders and investors who have already chosen NAGA to trade with confidence and take advantage of its user-friendly interface and cutting-edge features.

---
Related articles:
NAGA Markets Social trading: join the network of professional traders to learn from market experts and automatically copy their trades.
Discover an in-depth review of NAGA Markets' trading platforms conducted by market experts at TopForex.trade. Gain a comprehensive understanding of the broker's primary Web and mobile trading application, in addition to the MT4 and MT5 terminals. This evaluation covers essential aspects such as technical requirements, charting features, signal offerings, and additional functionalities, providing you with valuable insights to make informed trading decisions.
The key reasons why NAGA Markets is the best broker for beginner traders: a free demo account with a balance of $10000, the ability to Copy trades of professionals, educational materials, convenient platforms for web, desktop, and mobile versions, and more than 1000 trading assets, and additional tools.
---
NAGA Markets Forex trading mobile app - FAQ
The NAGA Markets Forex trading mobile app is a powerful and user-friendly application designed to facilitate trading on the Forex market through mobile devices. It allows users to access the NAGA Markets platform on the go, providing a seamless trading experience anytime and anywhere. Read the article to learn more about NAGA trading app.
The NAGA Markets Forex trading mobile app is free to download and use. Check the article to get free download link.
The NAGA Markets mobile app allows you to trade various Forex currency pairs, providing access to the dynamic Forex market with a wide range of trading opportunities. Besides, you can choose from 1000+ instruments. Read the article and get NAGA mobile app.
The app offers a comprehensive set of features, including real-time market data, charting tools, technical indicators, price alerts, account management, secure deposits, and withdrawals, as well as the ability to copy the trades of successful traders on the NAGA platform. Click our special button to get the app.
The NAGA Markets mobile app allows you to access your trading account seamlessly. You can use the same login credentials as your desktop platform to access your account, view your portfolio, and continue trading from your mobile device.