Proton VPN: best VPN solution for your business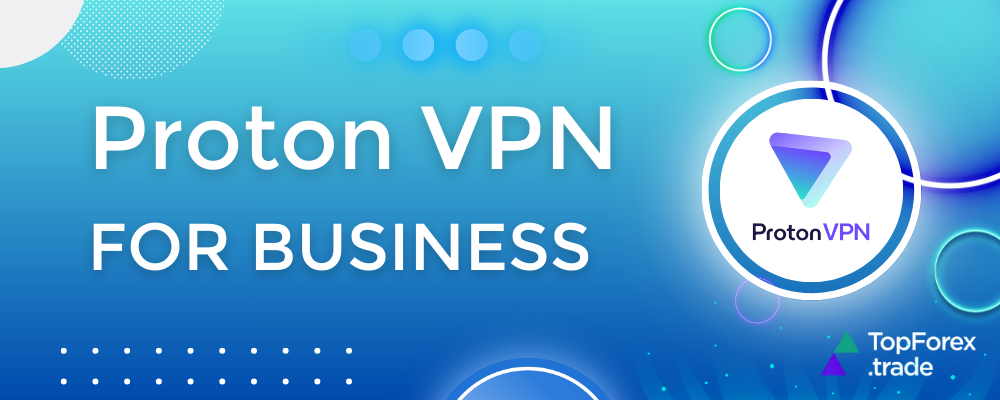 Protecting sensitive data and ensuring safe online communication is crucial for businesses. With increasing cyber threats and stricter data privacy rules, having a trustworthy Virtual Private Network (VPN) is essential for any organization.
Proton VPN is a top-tier VPN service known for its strong security measures, impressive performance, and easy-to-use interface. Catering specifically to businesses, Proton provides a complete set of tools to strengthen your online presence, enabling you to operate securely in the digital world.

Streaming services unlock
-
Number of server countries
#
Streaming services unlock
-
Number of server countries
#
Proton VPN for business: security features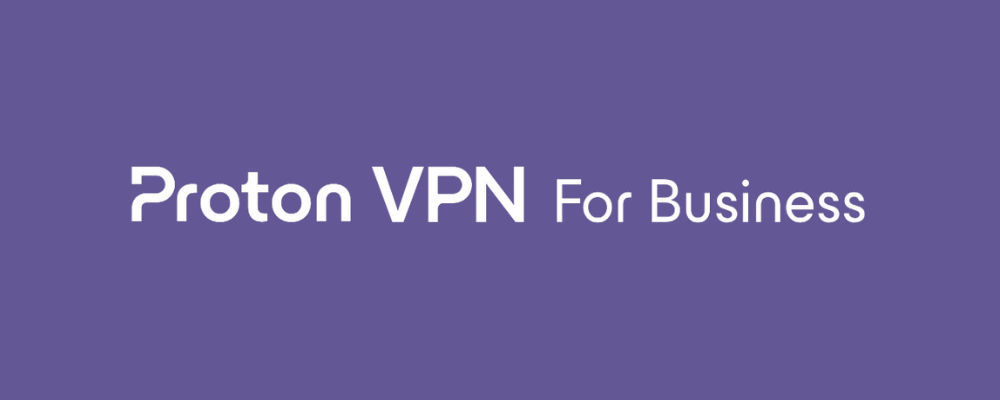 Proton VPN for business is a tailor-made virtual private network service designed to cater to the distinct requirements of enterprises. It establishes a secure and private network environment, enabling employees to access company resources from any location, all while providing robust defenses against potential threats, including malicious actors.
Dedicated IP addresses and servers
Proton VPN for business provides a dedicated IP address and private gateway, enabling employees to establish secure connections to company resources regardless of their location. This feature also bestows upon you the power to restrict access to unauthorized individuals, including potential malicious actors, thereby ensuring the protection of sensitive data.
Robust encryption and protocols
Proton VPN prioritizes data security with state-of-the-art encryption technology. Utilizing AES 256-bit VPN encryption, establishes an impenetrable shield around your data, safeguarding it from unauthorized access or interception.
Furthermore, Proton VPN for business offers a versatile selection of VPN protocols, including OpenVPN, IKEv2, and WireGuard. These protocols enable the establishment of secure VPN tunnels, ensuring reliable and encrypted data transmission, regardless of your preferred method. This comprehensive approach to encryption and protocol selection guarantees that your business communications remain confidential and protected.
Simplified compliance journey
Navigating the intricate landscape of security certifications like ISO 27001, SOC2, and others can be a daunting task. Proton VPN for business significantly streamlines this process. Through private gateways and dedicated servers, you gain meticulous control over access to sensitive resources. This not only reinforces your defenses but also streamlines the compliance journey, guaranteeing that your business adheres to industry standards effortlessly.
Advanced access control
Proton VPN for business integrates advanced access control features to fortify your network. A centralized control panel provides administrators with granular control over user permissions. Additionally, dedicated server locations enhance both speed and security, ensuring data passes through trusted servers. Mandatory Two-Factor Authentication (2FA) adds an extra layer of defense, allowing only authenticated users access, significantly reducing the risk of unauthorized entry or potential security breaches.
Effortless deployment with no hardware
In the fast-paced world of business, time is of the essence. Proton VPN for business negates the need for cumbersome hardware, enabling you to kickstart your secure network immediately. With a seamless deployment process and round-the-clock support, onboarding is a breeze. Your team can promptly begin reaping the benefits of Proton VPN for business.
Robust malware defense
Today, malware poses a significant threat to businesses. Proton VPN for business NetShield malware blocker acts as a robust defense, preventing malicious internet sites from infecting your team's devices. Moreover, it provides the added advantage of blocking ads, trackers, and other unwarranted online activities, reinforcing your team's digital environment.
Anti-censorship technology
Proton VPN for business tackles the challenge of achieving seamless accessibility head-on through cutting-edge features such as the VPN Accelerator, Stealth protocol, and Alternative Routing. These innovations guarantee that Proton VPN for business functions swiftly and dependably, irrespective of your geographic location. With attributes like an always-on VPN and auto-connect, you can trust that your team remains safeguarded, regardless of their whereabouts.
Mitigating MITM attacks
Man-in-the-middle (MITM) attacks persist as a significant threat in today's digital landscape. Proton VPN for business applications are fortified with built-in safeguards against these attacks, particularly in hostile network environments. If an attempt is detected, the application will proactively issue a warning and refuse connections to a potentially malicious server, providing an additional layer of security for your business.
More than network security
Proton doesn't just deliver state-of-the-art network security. As the foremost encrypted email service worldwide, the company goes above and beyond. It also provides end-to-end encrypted cloud storage, a secure calendar, and a robust password manager – all meticulously designed to enhance your digital footprint.
Proton VPN for business price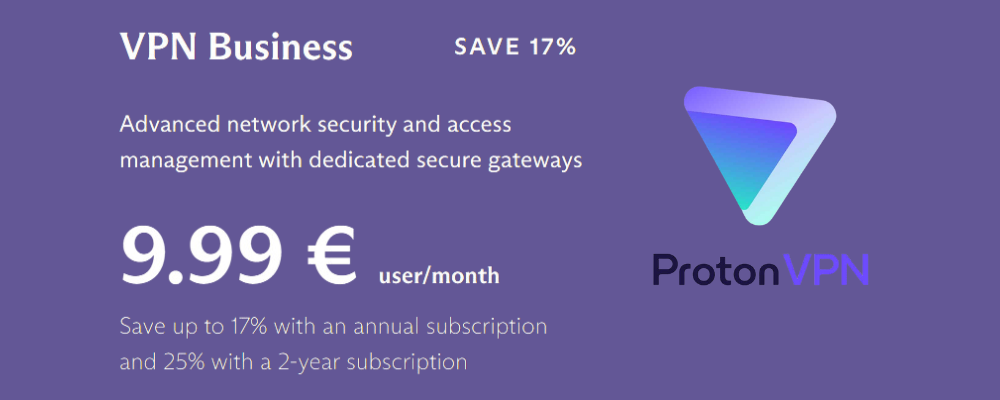 Elevate your business with Proton VPN's advanced network security and access management through dedicated secure gateways. For just $9.99 per user per month, you can ensure robust protection for your company's digital assets.
And for even more savings, consider opting for a longer subscription period. With an annual subscription, you can enjoy a discount of up to 17%, while a 2-year subscription offers an impressive 25% off the regular monthly rate. Proton VPN for Business not only provides top-tier security but also does so at a cost-effective price point, making it a smart investment for any enterprise.
Get Proton VPN for your business
Unlock a new level of security for your business with Proton VPN. With top-notch encryption protocols and a strict no-log policy, your sensitive data remains confidential and protected. Experience lightning-fast speeds and uninterrupted connectivity, ensuring seamless operations across your network. Considering Proton VPN's robust security features and competitive pricing, it's the smart choice for businesses seeking comprehensive online protection. Don't wait – get Proton VPN for your business today and safeguard your digital assets with confidence.

---
Related articles:
Proton VPN distinguishes itself as the foremost choice for preserving online privacy and experiencing unhampered access to worldwide content, supported by a range of compelling factors. With exceptional attributes, strong security measures, an expansive server infrastructure, and an easy-to-use interface, Proton VPN continues to hold its status as the leading virtual private network service available.
Experience the epitome of online security with Proton VPN Unlimited. Delve into its extensive features, cutting-edge capabilities, and unparalleled value for fortifying your digital footprint. Unearth the advantages and make a knowledgeable decision for heightened online defense.
---
Proton VPN for business - FAQ
Proton VPN for business is a specialized version of Proton VPN designed to meet the unique security needs of enterprises and organizations. It offers advanced features and scalability options tailored for business environments. Read the article to learn more about Proton VPN for business.
Proton VPN employs cutting-edge encryption protocols, ensuring that all data transmitted over the network remains confidential and secure. Its strict no-log policy further ensures that sensitive information is not stored or tracked. Check the article and click our special button to get it.
Proton VPN is designed for seamless integration into existing business networks. It provides the flexibility and compatibility necessary to work alongside other business-critical applications and tools.
Proton VPN offers a range of flexible pricing plans tailored to suit businesses of different sizes and requirements. These plans are competitively priced to ensure accessibility without compromising on security features. Check our article to learn more about Proton VPN prices and click our special button to get a discount.
Getting started with Proton VPN for business is easy. Simply use our special button to visit the Proton VPN website, select the appropriate business plan, and follow the steps to set up and configure the VPN for your organization's needs.