Unlocking XTB FX trading: a detailed guide to account creation, type selection, and platform choice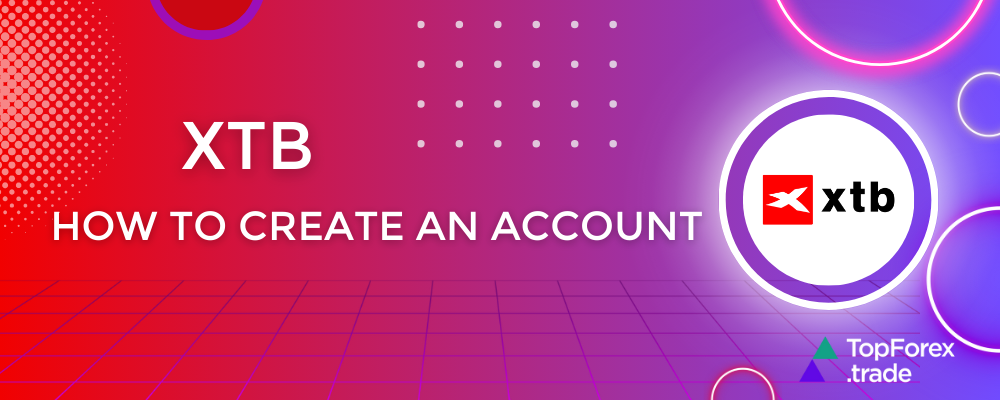 XTB, a leading European brokerage firm, has earned acclaim for its top-notch forex and CFD (Contract for Difference) trading services since its establishment in 2002 in Warsaw, Poland. Over the years, it has grown into one of the world's largest stock exchange-listed FX & CFD brokers, extending its services to clients in more than 190 countries.
The firm places a strong emphasis on financial security and transparency, evident through its stringent regulation by respected financial authorities such as the FCA (Financial Conduct Authority) in the UK, CySEC (Cyprus Securities and Exchange Commission), and KNF (Polish Financial Supervision Authority). This regulatory oversight instills confidence in traders and investors by ensuring a trustworthy trading environment.
XTB's expansive offering includes over 1500 CFDs across various asset classes, including forex currency pairs, indices, commodities, shares, and cryptocurrencies. This diversity empowers traders to broaden their portfolios and explore different markets, catering to a range of investment preferences.
Traders benefit from user-friendly trading platforms, notably the proprietary xStation and the popular MetaTrader 4 (MT4). Equipped with advanced charting tools, technical indicators, and real-time market data, these platforms facilitate informed decision-making. To accommodate different trading styles, XTB provides various account types, such as the Standard Account and Swap-free, each with specific features and fee structures.
In addition to its robust trading infrastructure, XTB offers an array of research and analysis tools, including daily market analysis, economic calendars, and webinars. These resources offer valuable insights, enabling traders to stay abreast of market trends and important news events.
In the upcoming section, we will guide you through a step-by-step process on how to open an account with XTB. This ensures a smooth onboarding experience for those looking to initiate their trading journey with this reputable brokerage.

How to open and activate an FX account with XTB?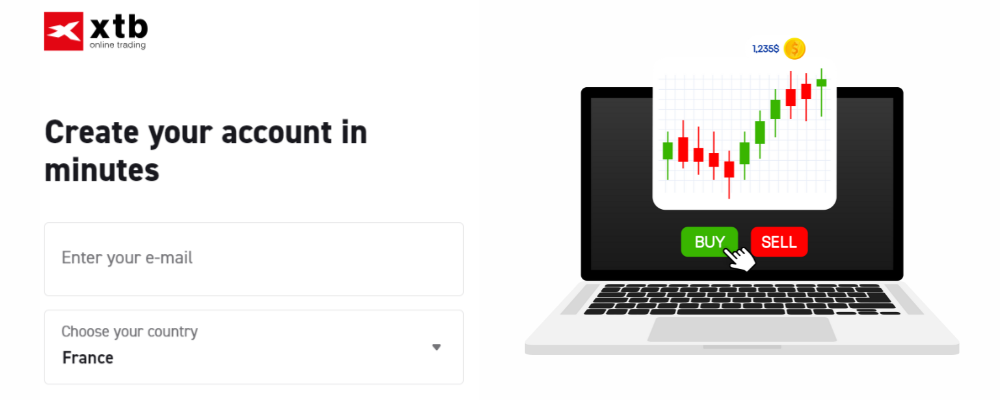 Opening and activating an FX account with XTB is a straightforward process. Here's a step-by-step guide to help you get started:
Visit the official XTB website securely by utilizing our dedicated button provided below: Begin by visiting the official XTB website to ensure the security of your account creation process. Be cautious to use the official site to avoid potential scams.
Initiate account opening: Locate and click on the "Create account" displayed on the homepage to initiate the account creation process.
Complete the application form: Fill in the required personal information accurately. This includes your full name, date of birth, contact details, and residential address.
After completing the application form, you may need to upload the necessary documentation to verify your details. Follow these steps:
Visit your Client Office using the account login details you created: Upload the required documentation, including proof of identity (passport, national ID, or driver's license) and proof of address (bank statement, utility bill, phone bill, or tax statement/bill).
Review terms and conditions: Thoroughly review the terms and conditions provided by XTB. Only proceed if you fully understand and agree to the terms.
Fund your account: Once your account is approved, fund it using available options such as bank transfers, credit/debit cards, or electronic wallets.
Download trading platform: Depending on your preference, download the trading platform of your choice, such as xStation or MetaTrader 4 (MT4). Follow the provided instructions for seamless installation.
Account activation: Your account will be automatically activated upon funding. If not, you can contact XTB support to complete the activation process.
Start trading: Once your account is open, funded, and activated, delve into the world of trading. Familiarize yourself with the platform, explore available instruments, and begin executing trades with confidence.
How to choose an FX account with XTB?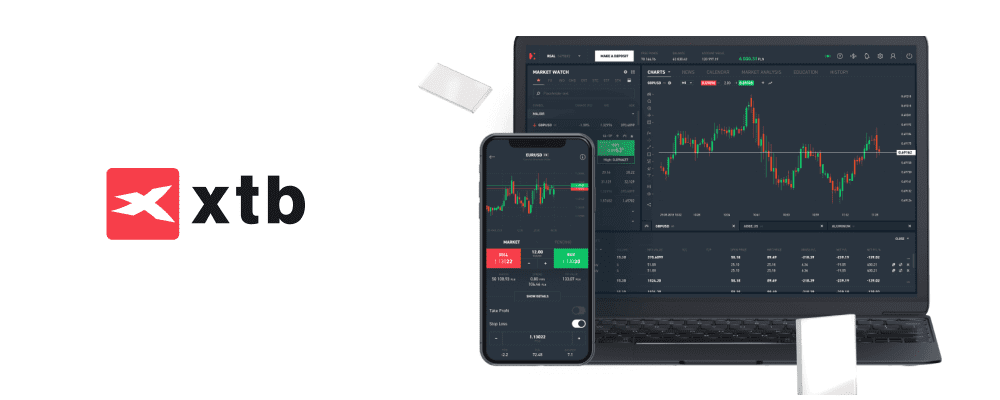 When considering how to choose an XTB account type, it's essential to understand the available options and their features. The XTB standard account serves as a fundamental choice for all traders, offering over 2200 instruments, no minimum deposit, leverage up to 1:500, competitive spreads, real-time market data, trading signals, risk management tools, automated trading, and mobile capabilities.
Besides, XTB also provides a Swap Free trading account for those following Islamic principles, enabling interest-free trading. This account covers all instruments with a fee policy similar to the standard account.
Additionally, for practice, XTB offers a demo account, allowing users to refine their skills in a risk-free environment. Consider your trading preferences and requirements to make an informed decision that aligns with your financial goals.
XTB Forex trading platforms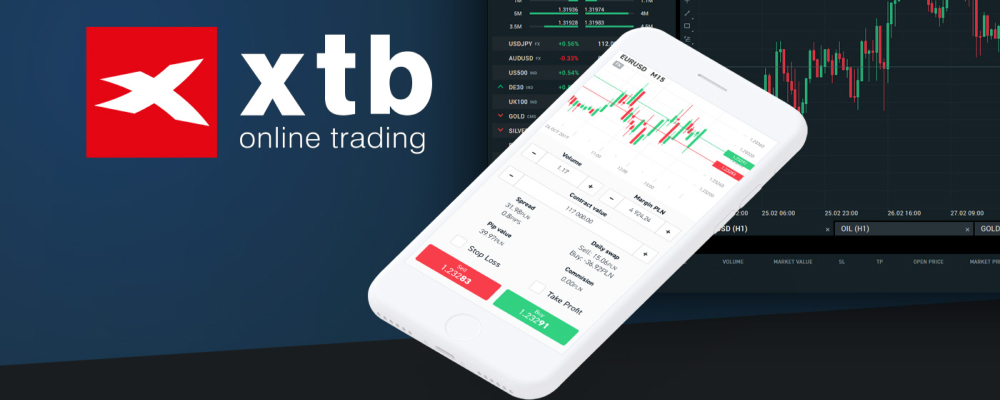 XTB provides traders with a powerful and adaptable proprietary trading platform known as xStation. This platform stands out for its versatility, offering an extensive array of advanced trading tools suitable for both beginners and experienced traders. One notable advantage of xStation is its user-friendly interface, ensuring easy navigation and customization based on individual preferences.
xStation is available in three versions: web, desktop, and mobile. This versatility allows traders to access the platform seamlessly across various devices, catering to their preferences and needs. The web version is accessible through any browser, while the desktop version provides additional customization options. The mobile version is particularly beneficial for traders on the move, enabling access to the markets from smartphones or tablets.
In addition to xStation, XTB supports the widely used MetaTrader 4 (MT4) platform. MT4 is a popular choice among online retail forex traders, known for its reliability and comprehensive set of features. This diversity in trading platforms ensures that XTB meets the varied requirements of its user base, offering a seamless and tailored trading experience.
Open an account and start trading with XTB
Embark on your journey into the dynamic world of trading by opening an account with XTB. As a leading brokerage firm, XTB offers a comprehensive platform and a range of account types to cater to diverse trading preferences. This button below serves as your gateway to a seamless account opening process, providing you with the opportunity to access advanced trading tools, a user-friendly interface, and a variety of instruments. Join XTB to take advantage of a secure and feature-rich trading environment, empowering you to navigate the financial markets with confidence. Click the button, open your account, and start your trading journey with XTB today.

---
Related articles: 
Discover the advantages of utilizing the XTB demo account for risk-free trading practice, allowing you to enhance your skills. Acquire valuable insights to optimize your demo experience and propel yourself towards becoming a proficient trader with XTB. Start your journey today!
Explore a thorough analysis of XTB's xStation mobile app for trading in this comprehensive review, brought to you by market experts at TopForex.trade. Gain valuable insights into the mobile app's technical specifications, charting capabilities, signals, and additional features. This review provides all the essential information you need to optimize your trading experience with XTB's xStation mobile app and elevate your overall performance.
Unearth comprehensive insights into XTB's trading platforms with the expertise of market analysts from TopForex.trade. This review encompasses in-depth information about the broker's xStation desktop and web platforms, MT4 terminal, and mobile app. Explore the technical capabilities and supplementary features of each platform. Additionally, discover strategies to optimize your trading experience with XTB, whether you are on your desktop or on the go with the mobile app.
---
How to open an XTB Forex account - FAQ
To open an XTB Forex account, click our special button to safely visit the official XTB website and push on "Create account." Follow the step-by-step instructions, provided in our article.
XTB offers various account types, including the standard account with no minimum deposit, competitive spreads, and leverage up to 1:500. Additionally, there's a Swap Free account designed for traders following Islamic principles. Check the article to choose an account that suits your needs and click our special button to start.
Typically, you'll need to provide proof of identity (passport, national ID, or driver's license) and proof of address (bank statement, utility bill, phone bill, or tax statement). Read the article to learn more about creating an XTB account.
XTB offers its proprietary platform, xStation, available in web, desktop, and mobile versions. Additionally, traders can use the widely-used MetaTrader 4 (MT4) platform for Forex trading. Check the article to learn more about creating an XTB account.
Once your account is set up and documents are verified, it may be automatically activated upon funding. If not, you can always contact XTB suport.