AvaTradeGO: Forex trading made simple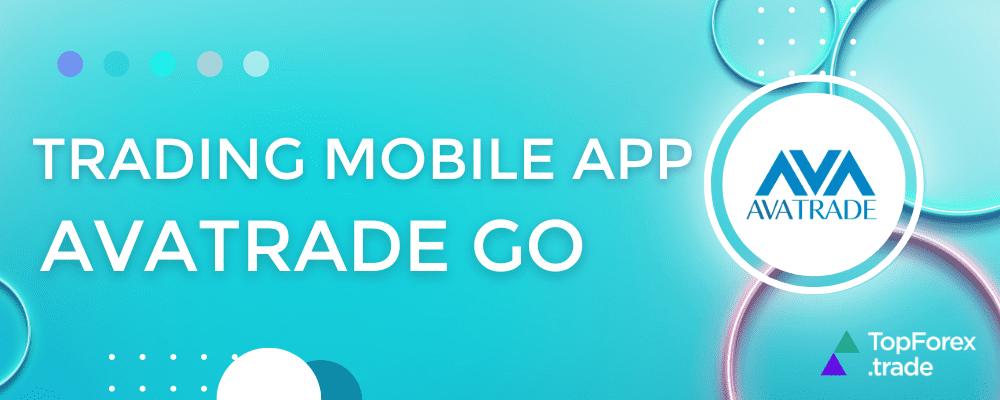 AvaTrade is an online broker that provides access to various financial markets, including Forex, stocks, commodities, indices, Cryptocurrencies, and more. It was founded in 2006 and has since grown into a globally recognized broker with offices in multiple countries, including Ireland, Australia, South Africa, and Japan.
One of the notable features of AvaTrade is its user-friendly trading platform. The broker offers both a web-based platform and mobile applications, allowing clients to trade and monitor their positions from anywhere with an internet connection. The platform provides a range of tools and resources to assist traders, including charting capabilities, technical analysis indicators, economic calendars, and real-time market news.
AvaTrade offers a variety of trading accounts to cater to different trader preferences and experience levels. They provide demo accounts for beginners to practice trading strategies without risking real money. Additionally, there are live trading accounts, Islamic accounts (also known as swap-free accounts), and accounts specifically designed for professional traders. The minimum deposit requirement varies depending on the account type.
In terms of regulations and security, AvaTrade is licensed and regulated by multiple authorities, such as the Central Bank of Ireland, the Australian Securities and Investments Commission (ASIC), the Financial Sector Conduct Authority (FSCA) of South Africa, and the Financial Services Agency (FSA) of Japan. These regulatory bodies oversee the broker's operations to ensure compliance with industry standards and protect client funds.
AvaTrade offers a wide range of trading instruments and provides access to various trading platforms, including MetaTrader 4 and MetaTrader 5, which are popular among traders for their advanced features and customizable options. The broker also offers educational resources, such as webinars, tutorials, and trading guides, to help traders improve their knowledge and skills.
Technologies and platforms offered by AvaTrade aim to provide traders with advanced tools, flexibility, and convenience to trade effectively across various financial markets. It's worth noting that the availability of specific technologies and platforms may vary based on the region and regulatory restrictions.

Deposit methods
Bitcoin, Sofort, UnionPay, Credit/Debit Cards, Neteller, Wire, Skrill
Deposit methods
Bitcoin, Sofort, UnionPay, Credit/Debit Cards, Neteller, Wire, Skrill
In this article, we will talk about AvaTradeGo: an innovative mobile app that allows traders to access their accounts, place trades, and manage positions on the go. The app provides real-time market updates, customizable watchlists, advanced charting tools, and integrated risk management features. It is available for both iOS and Android devices. Yet, you can find more publications dedicated to other AvaTrade platforms by following the link at the end of the article.
AvaTradeGo: advanced app to maximize your trading potential

In today's fast-paced financial markets, having access to real-time information and the ability to execute trades at any given moment is crucial. As a smart trader, you need a tool that not only keeps you updated with the latest market trends but also empowers you to make informed decisions on the go. That's where AvaTradeGo comes in – an innovative trading app designed to unlock your trading potential.
Real-time market insights
AvaTradeGo provides you with real-time access to a wide range of financial instruments, including forex, stocks, commodities, indices, and cryptocurrencies. The app's intuitive interface allows you to monitor live prices, view interactive charts, and stay informed about the latest market news and analysis.
With AvaTradeGo, you no longer need to be tied to your desk to make trading decisions. Whether you're commuting, waiting for a meeting, or simply relaxing at home, you can stay connected and seize trading opportunities as they arise.
Advanced trading tools
AvaTradeGo is not your average trading app. It goes beyond providing basic trading functionalities and offers a suite of advanced tools to enhance your trading experience. One such tool is the AvaProtect feature, which allows you to protect your trades against potential market volatility for a defined period. This invaluable tool gives you added peace of mind, knowing that your positions are safeguarded from unexpected market fluctuations.
Another standout feature is the built-in economic calendar, which provides you with a comprehensive overview of upcoming economic events and their potential impact on the markets. Armed with this information, you can plan your trades more effectively and take advantage of market movements driven by economic news.
Customizable trading experience
AvaTradeGo understands that every trader has unique preferences and trading strategies. That's why the app offers a high level of customization, allowing you to tailor your trading experience to suit your individual needs.
You can personalize your trading dashboard by selecting your preferred instruments, setting up watchlists, and customizing charting tools. This level of flexibility ensures that you have quick access to the assets you trade most frequently and the information that is most relevant to your trading strategy.
Seamless account management
Managing your trading account has never been easier than with AvaTradeGo. The app provides a seamless and secure environment for depositing funds, withdrawing profits, and managing your account settings. You can easily access your transaction history, monitor your account balance, and make timely adjustments to your trading positions.
Superior user experience
AvaTradeGo is not only feature-rich but also user-friendly. The app's sleek design and intuitive navigation make it easy for traders of all levels of experience to navigate and utilize its functionalities effectively. Whether you're a seasoned professional or a beginner taking your first steps in the trading world, AvaTradeGo ensures a smooth and enjoyable user experience.
Master the markets with AvaTradeGo: your key to successful trading
If you're serious about unlocking your trading potential, AvaTradeGo is the app you need. With its real-time market insights, advanced trading tools, customizable features, seamless account management, and superior user experience, it empowers you to trade smarter and seize opportunities wherever you are.
Download AvaTradeGo today and take your trading to new heights. Your financial success is just a tap away!

---
Related articles:
Learn about AvaTrade trading platforms: AvaSocial, AvaOption, AvaTradeGO, WebTrader, and MT4 and MT5 terminals. Technical and Social Trading capabilities are provided by the broker, as well as a step-by-step guide on how to set up an AvaTrade account.
Everything you should know about AvaTrade's advanced trading features: risk management with AvaProtect, Trading Central analytics, the free Guardian Angel feedback and support system, Expert Advisors, auto deals with ZuluTrade, DupliTrade, and Capitalise.ai, as well as various in-house developments like AvaSocial.
Read about Top Forex and CFD brokers with the best trading apps: mobile transactions with various instruments and assets, including currency pairs, stocks, commodities, and Cryptocurrencies.
AvaTradeGOo mobile app - FAQ
Yes, the AvaTrade mobile trading app is available for both iOS and Android devices. You can download it by following the link in the end of the article above.
As it is said in the article above, the AvaTrade mobile app offers a range of features, including real-time market updates, customizable watchlists, advanced charting tools, integrated risk management features, order placement, and trade execution capabilities.
Yes, you can access your AvaTrade account through the mobile app. Simply log in using your account credentials, and you will have access to your trading account, including your balances, open positions, and transaction history. If you don't have an account yet, you can create one through the link at the bottom of the post.
Absolutely. As it is described above, the AvaTrade mobile app allows you to place trades, manage your positions, and monitor the markets in real-time. You can open new positions, modify existing orders, set stop-loss and take-profit levels, and close positions directly from the app.
AvaTrade takes the security of its mobile app seriously. The app employs robust security measures, including encryption protocols, to protect your personal and financial information. Additionally, AvaTrade is regulated by reputable authorities, ensuring compliance with industry standards and providing an added layer of security for clients. Full list of AvaTrade regulators you can find in the respective section of the article above.