Plus500 trading platform: a comprehensive guide to optimizing your trades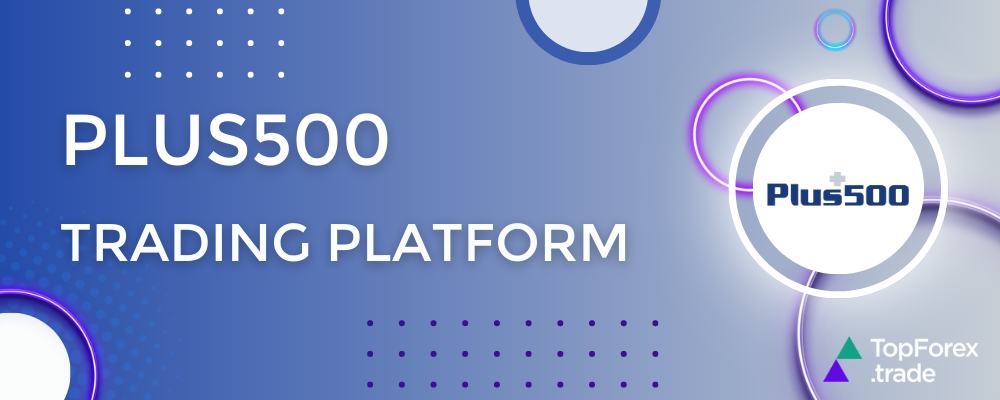 Having been founded in 2008, Plus500 has risen to prominence as a notable online brokerage, specializing in the provision of CFD trading services encompassing a diverse array of assets. These assets include shares, currency pairs, precious metals, commodities, oil, and gas, as well as indices.
With a global presence, Plus500 caters to traders spanning different geographical regions, and it operates in adherence to the regulations of several governing bodies. Noteworthy among these are the UK's Financial Conduct Authority (FCA), the Cyprus Securities and Exchange Commission (CySEC), the Seychelles Financial Services Authority (SFSA), the Australian Securities and Investments Commission (ASIC) with an Australian Financial Services License (AFSL), New Zealand's Financial Markets Authority (FMA), the Monetary Authority of Singapore (MAS), and South Africa's Financial Sector Conduct Authority (FSCA).
The trading platform offers a trio of account options: Retail, Pro, and demo. This comprehensive article shall delve into an extensive evaluation of the diverse account types that Plus500 presents. Whether you are inclined towards refining your trading skills via the demo account or you are prepared to engage in active trading using a real account, Plus500 delivers a dependable and feature-laden platform that effectively caters to your trading requisites.
One standout characteristic of Plus500 is its convenient accessibility. Traders can make use of the platform without the necessity of downloading any software. Plus500 furnishes a Web Trader compatible with both Windows and macOS, alongside mobile iterations tailored for smartphones and tablets. The web version boasts an innovative design and functionality, providing an extensive array of analysis and forecasting tools. Within the platform's primary interface, users have the option to select from a diverse range of instruments and indicators, establish connections to news sources, and effectively utilize the economic calendar. Therefore, the ensuing article is poised to offer an in-depth exploration of the Plus500 trading platform.

Deposit methods
Trustly, iDEAL, PayPal, Klarna, Credit/Debit Cards, Skrill
Deposit methods
Trustly, iDEAL, PayPal, Klarna, Credit/Debit Cards, Skrill
Plus500 WebTrader features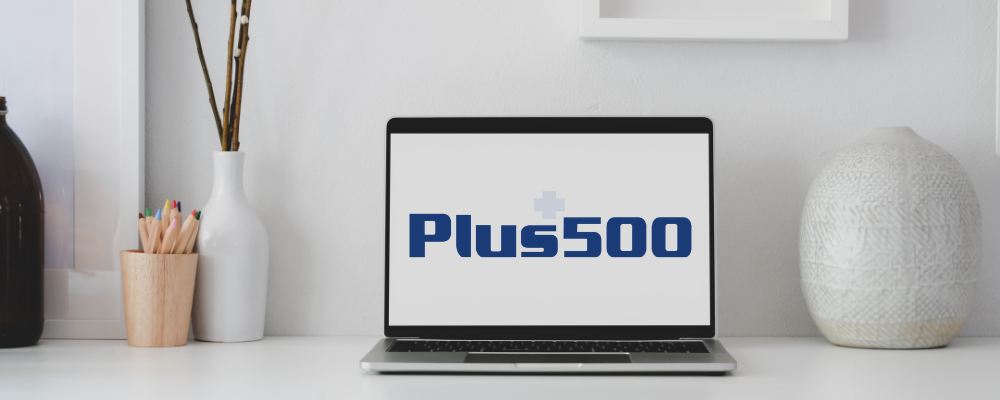 The Plus500 offers a web trading platform, referred to as WebTrader, which is an excellent option for casual investors due to its user-friendly interface and its focus on delivering essential functionalities.
Plus500's web trading platform is continually being enhanced, featuring pre-defined watchlists, the capability to set alerts based on client sentiment data, and an economic calendar displaying news from Dow Jones.
Plus500 WebTrader charts
The Plus500 web-based trading platform boasts a remarkable array of functionalities, encompassing an extensive collection of over 100 indicators, an assortment of over 20 drawing tools for technical analysis, and a diverse selection of 13 distinct chart types. This comprehensive toolkit empowers traders with an enriched trading experience, enabling them to analyze market trends, make informed decisions, and execute successful trades with precision.
Plus500 WebTrader interface
Plus500's WebTrader, accessible via browsers, serves as an excellent starting point for novice traders before transitioning to a more advanced platform. The platform's design is clean and prioritizes simplicity. While Plus500's flagship platform offers a few advanced features, such as trailing stops and guaranteed stop-loss orders (GSLO), which can serve as effective risk management tools for casual traders.
Plus500 WebTrader market news
Each day from Sunday to Thursday, Plus500 releases informative articles within its News and Market Insights category, showcasing a commendable level of reporting quality. These articles serve as a valuable resource for users, delivering insights and updates that help traders stay well-informed about the ever-changing financial landscape. By consistently offering these articles, Plus500 demonstrates its dedication to keeping its users abreast of crucial market developments and trends, enabling them to make more informed and strategic trading decisions.
Plus500 WebTrader alerts
The alert features provided by Plus500 present a combination of precision and ingenuity when it comes to tracking data. Noteworthy among these features is the ability to set up alerts for percentage changes within client sentiment data. This innovative addition goes beyond the usual scope of standard price alerts, enhancing the user experience and offering a unique way to stay informed about market shifts.
Plus500 WebTrader orders
When it comes to placing orders on the Plus500 platform, you have the flexibility to choose from a range of order types, each serving a specific purpose:
Market order: This is a straightforward order type where you buy or sell an asset at the current market price.
Limit order: With a limit order, you can set a specific price at which you want to buy or sell an asset. The order will only be executed if the market reaches or surpasses the designated price.
Stop order: A stop order allows you to set a trigger price. Once the market reaches this price, the order is activated, turning into a market order and executing at the best available price.
Trailing stop: This dynamic order type is designed to follow the market trend. You set a specified "trailing" distance from the current market price, and if the market moves in your favor, the order adjusts automatically, helping you secure potential profits.
Guaranteed stop: A guaranteed stop is a risk management tool that ensures your position is closed at an exact price, even if the market experiences extreme volatility. While providing extra protection, it typically involves a slightly wider spread.
Plus500 instruments
Renowned as a frontrunner in the trading realm, Plus500 presents an exceptional trading platform offering Contracts for Difference (CFDs) across a spectrum of underlying assets. These encompass a diverse array, including stocks, currencies, commodities, subject to regulatory guidelines Cryptocurrencies, exchange-traded funds (ETFs), and indices.
Plus500 education
Plus500 boasts a dedicated Learning Center, prominently featuring a section known as the Trader's Guide. This section serves as a valuable repository containing a select handful of informative articles and an engaging collection of approximately twelve educational videos. These resources are carefully curated to provide users with essential insights and knowledge, enhancing their understanding of trading dynamics and strategies.
Plus500 mobile app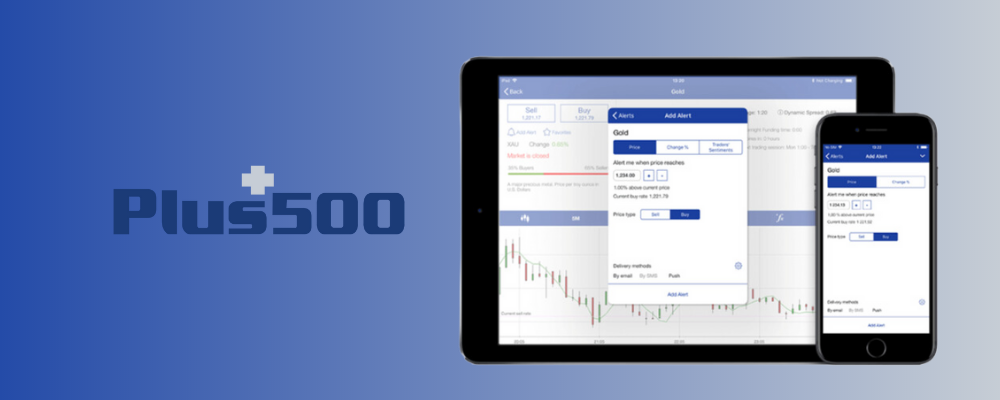 The Plus500 mobile trading app stands as a versatile solution, enabling investors to manage their portfolios with ease while on the move. Available on both iOS and Android platforms, the app ensures compatibility across a wide spectrum of devices. Its user-friendly interface allows traders to seamlessly navigate markets, monitor real-time price fluctuations, and execute trades efficiently from their mobile devices.
One of the app's notable strengths is its diverse range of tradable instruments, encompassing stocks, Cryptocurrencies, commodities, Forex pairs, indices, and more. This comprehensive selection empowers traders to diversify their holdings and capitalize on opportunities spanning various markets, all from the convenience of their handheld devices.
Real-time quotes and advanced charting tools further enrich the app's offerings, equipping traders with valuable insights into market dynamics. By facilitating the monitoring of price movements, tracking trends, and enabling technical analysis through diverse chart types and indicators, the app empowers informed decision-making and positions traders to react swiftly to market shifts.
A robust array of order placement options, including market, limit, and stop orders, caters to traders' varying strategies. The emphasis on risk management is evident through the incorporation of stop-loss and take-profit orders, enabling traders to effectively manage their positions and safeguard against potential losses or secure profits automatically.
Beyond order execution, the app delivers on the front of timely information dissemination. Its price alert functionality allows traders to set personalized alerts for specific instruments, ensuring they remain updated on market movements and potential trading prospects. This real-time notification system facilitates swift decision-making regardless of the trader's location or schedule.
In terms of security and regulatory compliance, the Plus500 mobile app upholds the same rigorous standards as its web-based counterpart. The company's adherence to regulations established by reputable financial authorities fosters confidence among traders in the safeguarding of their personal and financial data.
Furthermore, the app's seamless synchronization of account access across devices ensures a fluid transition between the mobile app and the web-based platform. This dynamic feature empowers traders to manage their positions effectively and remain closely connected to the markets, enhancing their trading experience and flexibility, regardless of their physical location.
Plus500 FX trading platform summary
The Plus500 platform offers a versatile and user-friendly trading experience for investors seeking to engage in Contracts for Difference (CFD) trading. With its accessible interface and comprehensive range of tradable assets, including stocks, Cryptocurrencies, commodities, Forex pairs, and indices, the platform enables diversification and capitalization on various market opportunities.
The platform's real-time quotes and advanced charting tools provide valuable insights into market trends, facilitating informed decision-making for traders. The diverse order placement options, encompassing market, limit, stop, trailing stop, and guaranteed stop orders, cater to a wide range of trading strategies while prioritizing risk management through stop-loss and take-profit functionalities.
Furthermore, Plus500's commitment to education is evident through its Trader's Guide section, offering informative articles and educational videos, although it may lack the depth of resources found with other leading brokers.
The mobile trading app seamlessly extends the platform's capabilities, providing flexibility and convenience for traders on the go. Its intuitive design, coupled with personalized price alerts and synchronized account access, enhances the trading experience by empowering users to monitor markets and execute trades wherever and whenever they choose.
While the platform delivers a solid foundation for CFD trading, traders seeking more extensive educational resources or specialized tools may need to supplement their experience with additional sources. Overall, the Plus500 platform caters to both novice and experienced traders, offering accessibility, a diverse range of assets, and tools for effective risk management.

82% of retail investor accounts lose money when trading CFDs with this provider
---
Related articles: 
Introducing Plus500, the indisputable frontrunner in the realm of online CFD trading, where traders gain access to unparalleled trading tools and an extensive array of trading instruments. At TopForex.trade, our team of experts delves into the comprehensive range of assets offered by Plus500, spanning CFDs on Forex pairs, commodities, indices, ETFs, and a plethora of other options. In this article, we will unveil the means to tap into an exceptional selection of over 2800 instruments for trading, complemented by the opportunity to explore a complimentary demo account and an expansive collection of educational resources aimed at enhancing your trading outcomes.
Conducting an in-depth analysis of the Plus500 demo account, an expert review delves into the platform's coveted CFD trading instruments, a diverse range of risk management tools, and an array of indicators. Furthermore, the review highlights a significant aspect: the provision of a virtual balance of up to $40000, enabling users to simulate diverse trading scenarios effectively. Alongside this, the review offers straightforward, step-by-step registration guidelines, ensuring a smooth onboarding process for all users.
Discover the complete capabilities of Plus500's mobile trading app and seamlessly stay connected to the dynamic CFD markets no matter where you are. Immerse yourself in its user-friendly interface, wide array of trading instruments, instant real-time quotes, and cutting-edge charting tools. Empower yourself to effortlessly oversee your trades from any location through this secure and regulated trading app, trusted by traders globally. Embrace the freedom to capitalize on opportunities and take charge of your trading voyage effortlessly with Plus500's mobile app.
---
Plus500 trading platform - FAQ
The Plus500 trading platform is a web-based platform that allows users to trade various financial instruments, such as stocks, currency pairs, commodities, Cryptocurrencies, and more. It offers a user-friendly interface and a range of tools for analyzing markets and executing trades. Check the article to learn more about Plus500 trading platform.
The Plus500 trading platform provides a variety of features, including real-time quotes, customizable charts with technical indicators and drawing tools, risk management tools like stop-loss and take-profit orders, and a user-friendly interface for executing trades. Read the article to get more information about Plus500 platform features.
Plus500 offers mobile trading apps for both iOS and Android devices, allowing you to trade on the go. The mobile app provides a similar trading experience to the web platform, including access to real-time prices and execution of trades. Click our special buttons to get the app.
Plus500 offers a wide range of instruments for trading, including CFDs on stocks, indices, forex pairs, commodities, cryptocurrencies, options, and more. Check the article and start trading clicking our special button.
Plus500 offer educational resources such as tutorials, articles, and videos to help traders enhance their knowledge and skills. These resources can cover topics like trading strategies, technical analysis, fundamental analysis, and risk management.