Top 5 reasons to use VPN with Forex trading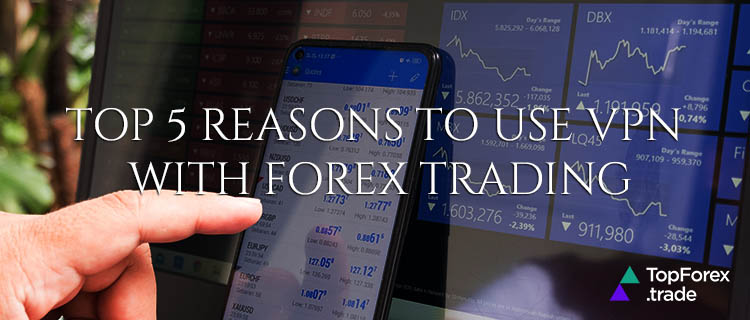 Surely each of us thought about how you can surf the Internet and keep your privacy so that no one can track your search; it would be great if also there was something to protect your payment information not only when shopping online and prolonging your app subscriptions, but also when trading Forex. The solution to all these problems is the VPN service, which is not limited to just changing the IP address but also has many useful features for Forex market traders.
In this regard, in this article, we will look at what VPN is, what advantages this service provides to a Forex trader, how to use VPN profitably and safely, and also compare the best providers with additional features at nice prices.
What is a VPN for Forex and how does it work?
VPN (Virtual Private Network) is a service that allows you to access the Internet and international Forex markets safely and privately by routing your connection through a server and hiding your online activities.
A virtual network means that its operation is not affected by how many communication channels it is laid on because the physical network (a group of computers or devices connected by common communication channels) does not belong to the virtual user.
A private network means that a limited number of people can be in it. A VPN marks all its members and the information they transmit. Data is protected from third parties by encryption. VPN is responsible for keeping the data confidential – it does not let unauthorized users in, checks the traffic source and makes sure that the transmitted data does not leak outside the network in the clear.
VPN works in the following way:
You run the VPN software from your VPN service.

This software encrypts your data before your ISP or Wi-Fi provider sees it.

The data is then sent to and from the VPN server to your online destination address – this can be anything from your broker's website to a video-sharing website to a search engine.

The online destination sees that your data is coming from the VPN server and its location, not from your computer, and does not see your real location.
There are two main VPN connection types:
Allows you to connect to a corporate network over a private encrypted tunnel. This is true when working with an unreliable access point like public Wi-Fi;
It is mainly used in a corporate environment, in particular, when a company has several offices with different locations. It connects the main office with branches: this is how a closed internal network is created, where all offices are connected to each other.
Besides, VPN basically encrypts data using protocols such as:
OpenVPN is optimal in terms of a set of characteristics (speed, degree of protection, and reliability). It is used as the main one by most VPN services;
L2TP/IPSec is the main alternative to OpenVPN;
IKEv2 – suitable for smartphones. The main feature is the ability to automatically reconnect to the network when the connection is broken;
SSTP is the ideal protocol for working with a Windows computer;
PPTP is one of the popular protocols.
In the general case, VPN involves 2 or even 3 conditional operations at the same time:
Secure

(encrypted) authentication forces the user to activate the building of a trusted network in a certain way.

Creation of a "

tunnel

" – a sequence of connections within the global network logically built using VPN protocols, excluding unverified nodes. The path may change randomly, making tracking difficult. Or vice versa, save the specified configuration.

Data encryption

guarantees the safety of transmitted data with a certain probability.
Here we figured it out, and now let's look at why it is needed in trading.
Top 5 reasons to use VPN with Forex trading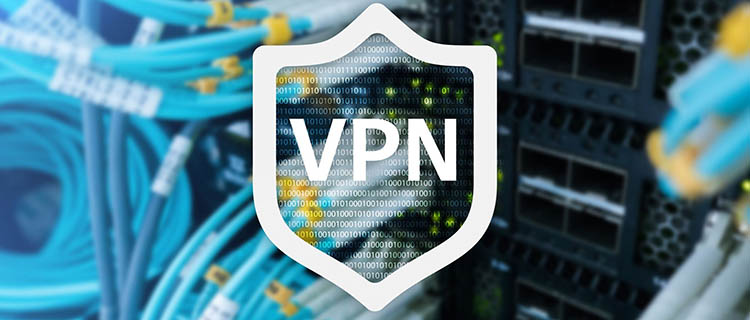 Everyone needs a VPN server today – from accessing entertainment content to using it to protect their own confidential information in Forex trading. Consider the top reasons why market participants use VPN services:
Access to any Forex brokerage sites from anywhere in the world
The most obvious advantage of a VPN is that by using an impersonal tunnel connection, you can bypass a variety of blockages.
Using a direct impersonal tunnel to a server in an arbitrary country allows you to view resources blocked in the current country of residence or a specific location.
So, for example, the Federal authorities of some countries may for some reason block brokerage sites, even if the broker accepts clients from these countries. Or in a situation where you are on a journey, and access to your broker's website is closed for unknown reasons. In order to bypass such blockages and gain access to unhindered trading of all types of assets, market participants often use a VPN by changing their IP address.
In addition, a VPN will help you access various streaming services by allowing traffic to pass through bans.
Secure use of payment systems for Forex deposits and withdrawals
New schemes of Forex fraudsters associated with the use of trojans and social engineering make it possible to determine the availability of funds on accounts, transactions, and other system information without being transmitted by the user himself: modern trojans are able to monitor and intercept traffic and SMS related to online payments.
But even the most cunning methods of deception fail if the smartphone/computer uses a tunneled encrypted connection: trojans cannot leave the "tunnel", so redirecting data traffic to attackers simply stops working.
The same thing happens when scammers try to establish a connection for the remote control of a smartphone or computer.
Forex VPN protects against phishing attacks
Due to the tunneling used in VPN services, it is always difficult for attackers to implement a targeted phishing attack: additional encryption of such resources makes any traffic monitoring difficult.
Thus, fraudsters will not be able to link information about the withdrawal of funds or payment for other services with the specific device on which it was made. And they will not be able to conduct a directed attack since they simply will not have the initial data so often used in such crimes.
In addition, hidden VPN devices and resources are the least likely to be phished. It's too difficult, too long, the result is unpredictable – who needs your passwords if they are mixed with data from other applications and encrypted a couple of times?
VPN for trading hides activity from your Internet Service Provider
In a relatively free virtual space, it is not easy to keep your personal data or list of activities secret. The user's browsing history on the Internet can tell a lot about him. If desired, the Internet provider can obtain full information about its client.
A VPN solves this problem by blocking access to your data. If you are using a VPN, your ISP will only see the IP address of the VPN server you are using instead of the trading platform. Because a VPN encrypts all online data, your ISP cannot manipulate your connection.
VPN saves transmitted data during Forex trading
Most VPN services know-how and actively practice complex data encryption methods in a streaming mode. You can organize this yourself, but not every user can handle it.
For particularly demanding traders, it is worth choosing even more advanced tunnel access resources that can replace or mask DNS servers, mix traffic from different users, or use distributed access to external resources.
After this, passwords and other data will not be received by anyone except the owner and the resource to which they are addressed.
How to choose VPN for Forex trading?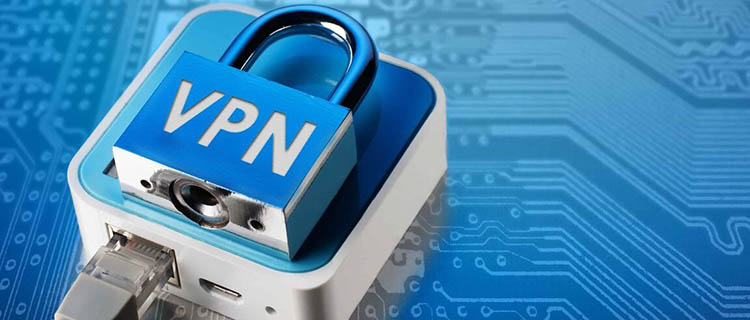 We have already determined why you need a VPN service for Forex trading, now let's try to figure out how to choose a good VPN provider that can fully meet your needs. There are some things to look out for when looking for an active Forex trader as they will help you find a provider that you won't be disappointed with over time.
The data transfer rate and bandwidth capacity of the VPN
Data transfer speed is critical not only for normal Internet surfing, streaming, and torrenting but also for Forex trading, as any delay can affect the outcome of transactions. In most cases, VPN providers have a free trial period for speed testing, however, you can use dedicated speed testing services.
But connection speed is not the main thing. First of all, you should pay attention to the ping indicators. That is the signal response time during which a request from a user arrives at a remote server and receives a response from it. Because if the download indicator is at least 100 Mbps, but the ping is more than 5 seconds, then you won't even be able to enter the terminal. Without a VPN, an acceptable ping is from 5 to 40 ms, with a VPN – from 10 to 60 ms. If the response time of the tested VPN service is longer, then you should not use it.
You also need to pay attention to the jitter indicator. This is the difference in ping rates over a certain period of time. If the connection is unstable, that is, the response either increases or decreases, then this will lead to frequent disconnections.
VPN encryption and protocols
The most advanced VPN services offer end-to-end encryption of all transmitted traffic using an authentication protocol. That is when transmitting data to the client and the remote server, scripts are sent that generate decryption keys. Due to this, only two devices can read requests – directly from the user's PC and the server on which the site is located. Even the VPN gateway through which all traffic passes will not be able to decrypt it.
And the level of confidentiality directly depends on which encryption method is used in the VPN. Now most often use 128-bit or 256-bit encryption. The first one is secure and has almost no effect on ping, the second one provides the maximum level of privacy, but can reduce throughput. The best option is when the service allows the user to independently choose which of the encryption options he will use during the connection session.
Before choosing a VPN server, you should study a detailed map of available locations to choose from. The more points available, the better.
For many users, a high level of online privacy is the main reason for using a VPN.
There are various log entries. Some providers claim that they do not store any information about you, but the log may show metrics such as connection time, bandwidth usage, or IP addresses visited by a person.
Another thing to pay attention to is the type of personal information the service provider holds about you. Does he need your email address or real phone number? All of this matters.
The country to which the VPN company is assigned also plays an important role. Its laws can affect both the data retention policy and what the service provider can tell the government about you. If possible, choose a country where privacy is highly valued (such as Panama or Romania).
Other technical characteristics of VPN
Some VPN providers impose restrictions on the services they provide. For example, enter the maximum number of simultaneous connections to the network. Think about how many devices will be using the VPN at the same time. Some services allow you to connect up to 5 devices.
Also, if you are going to use file hosting or BitTorrent services, choose a VPN that is suitable for this purpose. Even though BitTorrent is quite a popular torrent client, some VPN providers prohibit its use completely.
Best VPNs for Forex trading
In a situation of various blockages, data leaks through insecure networks, or in order to remain completely invisible to both the government and scammers, traders are increasingly using VPNs to trade Forex. A VPN provides strong protection by encrypting data transmission, redirecting your IP through multiple servers if desired, and blocking data leakage in the event of an Internet connection failure. There are many VPN offerings on the market right now that vary in both price and quality. After comparing and testing many options, we have compiled a list of the best VPNs for Forex trading for you.
ExpressVPN for Forex Trading
ExpressVPN is one of the best VPNs on the market today and can be downloaded in many languages ​​for almost any device, which is a big plus.
The company has the ability to connect to at least 3000 different servers in 94 countries and 160 different locations. You can also connect at least 5 different devices without affecting service, and download the wireless router app, which will make it easier to connect to more devices. Computers, tablets, and computers with Mac, Android, Linux, Windows, Kindle, and iO with browser extensions such as Firefox, Chrome or Opera, and others are available for connection.
The company uses the exclusively developed Lightway protocol in addition to standard options such as OpenVPN (UDP and TCP), IKEv2, and L2TP/IPSec. Along with military-grade encryption, ExpressVPN also offers a kill switch feature. ExpressVPN has 256-bit AES encryption using the latest technology, so it will be almost impossible to decrypt your content.
The company does not keep any record of the activities that have been carried out by the user. It also does not log DNS requests, meaning it does not store any type of cookie.
Try Forex trading with ExpressVPN and get a special discount from TopForex.trade by clicking on the button.

NordVPN for Forex Trading
NordVPN is a full-featured, private VPN based in Panama, outside the jurisdiction of the 14 Eyes alliance, meaning none of your information will leak into the hands of governments or third parties. The service monitors users' security and uses IKEv2/IPsec, OpenVPN, and WireGuard protocols and top-level AES-256 encryption.
The company has 5000 servers in 60 countries and also provides separate servers for games, file transfer, and video. With NordVPN you can have up to six simultaneous connections and work on Windows, Mac, Android, iOS, and Linux.
In addition, NordVPN ranked first in five categories of average download and upload speeds, according to an independent review by AV-TEST. Therefore, users do not need to worry about delays when watching streaming broadcasts or performing other data-intensive activities.
In terms of customer support, there are several options available to you, including 24/7 online chat, email support, and FAQs. You can try secure trading with NordVPN and get a special offer from TopForex.trade by clicking the button.

Surfshark VPN for Forex Trading
Surfshark VPN is a fast-growing VPN service that can run on any popular operating system. Working with this service, you will get an unlimited number of connected devices unlike most other VPNs.
Surfshark takes the safety of its users seriously, judging by the number of features it implements such as MultiHop, Camouflage mode, and the emergency break feature. The AES algorithm with a 256-bit key is responsible for encrypting user traffic. Surfshark offers IKEv2, OpenVPN, and WireGuard. IKev2 has a high data transfer rate, stable operation, and strong encryption and is installed by default.
Each of Surfshark's 3200+ servers, located in 95 countries around the world, boasts top performance and a private DNS service to help you quickly access the sites you need without sacrificing security. Evaluate all the possibilities of Forex trading with Surfshark VPN by clicking on the button below.

AtlasVPN for Forex Trading
Atlas VPN is a pretty good VPN service that you can download for free or purchase the premium version with up to 82% discount. It offers state-of-the-art security technologies, allows you to access many network resources, and helps you stay anonymous online.
Currently, the company's network has more than 750 servers located in 43 countries. Programs are developed for all popular platforms, including mobile devices on iOS and Android. There is a completely free version, which is limited to a certain amount of traffic per month, and a list of available locations.
AtlasVPN supports IPSec/IKEv2 and WireGuard protocols. The level of encryption the company uses is AES-256, the same as that used by financial and military institutions. This encryption is considered unbreakable, so the security of this VPN should not be a concern.
AtlasVPN doesn't limit the number of simultaneous connections for accounts and provides high download speeds for P2P traffic. Click on the button below and get full access at a huge discount right now.

PureVPN for Forex Trading
PureVPN is an easy-to-use and reliable service that doesn't slow down your internet speed or restrict access to the network in any way, so your Internet will remain as fast as it was before connecting to the VPN.
PureVPN supports all necessary protocols, which means that any activity on the network will be encrypted using the latest innovations in this area. Users can independently select the connection protocol based on personal needs and preferences between: PPTP, L2TP, SSTP, IPsec, the most secure protocol OpenVPN, IKEv2, and the recently introduced and fastest Wireguard.
The company has a transparent no-logs policy. The policy states that the VPN doesn't store your real IP address, the IP address assigned by the VPN service, VPN session timestamps, browsing history, and DNS queries.
PureVPN is one of the premium cheapest VPN services on the market and by tapping our button you can find out the company's promotions and special discounts from TopForex.trade.

ProtonVPN for Forex Trading
ProtonVPN is an excellent VPN provider with a user-friendly interface and many additional features.
ProtonVPN uses military-grade AES 256 encryption, which is arguably the best in the world and is used by armies around the world. In addition, perfect forward secrecy and the Diffie-Hellman protocol allow the secure generation of session keys.
The company offers 112 servers in 14 countries and network access through 10 devices with its own application that you can download to access the virtual private network on the device. You can download these apps for Windows, Android, macOS, and even iOS. They cover all the most commonly used platforms around the world.
Besides, ProtonVPN provides free Proton Mail, the world's largest secure email service, which is open source and protected by Swiss privacy law.
Overall, ProtonVPN is one of the best VPN providers for Forex trading. Customers can get it with up to 50% discount by clicking on our special button.

---
Related articles:
Learn about Top VPNs for Forex trading: key security features, best VPN prices, privacy protection, high-speed VPN connection for Forex trading, and additional functions for torrenting, streaming, and gaming.
Read how to trade Cryptocurrency with VPNs for Forex: key security features, best VPN prices, privacy protection, high-speed VPN connection for no latency, and a comparison of Top VPN providers.
All you need to know about Forex trading with VPS and VPN: best services for online trading security. Differences between VPS and VPN, how to choose the best VPS provider, and Top Forex brokers offering free VPS services for trading CFDs, and Crypto.
---
VPN for Forex trading - FAQ
Forex traders use VPNs to provide an extra layer of protection when trading, as a VPN encrypts Internet traffic and also allows you to bypass the geo-blocks of brokerage sites. Moreover, a VPN allows you to remain anonymous and does not allow personal data to be leaked to the network. The VPN providers we mentioned in the article are the best for Forex trading and offer their services at competitive prices.
The VPN service masks the computer's original IP address through the VPN provider's remote server. Thus, for a third-party network observer, the source of traffic is not your actual IP address, but the VPN server, which allows you to bypass various kinds of blocking and restrictions. In the article, we examined in more detail the principles of VPN operation, and also compared the best providers with strong encryption at competitive prices.
The best VPNs for Forex trading have impenetrable encryption protocols, excellent speed without any delays, a large network of servers to unblock any Forex broker sites, and an affordable price. In our article, we have reviewed for you the best VPN providers that meet all the criteria and also have the best price offers.
Due to the tunneling used in VPN services, it is always difficult for attackers to carry out a targeted phishing attack: additional encryption of such resources makes it complicated to monitor traffic in any way. In the article, we examined all the advantages and possibilities of using VPN services, and also reviewed the best offers at affordable prices.
For traders and clients, it is best to buy a VPN with a year or two subscriptions, depending on the provider's offers, in which case you can save up to 80% and enjoy all the security features for the price of a cup of coffee per month by clicking on our dedicated buttons.