eToro's annual interest on balance transforms investment strategies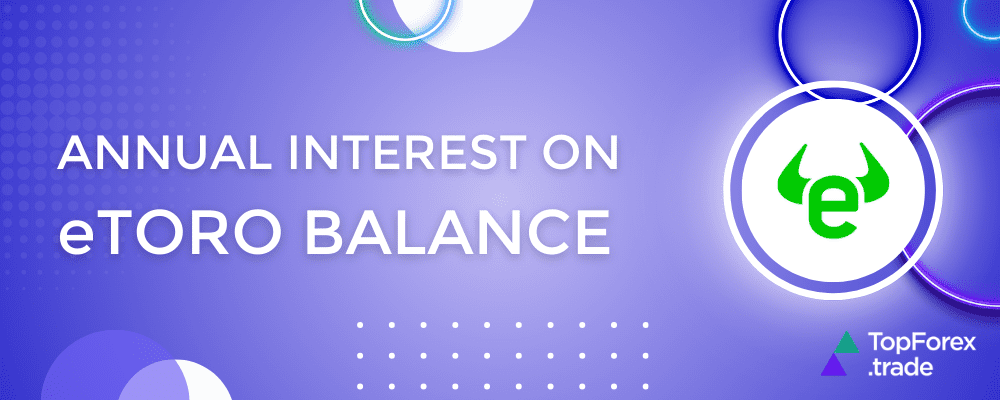 In a groundbreaking move within the world of online trading and investment platforms, eToro has recently announced the launch of annual interest rates on remaining account balances. This strategic initiative aims to enhance the value proposition for eToro users by providing them with an additional source of potential income. This development not only sets eToro apart in the competitive landscape but also reflects the platform's commitment to continually innovate and cater to the evolving needs of its user base.
eToro: review of online trading opportunities with trusted broker
eToro is a leading Social trading and multi-asset brokerage platform that has gained widespread popularity for its user-friendly interface, innovative features, and emphasis on Social trading. The broker operates under the regulatory framework of several financial authorities, ensuring a secure and transparent trading environment for its users.

Deposit methods
Trustly, iDEAL, Rapid, PayPal, Klarna, Credit/Debit Cards, Neteller, Wire, Skrill
Deposit methods
Trustly, iDEAL, Rapid, PayPal, Klarna, Credit/Debit Cards, Neteller, Wire, Skrill
Trading instruments offered by eToro include:
Stocks: eToro provides users with access to a wide range of stocks from various global markets. Users can buy and sell shares in companies across different industries.
Cryptocurrencies: eToro is well-known for its comprehensive cryptocurrency offering. Users can trade popular cryptocurrencies such as Bitcoin, Ethereum, Ripple, and many others. eToro also allows users to invest in cryptocurrencies without actually owning the underlying assets through its unique feature called Crypto CopyFund.
Forex (currency pairs): Users can trade in the forex market, engaging in currency pairs and taking advantage of fluctuations in exchange rates.
Commodities: eToro offers commodities trading, allowing users to invest in assets like gold, silver, oil, and more.
Indices: Users can trade on various global stock indices, representing the performance of a specific group of stocks from a particular region.
ETFs (Exchange-Traded Funds): eToro provides access to a variety of ETFs, enabling users to invest in a diversified portfolio of assets.
Key features of eToro
eToro is renowned for its Social trading platform, allowing users to connect with other traders, follow their strategies, and even automatically copy their trades. This feature makes trading more accessible for beginners and provides a collaborative environment for the exchange of ideas.
Also, eToro offers a feature called CopyPortfolios, which are diversified investment portfolios managed by eToro's experts. Users can invest in these portfolios to gain exposure to a range of assets without actively managing individual trades.
Another feature is eToro's intuitive trading platform. It is user-friendly and designed to cater to both novice and experienced traders. The platform's interface is visually appealing and offers a seamless trading experience.
eToro provides various powerful trading tools and features to assist users in making informed decisions. This includes market analysis, charts, and other research tools.
eToro's mobile app allows users to trade on the go, providing access to their portfolios and the financial markets from anywhere.
As eToro continues to evolve, it remains at the forefront of the online trading industry, introducing new features and services to meet the diverse needs of its global user base.
eToro annual interest on the balance

For eToro users, the introduction of annual interest rates on remaining account balances presents a new dimension to their investment journey. Whether users are actively trading or holding onto funds for future opportunities, this feature allows them to maximize the potential of their capital. Additionally, the steady income generated from annual interest rates can serve as an attractive incentive for long-term engagement with the platform.

The total balance required is what determines the interest rate that you will receive. It is the total realized equity in your account, including invested funds and the available cash balance.
The interest rate is based on a yearly period, but it is estimated every day and paid every month. Every day, the broker figures out the amount that is due for interest payment, minus any credit lines, interest, and/or fees that are owed to us. After that, the eToro team multiplies this amount by the daily interest rate. It is added up at the end of each month, and the interest is then paid immediately on the first of the next month.
For payment, the least amount of interest that can be earned is $0.01.
To start your interest rate period right away,
Follow the link below to open your eToro account and top it up using one of the available methods.
Go to the eToro Club dashboard. Scroll down to "Interest on Balance," then switch from "Disabled" to "Active."
eToro's decision to launch annual interest rates on remaining account balances signifies a progressive step toward creating a more comprehensive and rewarding financial experience for its users. This move not only aligns with the platform's mission of making financial markets accessible to everyone but also demonstrates its commitment to staying at the forefront of innovation in the online trading industry.
As eToro continues to evolve, users can look forward to more features that enhance the overall value of their investment journey. Join other traders on their journey with the reputable broker now:

76% of retail CFD accounts lose money
eToro annual interest rates on account balance - FAQ
eToro has introduced annual interest rates on remaining account balances, providing users with an opportunity to earn a steady income on uninvested funds. For more details on how this can enhance your trading experience, check out the full article above.
The total balance of your account determines the interest rate you'll receive. The maximum is the annual rate of 5.3%. Full computational table you can find the respective part of an article.
As it was reviewed in the post above, eToro offers a diverse range of instruments, including stocks, cryptocurrencies, forex, commodities, indices, and ETFs.
eToro's Social trading allows users to connect with and follow the strategies of successful traders. Find out how you can benefit from this collaborative approach to trading in the detailed article above.