A thorough guide to online trading with AvaTrade demo account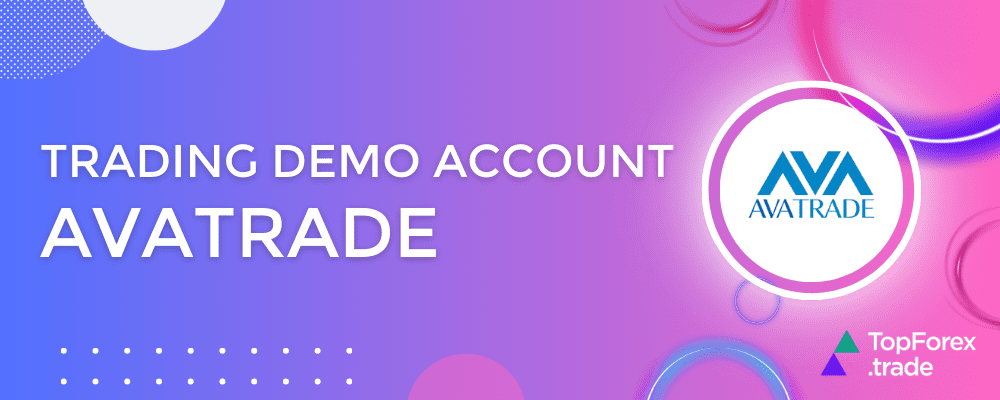 In the ever-evolving realm of online trading, selecting the right platform is paramount to achieving success. One standout contender in this space is AvaTrade, a renowned online broker celebrated for its user-friendly interface and cutting-edge features.
This article will delve into the fundamental aspects of AvaTrade, explore the distinctive features of their demo account, and outline effective strategies to optimize your trading experience. Whether you're a novice or a seasoned trader, understanding the general information about AvaTrade and harnessing the potential of its demo account can be a game-changer in your pursuit of financial proficiency.
AvaTrade review of Forex broker features

AvaTrade emerges as a distinguished force in the expansive landscape of online trading, setting itself apart with a commitment to user-friendly interfaces and innovative features. Established in 2006, AvaTrade has evolved into a global leader, offering traders a secure and transparent environment to navigate the dynamic world of financial markets.
One of AvaTrade's hallmarks is its unwavering commitment to integrity and regulatory compliance. The broker operates under the oversight of multiple jurisdictions, ensuring a robust regulatory framework that instills confidence in traders. This dedication to regulatory standards safeguards traders' funds and reflects AvaTrade's steadfast approach to maintaining a high level of service quality.

Deposit methods
Bitcoin, Sofort, UnionPay, Credit/Debit Cards, Neteller, Wire, Skrill
Deposit methods
Bitcoin, Sofort, UnionPay, Credit/Debit Cards, Neteller, Wire, Skrill
AvaTrade key features
Diverse asset offerings: AvaTrade stands out for its expansive financial instruments, embracing forex, stocks, commodities, indices, and cryptocurrencies. This diversity provides traders with the opportunity to explore various markets, facilitating portfolio diversification and enhancing their overall trading experience.
Intuitive trading platforms: Navigating the complexities of financial markets requires a platform that seamlessly adapts to user needs. AvaTrade meets this demand by offering a suite of user-friendly platforms, including the widely acclaimed MetaTrader 4 and 5, alongside their proprietary AvaTradeGO platform. These interfaces cater to both novices and seasoned traders, ensuring accessibility without compromising advanced functionalities.
Trading education: Recognizing that knowledge is a key driver of success in trading, AvaTrade goes beyond being a mere platform. The broker provides an extensive range of educational resources, including webinars, video tutorials, and market analyses. This commitment to education empowers traders with the insights and skills needed to make informed decisions in the volatile world of financial markets.
As we journey deeper into the AvaTrade ecosystem, the foundation laid by these characteristics becomes crucial, setting the stage for exploring the unique features embedded within its demo account. This thorough understanding of AvaTrade's broader framework is instrumental in making the most of the opportunities presented by its demo trading platform.
AvaTrade demo account special features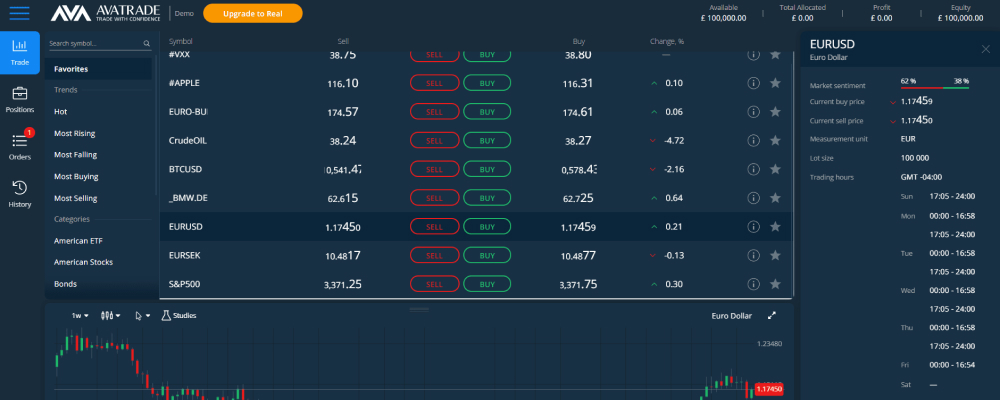 Within AvaTrade's comprehensive offerings, the demo account stands as a pivotal tool, serving as a playground for both novice and seasoned traders to hone their skills without the risks associated with real capital. Let's delve into the distinctive features that make AvaTrade's demo account an invaluable resource for traders looking to refine their strategies and perfect their craft.
Realistic market conditions
AvaTrade's commitment to authenticity is reflected in its demo account, which faithfully replicates real market conditions. This feature allows users to immerse themselves in an environment that mirrors live trading, providing an invaluable opportunity to test strategies, familiarize themselves with the platform's nuances, and build confidence without exposing their funds to risk.
Virtual funds for risk-free exploration
To facilitate a risk-free learning environment, AvaTrade endows traders with virtual funds of $10000 upon entering the demo arena. This virtual capital empowers traders to experiment with various asset classes, trade sizes, and risk levels. It is a risk-free space for exploration, enabling users to gain hands-on experience without the anxiety associated with potential financial losses.
Unlimited access for continuous learning
Unlike platforms that impose limitations on demo account access, AvaTrade's demo account offers an unrestricted environment for continuous learning. Traders can take their time, repeating exercises, refining strategies, and absorbing lessons until they feel ready to transition to live trading. This unlimited access is a testament to AvaTrade's commitment to fostering skill development at the trader's pace.
Navigating the demo account is a seamless experience, thanks to AvaTrade's user-friendly interface. Whether you are a beginner learning the ropes or an experienced trader testing advanced strategies, the platform's intuitive design ensures that the focus remains on refining skills rather than grappling with complex features.
Real-time performance tracking
AvaTrade's demo account includes real-time performance tracking tools, allowing users to assess the effectiveness of their strategies. Detailed analytics and reporting features empower traders to scrutinize their trades, identify patterns, and make data-driven decisions. This invaluable feedback loop is instrumental in the learning process, enabling continuous improvement.
By harnessing these special features, traders can transform their time in the demo environment into a comprehensive and effective learning experience. As we transition to the next segment, we'll explore strategic approaches to make the most of AvaTrade's demo account, ensuring that every virtual trade paves the way for real-world success.
How to get the best out of AvaTrade's demo account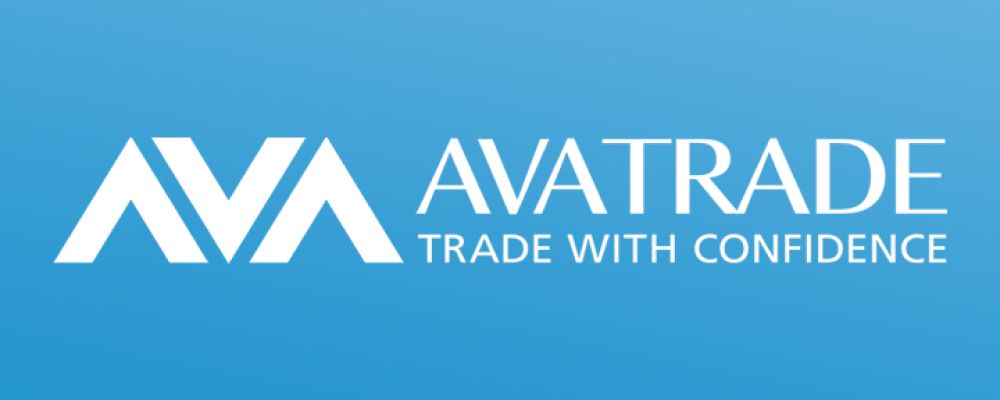 Now equipped with a nuanced understanding of AvaTrade's general offerings and the unique features embedded in its demo account, let's shift our focus to strategic approaches aimed at extracting the utmost value from this powerful learning tool. Whether you're a novice trader aiming to build foundational skills or an experienced hand fine-tuning your strategies, AvaTrade's demo account provides an ideal environment for deliberate practice.
Experiment with various strategies
The demo account serves as a risk-free playground for strategy experimentation. Take advantage of this opportunity to explore different trading strategies, including technical and fundamental analysis. Identify what resonates with your trading style and risk tolerance, and refine your approach accordingly.
Simulate realistic trading conditions
Treat your demo account as if it were a live trading environment. Adhere to proper risk management practices, set stop-loss orders, and maintain discipline in your trading decisions. By simulating realistic conditions, you're not just refining your strategies but also cultivating the discipline necessary for successful trading.
Leverage educational resources
AvaTrade's commitment to education extends beyond the demo account. Take advantage of the extensive educational resources provided by the platform. Attend webinars, delve into video tutorials, and stay updated on market analyses. The knowledge gained will complement your practical experience and contribute to a well-rounded understanding of the markets.
Track and analyze performance
Utilize the real-time performance tracking tools available in the demo account. Regularly assess your trades, scrutinize performance metrics, and identify patterns. This analytical approach will enable you to refine your strategies iteratively, aligning your trading style with market dynamics.
By employing these strategic approaches within AvaTrade's demo account, you'll not only build a solid foundation for your trading journey but also instill the habits and skills necessary for success in live markets. Remember, the demo account is not just a stepping stone; it's a dynamic tool that, when utilized effectively, can significantly accelerate your path to becoming a proficient and confident trader. As we conclude our exploration, the transition from virtual to live trading becomes a natural progression, armed with the insights and skills honed through AvaTrade's demo account.
Open AvaTrade trading demo account
For both novice traders seeking to embark on their trading journey and seasoned professionals looking to refine their strategies, AvaTrade's demo account stands as an invaluable resource. It's more than just a simulation of market conditions; it's a dynamic platform designed to empower traders with the skills and confidence needed to navigate the complexities of online trading.
The journey to financial proficiency is often marked by calculated steps, and AvaTrade's demo account provides a supportive space for these crucial strides. Whether you're aiming to master a specific trading strategy, understand risk management intricacies, or simply familiarize yourself with the platform's functionalities, the demo account serves as your personalized gateway to success.
So, why wait? Seize the opportunity to embark on a transformative learning experience with AvaTrade's demo account. Click the button below to open your demo account today. Unleash the potential within, refine your strategies, and position yourself for success in the vibrant world of online trading. The future of your financial journey awaits, and AvaTrade is here to guide you every step of the way.

---
Related articles: 
TopForex.trade review of AvaTrade's trading platforms: AvaSocial, AvaOption, AvaTradeGO, WebTrader, and MT4 and MT5 terminals. In-depth analysis of their technical capabilities and Social trading opportunities provided by the broker, as well as a step-by-step guide on how to set up an AvaTrade account and enjoy all the benefits of trading with a regulated, award-winning broker.
Expert traders guide to discover the power of Social trading on AvaTrade—learn how to follow expert strategies, diversify your investments, and optimize your trading potential.
Are you ready to step into the exciting realm of trading? Look no further than AvaTrade – your ultimate companion in the journey to financial success. With an array of tailored features catering to traders of all levels, this platform promises a seamless and intuitive trading experience that sets the stage for triumph in the fast-paced trading landscape.
Strategic FX and CFD trading with AvaTrade - FAQ
AvaTrade distinguishes itself through a commitment to user-friendly interfaces, diverse asset offerings, and a strong regulatory foundation. For a detailed exploration of AvaTrade's features, check out our comprehensive guide linked above.
As it is described above, AvaTrade prioritizes the safety of funds by operating under stringent regulatory oversight in multiple jurisdictions.
AvaTrade offers a diverse range of financial instruments, including Forex, stocks, commodities, indices, and Cryptocurrencies. Learn more about AvaTrade's extensive offerings in our detailed guide through the link above.
AvaTrade's demo account replicates real market conditions, offering a risk-free environment for skill development. Learn about the unique features of the demo account read the full article above.
As mentioned above, AvaTrade's demo account offers unlimited access, allowing traders to learn at their own pace.
AvaTrade's demo account faithfully replicates real market conditions, providing an authentic trading experience. Discover how this simulation enhances your learning journey with our helpful review above.