Bitcoin trading: all you need to know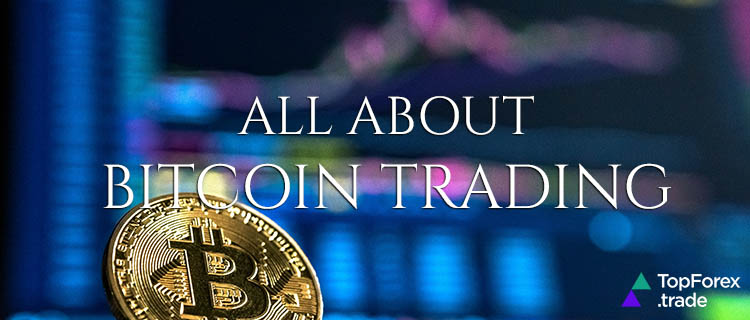 The Cryptocurrency market has changed a lot in recent years. Previously, we have seen a steady bullish trend, where in order to earn income on Cryptocurrencies, one could buy an asset and wait for its further growth in order to sell at a higher price. However, at the moment it is necessary to follow the events and market trends, so the "buy and hold" option may be a thing of the past.
Nevertheless, Cryptocurrencies remain quite a popular and volatile asset, and Bitcoin, in particular, occupies about 70% of the entire Cryptocurrency market in the world and its popularity does not fade away. In this article, we will look at Bitcoin trading features, choose the best instruments during a bearish trend, and also compare the popular international online brokerage companies.
How to trade Bitcoin in the Forex market?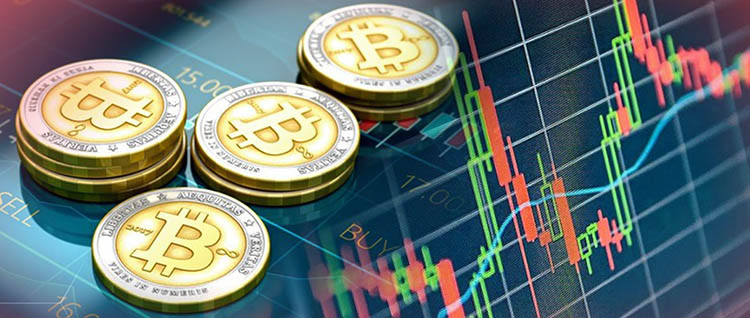 In the Forex market in its broadest sense, there are several ways to trade Bitcoin during an uptrend and a bear market wave. Let's consider common of them.
Buy Bitcoin itself
The most common way is to buy Bitcoin itself. Once purchased, your coins are stored and protected in the digital wallet (or you can withdraw them to the wallet of your choice). This method is good in an uptrend, where you can get a difference in price from the growth of this asset, but the Cryptocurrency market, and in particular Bitcoin, is quite volatile and subject to frequent fluctuations, so you need to diversify your portfolio and take into account possible risks of price declines by opening opposite positions, using various derivative financial instruments and various strategies, which will be an alternative to receiving income on Bitcoin in times of recession or volatility.
Bitcoin CFDs in the Forex market
CFDs (Contracts for Difference) are one of the popular ways to trade digital assets without buying real Bitcoin. Instead, you are betting on whether the price will rise or fall. The big advantage of CFDs is that you can earn income regardless of the price direction of Bitcoin.
CFDs are based on leverage and margin trading which can greatly improve your bottom line if used wisely.
Bitcoin futures contracts
Futures are contracts that allow traders and investors to speculate on the future price of an asset, i.e. participants trade Bitcoin at a future price that is agreed upon at the time of the contract.
The main feature of futures trading is the ability to protect against negative price changes and extreme volatility of the Cryptocurrency, be it the same Bitcoin itself. The high volatility of digital currencies allows traders to buy assets at low prices, putting them up for sale when the value rises, and vice versa.
Using futures, you can resort to leverage which are borrowed funds that enlarge the volume of buying or selling an asset, thereby increasing the number of potential earnings or possible losses.
Bitcoin options contracts
Like futures, options are financial derivatives, which means that they can be based on various underlying assets – stocks, indices, or Cryptocurrencies including Bitcoin.
Options are used both for risk hedging and for speculative trading. For example, a trader who is confident in the growth of Bitcoin buys a call option, i.e. enters into an option agreement that gives him the right to buy a coin at a certain price. When the price of Bitcoin rises above the strike price (the price agreed between the parties in advance), the trader can use his contract to buy the asset at a discount.
There is also a counterweight to the call option – the so-called put option. Such contracts are popular with shortists and bears. A put option is the right to sell a specific asset at a predetermined price, i.e. open a short position or make a bearish bet. 
Crypto ETPs
ETP (Exchange Traded Product) is a financial instrument traded on a stock exchange. It tracks the growth dynamics of a specific underlying index, which can be based on stocks, commodities, derivatives, or Сryptocurrencies. Crypto ETPs include Exchange Traded Funds (ETFs), Exchange Traded Notes (ETNs), and other securities that track the price of the asset, such as the Grayscale Trust (GBTC) for Crypto.
Bitcoin trading with Crypto brokers in the Forex market
Bitcoin or a Crypto broker is a special company that performs intermediary functions between traders who wish to purchase Cryptocurrency, as well as its derivatives. Access to the trading markets is provided through the global network through the use of special software (platform or terminal). 
It should be noted that most Forex and CFD brokers and platforms trade derivatives, in particular Bitcoin CFDs. In other words, a trader enters into a derivative contract with a Cryptocurrency broker. These derivatives are based on the price movements of their underlying assets, but they do not involve the exchange or ownership of the digital currency itself. 
Some of the features and benefits of Bitcoin trading with brokerage companies follow from this, namely:
No need to create a wallet to store Bitcoin and other Cryptocurrencies.

Unified trading platform. It allows you to trade several assets at once, while exchanges allow you to trade only Cryptocurrency.

Possibility of using leverage. Leverage allows you to make less starting capital and increase potential earnings.

Safety. Trading through brokers is much more reliable than through Crypto exchanges.

You can trade Crypto-fiat pairings such as BTC/USD or LTC/USD, as opposed to the majority of Crypto exchanges, which only allow you to trade Crypto-to-Crypto pairs.
Bitcoin trading strategy and its test on a demo account
A trading strategy is something to think about before starting to work with Bitcoin, but whatever strategies you choose to trade Cryptocurrency, each will require rational, considered decisions and discipline.
Short-term trading is one of the popular methods built on quick earnings from exchange rate changes of Bitcoin during the day when you buy and sell coins without carrying over open positions to the next day. Such transactions bring income in small portions but are carried out often. As a result, at the end of the day session, the trader can receive a high level of total earnings.
Swing trading is another medium-term strategy in which the market participant takes advantage of the coin correction moments that accompany the formation of a price trend. Here the planning horizon ranges from several days to several weeks.
Long-term trading and investing do not give lightning-fast results and can be stretched out over years, when the price of Bitcoin can either rise significantly or fall rapidly, as the practice has shown. Of the long-term disadvantages, it is should be noted that it's almost impossible to acquire trading skills that can become a good source of income.
In addition to choosing a trading style and time limits, you need to gain experience and confidence in trading with Bitcoin and other Cryptos. The most effective way to become a proficient trader is to gain basic knowledge by practicing strategies on a trading demo account.
Trading on a demo account will allow a beginner to understand the influence mechanisms of market factors on prices, put into practice theoretical knowledge of technical analysis, and develop their own or test a borrowed Forex strategy.
Also, a demo account provides an effective opportunity to acquire and expand the attainments necessary for productive trading on the Crypto market while risking only virtual money.
Using risk management tools for Bitcoin trading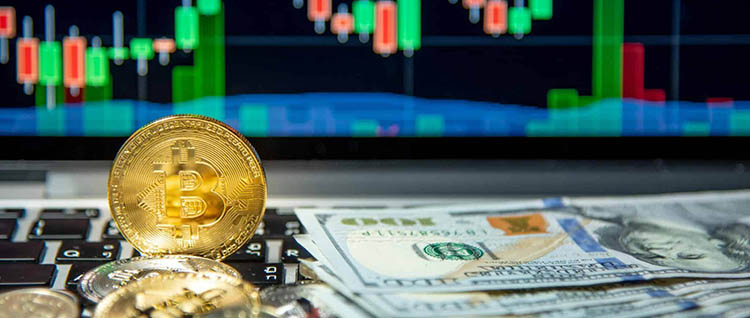 All transactions on the exchange, as well as Bitcoin trading, are made by orders. An order is an instruction by a client of a brokerage company to perform a trading operation when the price of an asset reaches a certain level. The terminal has various risk management tools, including market, pending, closing, and conditional orders, the last three of which are used to save funds or fix earnings.
For example, you bought a piece of Bitcoin for $400 at a market price of $5000. This will be a market order – the usual buy/sell at current prices.
Now you want to earn and sell your piece of Bitcoin when the price rises or buy more when the price falls, so you place a limit order to sell it at $8 000 and buy at $4 000. In limit trading, you can set price limits – buy below or sell above the current market price, and this will always be a deal at a price better than at the time the order was placed.
If you want to sell Bitcoin because the price is falling and would not like to lose much if the price could drop, for example, to $3000 per coin, then you set a stop-loss of $4000 to sell your part. In this case, you won't lose much.
In addition, you also should use a take-profit, which allows you to set the conditions for completing a transaction with a possible profit fixation. When buying Bitcoin, traders choose a peak value higher than the current one, and when selling, they set a lower limit, below which it is unprofitable to part with the asset. If you buy or sell on your own terms, you need a tool to save money in case of an unexpected sharp change in trend, which is a take-profit.
Copy trading of Bitcoin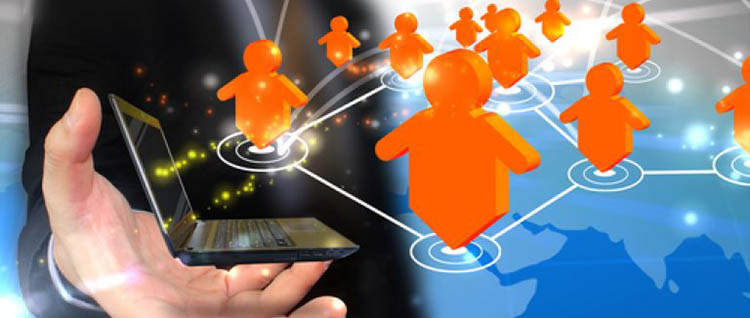 News of the ups and downs of Cryptocurrencies, and in particular Bitcoin, is constantly in the headlines of many important newspapers and other news outlets, along with stories of investors becoming extremely rich or losing deposits with the wrong tactics. The digital coin market is quite volatile and changeable, but in order to get the most out of Cryptocurrencies, as well as learn from professionals, brokerage sites offer features such as Copy trading.
When using Copy Trading, market participants choose an experienced trader who provides his personal account so that beginners can automatically copy his deals. This allows Forex traders without deep market knowledge to close effective trades, which will reduce the time for market analysis and help them earn passive income.
One way to access the Social Trading communities is through the online broker eToro, which provides a platform for social trading and investing, as well as the ability to copy other users' trades using CopyTrader automatically. All you need to do is subscribe to the trader and indicate the amount you want to invest in his portfolio. Also, with CopyPortfolios, you can subscribe to a whole group of traders, which gives you an opportunity to diversify your investments without wasting time studying each account separately.
Another international broker, NAGA Markets, offers an automatic copy feature through its platform to track and copy the best market participants. The auto-copy feature helps you mirror their trades, strategies, and actions with a single click.
Secure Bitcoin trading with VPN
Billions of Crypto trading transactions are made every day, but some of these transactions are subject to phishing and other forms of fraud, causing many traders to lose their money.
VPN for Crypto trading will give you more confidence as an extra layer of security for your maximum protection. In addition, in cases of direct connection to the network via public Wi-Fi, strong encryption algorithms and data transfer protocols of VPN services will protect important information about the trading account.
ProtonVPN is one of the most secure VPN services for Bitcoin trading, which has 1700 servers in 63 countries to quickly connect to Forex and trade without delay. The service uses the AES-256 security standard. Encryption mechanisms are considered the most secure in the world as AES is used by governments and the military. The company offers OpenVPN and IKEv2/IPSec protocols, which means that any activity on the network will be encrypted using the latest innovations in this area.
Click the button below to get the best VPNs deal for Forex trading: 

In addition to trading anonymity and security, with ProtonVPN, users can access services such as ABC, Amazon Prime Video, BBC iPlayer, ESPN+, Hulu, and, of course, Netflix.
Top Forex brokers for Bitcoin trading
Bitcoin has proven to be a highly volatile asset that carries both potential risks and rewards. It should be noted that Technical and Fundamental analysis, tracking the current situation in economies and stock exchanges, and taking into account the possibility of short-term fluctuations will help to avoid risks. In addition, it is safer to start trading with Bitcoin on a demo account with brokers using virtual money and then move on to the real market.
It is also worth mentioning that Bitcoin is an excellent tool for diversifying your portfolio, moreover, in the Forex market, a trader can open several accounts in order not only to hedge possible risks but also to choose favorable conditions for each preferred asset, try various derivatives and collect all kinds of Forex bonuses up to 100% on the first deposit.
Exness Bitcoin trading
Exness is a well-known brokerage company that offers trading in a wide range of instruments, including currency pairs, stocks, indices, metals, energies, and popular Cryptocurrencies such as Bitcoin, Ethereum, Ripple, Dogecoin, Cardano, and many others.
Clients are provided with a popular set of trading platforms such as MetaTrader 1, MetaTrader 4, MetaTrader 5, or MetaTrader WebTerminal. The broker has also developed a mobile application for iOS and Android.
Account registration takes only a few minutes, and deposits and withdrawals can be made through bank transfers, cards like Visa and MasterСard, Bitcoin, Tether, Perfect Money, NETELLER, WebMoney, and Skrill. In addition to standard retail, traders can choose a professional trading account, as well as a demo, which is indispensable when developing new strategies and practicing using virtual money.
Exness strives to create a favorable environment for its clients, which is evidenced by tight spreads, high speed of order execution, fast deposits, and withdrawals without commissions. The company is also licensed by such regulators as FCA, CySEC, FSCA, FSC, and FSA. Start trading with Exness right now by clicking on our button below.

AvaTrade Bitcoin trading
AvaTrade is a popular online broker that has vast experience in organizing trading in both Forex and the Cryptocurrency market. The company offers CFD trading on such coins as Bitcoin, Bitcoin Cash, Ethereum, Ripple, Dash, Litecoin, Bitcoin Gold, and EOS.
AvaTrade has a wide range of terminals and various tools for automatic trading such as MetaTrader 4/5, WebTrader, AvaOptions, and AvaSocial – a CopyTrading platform, AvaTradeGo, and Auto Trading – platforms for automatic trade, including ZuluTrade and DupliTrade. All trading terminals of the AvaTrade broker are adapted to work both through desktop computers and using mobile devices.
To gain trading experience and test strategies, beginners can use a demo account with a virtual balance of $100 000, which will allow them to smoothly enter the real market.
A strong regulatory framework can be added to AvaTrade's benefits as it is regulated by MiFID, ASIC, the FSA and FFA, the FSB, IIROC, and the FSCA. Check all the available AvaTrade features and enter the Crypto market by tapping the bottom below.

eToro Bitcoin trading
eToro is one of the largest platforms for trading popular financial instruments including many international stocks, indices, precious metals, commodities, currency pairs, and exchange-traded instruments (ETFs). Besides, eToro is famous for its wide selection of Cryptocurrencies such as Bitcoin, Bitcoin Cash, Ethereum, Ethereum Classic, Ripple, Dash, and many more.
Clients can enter the market using the broker's own user-friendly trading terminal, which is also available as a mobile application for iOS and Android.
eToro has two types of accounts: a retail account with negative balance protection and CopyTrader, and a professional account with large leverage. Also, beginners can always start with a free demo account with a $100 000 virtual balance.
eToro has managed to establish itself in the online trading industry as one of the most trusted brokers, as evidenced by its licenses from the FCA, ASIC, and CySEC. Start trading Bitcoin and other Cryptocurrencies with eToro by clicking our button below.

76% of retail CFD accounts lose money
NAGA Markets Bitcoin trading
NAGA is one of the best online brokerage platforms with a wide range of trading instruments and a very competitive yet friendly Social trading environment. Clients have access to more than 950 markets, including Cryptocurrency CFDs, ETFs, Forex, commodities, a wide range of professional tools, and educational materials for traders of all levels.
To make market entry smooth and user-friendly, the company has several trading platforms including MT4, MT5, and NAGA Web App, and also developed a mobile application for iOS and Android where you can buy and sell any instrument, auto copy professionals, or chat on NAGA Messenger.
As a NAGA user, you can open two types of accounts: a demo one and a live (real money) account. The first has $10 000 in his account and will be indispensable for beginners to gain experience and courage before real trading. And in the second account, you can enjoy Copy trading, which allows you to follow professional traders and mirror their transactions in auto-mode.
The company has several licenses from world-famous regulators, namely FCA, CySEC, MiFID II, and MiFIR. Click on our special button and test all trading opportunities with NAGA.

XM Group Bitcoin trading
XM Group is a regulated online broker that offers over 1 000 trading instruments including CFDs on many Cryptocurrencies such as Bitcoin, Ethereum, Ripple, and more.
Clients can trade on such terms as MT4 and MT5. While both are available for PC, Mac, iPhone, iPad, Android, and Android Tablet, and as an online Web version, MT4 allows using it as a multiterminal as well. In addition, for those who want to increase their speed, the broker has a VPS service.
Apart from a demo account that allows practicing trading strategies on the market without risking real money, XM offers four account types including Micro, Standard, XM Ultra Low, and Shares, which have negative balance protection, good leverage, and tight spreads.
Traders can top up their accounts using a bank transfer, Visa, or MasterCard. Almost all electronic payment systems are supported. Besides, for all deposit/withdrawal operations, the broker provides zero commissions.
XM Group works with clients worldwide through accreditation from recognized regulatory bodies such as CySEC, IFSC, DFSA, and ASIC. You can try trading Cryptocurrencies and other financial instruments with XM by clicking the button.

Bitcoin trading with Forex brokers - FAQ
You can trade Bitcoin itself by buying and selling it through exchange platforms, as well as with the help of derivative financial instruments, among which the most popular are CFDs. In the article, we reviewed the nuances of Bitcoin trading, and popular derivatives, and also compared the best Forex and CFD brokers for dealing with Bitcoin and other Cryptocurrencies, as well as the possibility of Social and Copy trading on user-friendly platforms.
One of the most convenient ways to trade Bitcoin is through online Forex and CFD brokers. Brokers mainly offer derivative products for trading Cryptocurrency, including CFDs, futures, and options, which allows traders to open multi-directional positions on Cryptocurrency price changes without actually owning a coin. Trading with the reputable brokers mentioned in this article will allow you to make deals with Bitcoin without buying a Crypto Wallet but use leverage, and Social and Copy tools, which will save you time analyzing the market and improve your skills.
The best Crypto brokers on the market that provide trading in Bitcoin and its derivatives have reliable licenses from international regulatory bodies, a wide range of trading instruments, and convenient platforms with risk management tools. In our article, we reviewed FCA, ASIC, CySEC, and MiFID-regulated brokers that provide competitive trading conditions such as tight spreads and leverage, as well as the ability to use Social trading.
To protect yourself from possible risks, professional traders advise is to sign up several accounts with trusted Forex and CFD brokers in order to open an up or down position on one account, and the opposite on the other, or to test different derivative financial instruments. In this case, traders will be able not only to compare different trading platforms and hedge risks but also to collect all kinds of Forex bonuses. In the article, we reviewed the best Forex and CFD brokers that allow you to open an account without any restrictions, use a demo account, and enjoy Social trading.
To create an effective Bitcoin trading strategy, first, you should decide whether you will trade short or long positions, then set orders, and also test your strategy on a demo account before entering the real market. In addition, in order to save time in analyzing the market and choosing an efficient strategy in Bitcoin trading, some market participants prefer to use Social and Copy trading tools with which clients are able to select professional traders and automatically mirror trades in proportion to their funds. The best Forex and CFD brokers that we mentioned in the article provide the opportunity to copy not only one but also a group of experts at once and give generous bonuses of up to 100% on the first deposite.