Best trading instruments for Forex newbies: comparison of popular assets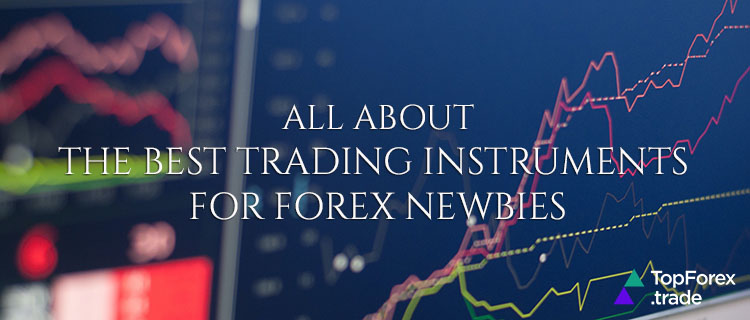 Starting their way in trading on the Forex market, many beginners get lost in the variety of trading instruments provided by international brokers, making it difficult for them to quickly access the deals. In fact, a trading or financial instrument is any asset that has a fixed cost, or value, and is traded on an exchange or over-the-counter market. These include currency pairs, stocks, futures, etc. In addition, many Forex brokers offer derivative financial instruments such as CFDs, options, and much more, which do not require large initial capital and their value changes with the value of the underlying asset.
Most traders prefer schemes with good liquidity and high dynamics of price movement. These parameters make it possible to receive good returns. Others, in turn, want to optimize or minimize risk by buying blue chips. At the same time, a novice trader should understand that the chosen trading instrument should also correspond to his trading strategy and acceptable risk.
Taking into account all these features, in this article, we will consider the factors that newbies should pay attention to when choosing a suitable instrument, mention several of the best options, and also compare Top Forex brokers providing underlying assets, also derivatives with the most favorable conditions, convenient platforms and a set of training materials.
What a novice trader should consider when choosing a financial instrument?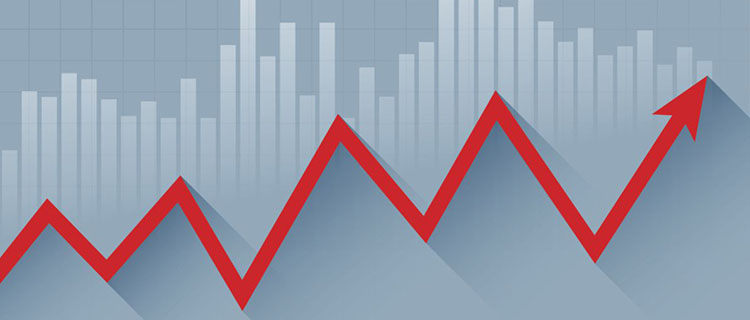 Choosing the right financial instrument for trading will help beginners smoothly enter the Forex market and take advantage of income opportunities. In addition to the personal preferences of individual market participants, one should also take into account objective factors that should be considered before choosing an instrument for trading, namely:
Liquidity. Liquidity is the ease of selling and buying a financial instrument at any time. Instruments with high liquidity are easy to trade, as it is quite simple to enter and exit a position, which is especially important for new traders if they want to sell an asset and take profits.
Volatility. This is the ability of a financial instrument to rise and fall sharply. Volatility is a double-edged sword that can be both good and bad. High volatility is more suitable for experienced traders who know when to enter or exit a position. However, with high volatility, a small mistake can lead to significant losses for beginners. Therefore, it is worth choosing moderately volatile instruments to start trading.
Low cost of transactions. The low cost of transactions helps in obtaining optimal profit in any deal. Different financial instruments have different trading fees charged by brokers, which must be taken into account before choosing an instrument.
Availability of information. To make an effective trading career, there should be easily accessible information about the chosen financial security or asset. Prices are influenced by news and you should only trade instruments whose information and news are readily available.
Best financial instruments for a beginner in the Forex market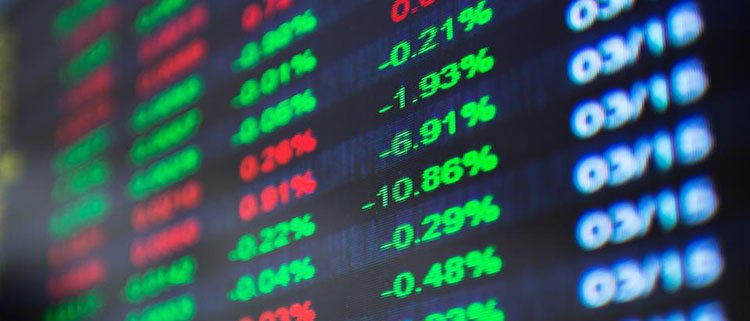 A novice Forex trader entering the market can face a huge variety of financial instruments such as stocks, futures, currency pairs, Cryptocurrencies, and other assets. Among such diversity, it can be quite difficult for a newbie to make a choice, but nevertheless, there are instruments that allow you to minimize possible risks and smoothly enter the market. Let's consider the most popular of them for market beginners.
Stocks for beginners in the Forex market
Stocks are a very popular trading instrument due to their high liquidity and wide variety of choices. If you follow the results of macroeconomic reports or shifts in the conjuncture of various sectors of the economy, then a forecast of changes in demand and proposals for this type of financial instrument is not so complicated. And receiving income from the sale or purchase of stocks will be carried out smoothly on the basis of economic indicators or investment attractiveness of a particular company. This is the basis for the formation of the cost of stocks.
Stocks are one of the most suitable instruments for beginners, while it is worth focusing on blue chips, that is, stocks of well-known companies with a long history that grow steadily and often pay generous dividends.
Blue chips have high liquidity – they have a large intraday trading volume, that is, they can be quickly sold if you need to fix profits. They are also the least subject to chaotic fluctuations and are more predictable.
However, when trading blue chips, you should not expect large price drops for quick earnings, but nevertheless, a novice trader at the initial stage will be able to potentially trade in a small plus with some stability, which is necessary to gain skills for further speculation.
Currency pairs for Forex newbies
Currency pairs are traded by most traders, not only beginners but also professionals. One of the main factors that this is due to is that the currency is much easier to analyze.
Each currency pair consists of two parts – two types of currencies that are traded one relative to the other interacting. There are three main types of currency pairs: majors, minors, and exotic. Most traders prefer to work with majors, some trade cross rates and it is very rare to find those who choose exotic pairs. 
In fact, the choice of currency pairs for a beginner is not so clear at first glance, but they are better to have such characteristics as liquidity, predictability, and acceptable volatility. Speaking of liquidity, it is understood that a pair of currencies must have supply and demand. If we talk about volatility, which is sometimes also called dynamism, then it characterizes the range of price movement in a specified time period. For beginners, such a criterion as predictability is also important. The predictability of a financial instrument depends on how easy it will be to understand what reaction to expect from an asset to certain events. Most often, popular currency pairs are endowed with these properties.
There is no distinction between currency pairs that are suitable only for beginners or only experienced professionals. In general, you can choose the most popular and widespread currencies in the world and pairs formed with their participation such as EUR/USD, GBP/USD, USD/CHF, USD/JPY, AUD/USD, USD/CAD, and NZD/USD. These pairs contain the currencies of the strongest economies in the world, so the largest number of transactions are made on them.
Also, after choosing a currency pair, be sure to follow the release of important news involving the countries that own these currencies. View the calendar of events, which shows the release schedule of important macroeconomic indicators for the economies of the countries whose currencies you trade.
Indices trading in the Forex market
A stock index is a composite index calculated on the basis of the prices of a certain group of securities, which monitors and evaluates the performance of a particular market sector, region, or economy as a whole.
Most developed, as well as developing countries, have at least one financial index. For example, the S&P 500 index includes the stocks of the top 500 companies in the US. The index, representing 70% of the total financial value of the US stock market, gives a good indication of the state of the US stock market as a whole.
Index trading is a relatively safe form of dealing with integrated fund management. The risks of trading indices are always lower than the risks of investing in individual stocks.
Indices are the least manipulative financial instruments. The price of the index changes in accordance with fluctuations in the prices of the companies that make up the index.
Popular stock indices typically provide traders with a high degree of liquidity, long trading hours, and tight spreads.
There are many indices that focus on certain market sectors and stocks. For example, the world-famous Dow Jones Industrial Average includes the stocks of the 30 largest players in selected industries. Other of the world's most popular indices include S&P 500 and NASDAQ 100 (New York), FTSE 100 (London) and DAX 30 (Frankfurt), AUS 200 (Sydney), and Nikkei 225 (Tokyo), CAC 40 (Paris) and Euro Stoxx 50.
Trading in liquid commodities: gold, oil, and gas
Liquid commodities such as gold, silver, and crude oil allow beginners to diversify their portfolios away from stocks and bonds. In financial markets, gold has always been considered a protected asset that is used in times of crisis. As a highly liquid asset, gold can be easily converted into cash. This makes gold a popular instrument for trading purposes. If you predicted that the price of gold will rise, you can buy it today and sell it later at a better price, earning a good amount. Also, experts do not in vain consider gold as a safe-haven asset. This suggests that during a downturn in the economy, its value will increase.
Trading in energy commodities is also very popular all over the world and is promising for traders who prefer intraday trading and want to hedge possible risks. Market participants can even transact without physical delivery using futures, CFDs, and other instruments, giving them more flexibility in managing their price risk.
Additional instruments of the Forex trader: derivatives
Many novice traders start their journey with relatively simple instruments such as stocks, currency pairs, and indices. However, sooner or later they are faced with more complex ways of trading such as derivative financial instruments.
Here we are talking about securities of the second level, which is an agreement to receive basic assets of the first level (shares, bonds, commodities, currencies, interest rates). In other words, a derivative is an agreement that certifies the right or obligation to buy or sell tangible resources, securities, etc. on certain conditions in the future. The cost of derivatives depends on the price of one or a whole group of positions. The primary purpose of derivatives is risk hedging. But in practice, these financial instruments are often used for speculative exchange procedures. The advantage of such financial instruments also lies in the fact that you can trade not only in bull markets, but also in bear markets, as well as use leverage, but do not forget about the possible risks for a beginner if the market mood is incorrectly predicted. Among the most popular derivatives are futures and CFDs.
Futures on the Forex market
One of the oldest instruments in commerce is futures. Its main feature is the physical existence of the product: grain, sugar, oil, precious metals, and various commodities. In fact, futures contract is a documented transaction, fixing a certain value of the object of commerce, but carried out on a specified date. No matter how things turn out in the future, the agreement must be fulfilled and the parties at the same time are in equal conditions.
These contracts are freely traded on the exchanges. Futures, as a fairly powerful and effective financial instrument for trading, have their own characteristics. The first of them is susceptibility to cycles: demand rises or falls depending on objective circumstances (on energy sources, for example, before the heating season). The second feature is the influence of external factors and the ease of predicting the exchange rate, especially on medium-term contracts.
Futures is also a speculative object of transactions because no one can accurately predict what the price for the underlying resource will be, say, in a year. And although the futures allows participants to trade with greater leverage and take advantage of efficient transactions, a market novice should understand what risks this instrument carries, so a newbie should try your strategies on a demo account or copy the transactions of more experienced participants.
CFD in Forex trading
CFD stands for Contract for Difference and allows one to buy or sell financial instruments without owning the underlying asset. CFD trading allows market participants to take positions in both rising and falling markets, giving them the opportunity to take advantage of any type of market fluctuation.
With greater flexibility in the use of CFD opportunities, traders have more control over how, where, and when they open positions in the market.
When using CFDs, you do not need a lot of capital to open an account and trade. CFDs also give allow you to trade with more leverage than the stock market, but a beginner should use this option wisely.
Summing up: which financial instrument should a novice trader choose?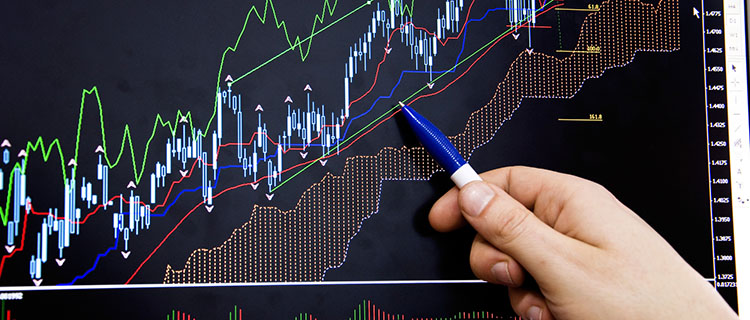 Among all this variety, a trader faces a difficult choice, because all these financial instruments have both their pluses and minuses. However, it is necessary to choose a financial instrument, first of all, based on your level of funds. For example, a more expensive, but one of the best options would be to use stocks, while trading with currency pairs can be started with smaller amounts. In addition, novice traders can of course try their hand at derivatives and make deals with gold or oil, but do not forget that using large leverages can be risky.
However, it is better to start learning with some simpler financial instruments. Because understanding the structure of Forex trading, as a rule, comes with time and practice. And making several deals you will understand that each financial instrument is an individual way of earning. In general, you need to start with assets that are more understandable to you, studying market opportunities along the way.
Social and Copy trading for Forex market newbies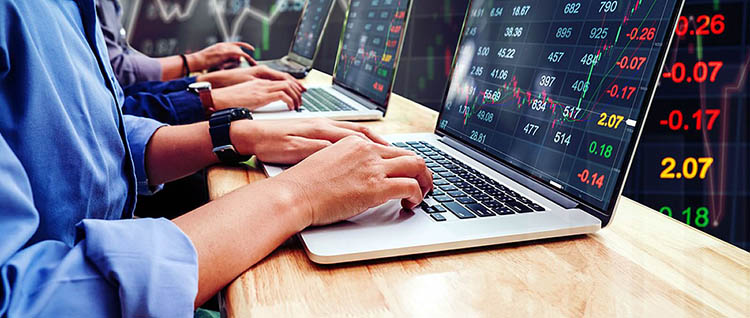 Today, such a function as Social and Copy Trading is extremely popular among market participants, which allows beginners to conclude transactions in the currency or stock market in a more accessible way. The essence of Copy trading is the ability to mirror deals of successful traders by connecting to a certain service. With the help of this feature, beginners do not trade on their own but get a chance to earn income using the experience and knowledge of professionals. Perhaps this is how a newbie should start his own path in trading because this is an affordable option to use the expertise of an experienced speculator.
As for Social trading, this is a step more than copying transactions, in which users exchange information with other members of the community online on special platforms. Traders post their strategies, chat, and put likes. Beginners watch the actions of professionals and then repeat their trades.
AvaTrade, one of the largest Forex and CFD platforms, offers a selection of some of the most well-established Copy trading services such as ZuluTrade with a wide range of signal providers, Duplitrade where it is convenient to copy trades from multiple signal providers, and AvaSocial for communication with other market participants and automate your trades, which is great for both beginners and experienced traders.
Another international broker, HF Markets, provides an opportunity to open an HFcopy account for both trading strategy providers and subscribers who join HFcopy. Providers can open an HFcopy account to build their subscriber list and trade in exchange for performance rewards. At the same time, subscribers, having opened an account, will be able to deposit funds and start copying the trades of their chosen professionals.
Top VPN for safe Forex trading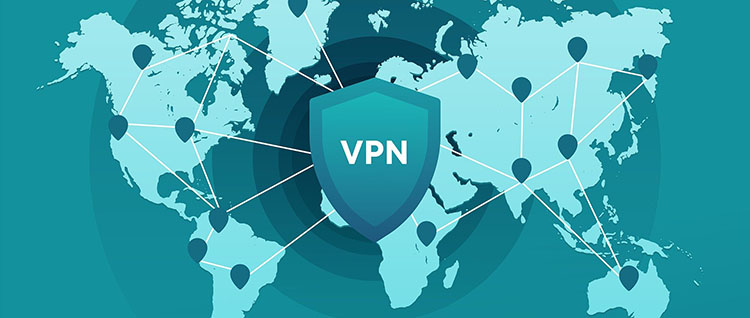 In addition to the choice of trading instruments, Forex market beginners are often puzzled by the issue of security, since the execution of transactions is associated with such sensitive information as logins, passwords, activity history, as well as credit and payment information. In order to get additional protection against hacker attacks and other types of fraud, professional traders recommend using the best VPN services for Forex trading, which will not only allow you not to worry about information leakage but also hide your online activity not only from the Internet provider but also from third parties.
One well-established VPN service is Atlas VPN, which uses modern protocols and AES-256 encryption to protect your data. In addition, Atlas VPN has a large network of over 750 servers located in 43 countries. Programs are developed for all popular platforms, including mobile devices on iOS and Android.
Click the button below to get the best VPNs deal for Forex trading: 

Also, Atlas VPN is a great VPN for torrenting as the company allows P2P file sharing across its entire network of servers and doesn't impose limits on the amount of data. This means that you can download as much content as you like.
Top trusted brokers for Forex trading
On the Forex market, you can trade currency pairs, futures, and other assets. Mastering the features of each instrument for a beginner sometimes can be complicated, so before start trying a hand at trading, one should learn the basics of technical and fundamental analysis in order to determine entry and exit points.
Also, before entering the real market, it is better to test your ideas on a free brokerage demo account, the conditions of which are as close as possible to real ones, which will allow you to improve your skills, try various risk management tools, and also choose a trading terminal that meets your requirements.
In addition, in order to hedge risks, newcomers to the Forex market can open several accounts with different international brokers in order not only to find favorable conditions for each preferred asset but also to try various derivatives and collect all kinds of Forex bonuses up to 100% on the first deposit.
Sign up, verify your accounts and start exploring the Forex market with the top brokers below to compare trading platforms, select multiple instruments and try Copy Trading.
Exness Forex trading
Exness is an online broker that has been providing services in the Forex financial market for over a decade and offering market participants trading in currency pairs, stocks, indices, metals, energies, popular Cryptocurrencies like Bitcoin and Ether, and other coins of your choice.
The broker has both popular MT4 and MT5 terminals and Exness's own Web Terminal. The Exness terminal includes an intuitive interface with unique charting technology and also offers over 50 drawing tools and 100 indicators.
When it comes to account types, you can choose from options for both retail and professional traders, as well as practice trading on a new platform in real market conditions with a free demo account before entering the real market.
The reliability of the Exness broker is confirmed by licenses from regulatory bodies such as FCA, CySEC, FSCA, FSC, FSA, etc. Try trading with Exness using our dedicated button below.

XM Group Forex trading
XM Group has been providing comprehensive brokerage services in international financial markets since 2009. During this time, the broker managed to obtain licenses from such regulatory bodies as the Australian Financial Commission (ASIC), Belize (IFCS), Dubai (DFSA), and Cyprus (CySEC) and expand its presence around the world.
The company is great for beginners as XM offers a wide range of explanatory videos and online guides that help you catch up with the market trends and develop your trading strategy with the analysis tool you like. In the XM Learning Center, you will find anything from Education Videos and Platform Tutorials to Forex Seminars and Webinars.
Among the trading instruments, you can find 55 currency pairs, CFDs, stocks, gold, energy, commodities, and more that can be traded on several types of accounts depending on the initial deposit and personal preferences: Micro, Standard, XM Ultra Low, and Shares. In addition, you can open a demo account with a deposit of $100000 to improve your skills without fear of losing your real deposit.
XM has different terminals, both the usual MT4 and MT5 and WebTrader for trading through a browser without downloading. You can use them on various devices and as an application for iOS and Android. In addition, the company is one of the few brokers that provide a VPS service that allows traders not to worry about problems with the Internet connection. You can try trading with XM Group and get a special offer from TopForex.trade by clicking the button below.

OANDA Forex trading
OANDA is one of the largest Forex and CFD brokers that offer to trade on fully customizable OANDA Trade web-based and desktop platforms, as well as MT4, such instruments as currency pairs, and CFDs for indices, commodities, metals, Cryptocurrencies like Bitcoin and Ether, and bonds. In addition, the broker provides applications for mobile phones and tablets.
Traders can open three account types: demo, Standard, and Advanced Trader, which makes the broker a fine fit for both new and seasoned trades.
OANDA does not take commissions for replenishment or withdrawal of funds (however, payment systems may charge commissions), and the broker has no restrictions on the amount of deposit or withdrawal that can be made using various methods: credit/debit cards (Visa, MasterCard), Paypal, bank wires and electronic bank transfers (Faster Payment, Bacs, CHAP, SEPA, and others).
OANDA is a trusted broker licensed by regulatory agencies such as RFED (USA), MAS (Singapore), IIROC (Canada), FCA (Europe), FSA (Japan), and ASIC (Australia). Try all the features of OANDA by clicking on our dedicated button.

AvaTrade Forex trading
AvaTrade is a large international brokerage company that occupies a leading position in the market niche providing services in online trading with such instruments as currency pairs (both spots and futures), commodities, indices, stocks, CFDs, Cryptocurrencies, and many others.
AvaTrade provides access to a wide variety of platforms that are available to all traders, including MetaTrader 4/5, WebTrader, AvaOptions, AvaSocial, AvaTradeGo, and Auto Trading platforms for automatic trade, including ZuluTrade and DupliTrade. The AvaTrade platforms are also available on mobile devices for iOS and Android.
For both beginners and experienced traders, it provides a very competitive knowledge base. There are trading videos including explanatory materials for beginners, articles on trading strategies and market rules, and tons of other information about market terms, order types, etc.
AvaTrade is a registered and regulated broker that complies with the most stringent requirements of regulatory bodies such as MiFID, ASIC, Japan FSA and FFA, FSB, IIROC, and FSCA. Check all the AvaTrade opportunities by tapping on our special button.

eToro Forex trading
eToro is a great choice for market newbies as the company is a social network for traders where clients can buy and sell assets on their own or copy the trades of other participants.
On the website, traders can find a variety of contracts for difference (CFD) on stocks, commodities, indices, ETFs, and currency pairs. Besides, eToro is famous for its wide selection of Cryptocurrencies including Bitcoin, Bitcoin Cash, Ethereum, Ethereum Classic, Ripple, Dash, and many more.
Clients can work on the broker's own trading terminal, which is available in two versions: on the web, as well as in the eToro app for Android and iOS.
Accounts are divided into Retail and Professional Client, which have many risk management features such as negative balance protection. You can also use a free demo account with a $100000 virtual balance to test your trading strategies and choose your favorite assets.
The broker is distinguished by its reliability, which is supported by licenses from such international regulators as the FCA (UK), ASIC (Australia), and CySEC (Cyprus/Europe). Try trading different assets with eToro using our special button.

76% of retail CFD accounts lose money
Best trading instruments for Forex newbies - FAQ
Beginning Forex traders should start better with some simpler financial instruments such as currency pairs, stocks, and others, as they are quite liquid and more predictable. However, by practicing on demo accounts and using Copy trading, you can try various derivatives. In the article, we examined in detail the main popular instruments for beginners, and also compared the best Forex brokers for making transactions with free demo accounts and pleasant bonuses of up to 100% on the first deposit.
In addition to the personal preferences of individual market participants, Forex beginners should also consider objective factors that should be taken into account before choosing an instrument, such as liquidity, volatility, low transaction costs, and the availability of information. In the article, we described what to look for when choosing an asset, reviewed the most suitable options, and also compared the Top Forex brokers with the ability to use a free demo account, Copy trading, and bonuses up to 100% on the first deposit.
A novice trader in order to minimize various kinds of risks and close deals like a professional can use Social and Copy trading, which allows you to copy trades of other experienced market participants and exchange ideas with each other, which not only saves time on market analysis but also allows beginners to learn to create your own trading strategy. Check the article and choose a Forex broker with the ability to copy trades and generous Forex bonuses of up to 100% on your first deposit.
The best Forex and CFD brokers on the market that provide trading with different assets have licenses from reputable regulatory bodies, a wide range of educational materials, and convenient platforms with risk management tools. In our article, we have reviewed brokers that are regulated by the FCA, ASIC, CySEC, and MiFID, which provide competitive trading conditions, Forex bonuses of up to 100% on the first deposit, as well as the ability to use Copy Trading.
In order to prevent leakage of personal information or loss of funds in the event of hacker attacks, as well as to hide activities on the Internet, many traders use reliable VPN services for Forex. In this article, we reviewed one of the best VPN providers on the market with impenetrable encryption, an extensive network of servers for making transactions without any delays, as well as the ability to unblock streaming sites, download torrents, and bypass game geo-blocking.